As a Dance Studio owner, it is crucial to find the perfect dance studio flooring that meets both the performance needs of the dancers as well as conforms to the safety requirements. A wrong decision with the choice of flooring can not only result in disgruntled customers but also damage the reputation of your dance studio.
So, what is the best flooring for a dance studio? A vinyl (Marley) flooring can accommodate more styles of dance, but there are mainly two options to choose from for the "Best" flooring for your dance studio:
Hardwood based, Sprung Flooring
Vinyl (or Marley) Flooring, which is a more modern, robust and versatile option
In this article, I will cover everything you need to know to choose the best flooring for your dance studio. The topics I will cover include:
The criteria to select the right flooring for a dance studio.
The different options available for dance studio flooring
How to maintain your dance studio floor to make it stand the test of time
Sprung Flooring v/s Vinyl Flooring For Dance studio
The sprung flooring sells as a package consisting of the floor surface, typically vinyl or hardwood top layer and the subfloor, or 'sprung' layer. Using sprung flooring is a permanent or semi-permanent approach while laying the flooring.
The Vinyl Flooring or the "Marley" type floor is an alternative to traditional hardwood flooring. Vinyl is now a more popular choice for studio owners and dance companies as opposed to a standard hardwood surface. Vinyl surfaces can accommodate most styles of dance from Jazz and Hip-Hop, Pointe and Ballet, Tap, Ballroom, and Theatre. They are also perfectly capable of doubling up as a fitness class flooring and come with temporary dance floor solutions as well!
Things To Know Before Choosing Flooring for Your Dance Studio
The flooring you choose for your dance studio will depend on your needs and requirements. In addition to choosing the location of your dance studio and the dance studio software, the choice of flooring is among the crucial decisions you will make. I will cover some of the essential criteria you will need to consider before selecting the right flooring for your dance studio.
Is the dance studio rented or owned? If you are renting your dance studio, then you should opt for a semi-permanent or a temporary flooring solution
A rough idea of your budget – Knowing the budget will help you narrow down your choices. We cover the cost of flooring your dance studio in the final section of this article
How traffic-intensive, percussive, or abrasive is the dance in your studio? – The more severe and intense the dance form, the more resilient dance studio flooring solution would be required.
In essence, the ideal dance studio floor must be
Pliable yet robust
Resilient yet soft
Low-cost yet maintainable
What Are The Available Options In the Dance Studio Flooring Market?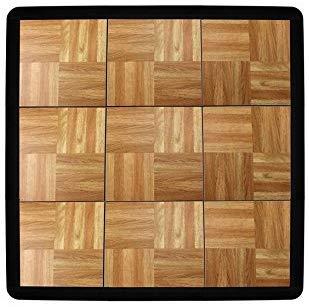 Each flooring company will provide their version of the hardwood based sprung flooring or the Vinyl (Marley or PVC) flooring. No matter which variant or brand you choose, you will end up purchasing the Sprung or Vinyl flooring mostly.
In this section, I will discuss a few common and well-known types of dance studio flooring. The idea is once you understand the basics, you could walk into a flooring company or talk to a contractor confidently and in a well-informed manner.
Semi Sprung Dance Floors
The semi-permanent sprung dance flooring system has a revolutionary five-layer construction.
This dance floor eliminates the need for foam or rubber pads, and because it is completely floating, no damage will happen to the existing subfloor.
Semi Sprung Dance floor is considered ideal for all types of dance and aerobic exercise including ballet, tap, jazz, modern, lyrical, hip-hop, yoga, ballroom and Pilates
Sprung floors are typically engineered to be 'shock-dampeners.'
Sprung Marley Dance Floors
The same five-layer technology used in the Semi-Sprung flooring is also the technology in the Sprung Marley Flooring
With variations in materials, this product offers higher levels of dampening.
Sprung Marley floors are ideal for all types of dance such as Ballet, Tap, Jazz, Modern, Lyrical, Hip-Hop, and Ballroom Dance. This flooring is also suitable for aerobic exercise, Yoga, and Pilates studios.
Finish at the top of the flooring is approximately two inches thick.
Basketweave Dance Flooring
The basketweave dance floor design has concepts dating back to the 19th century. However, It combines it with modern technology
This flooring is ideal for all types of dance and aerobic exercise, including ballet, tap, jazz, modern, lyrical, hip hop, Yoga, ballroom, and Pilates.
The flooring provides a semi-permanent dance floor solution for professionals.
Basketweave Marley Flooring
This dance floor uses a seven-layer design to achieve uniformity and consistency throughout.
Layers of wooden bearers lay at right angles to one another onto shock-absorbent padding. They are then covered with plywood and vinyl dance surface or Lumber Liquidators' performance to finish the surface.
This flooring is a great option to reduce the risk of injury to the dancers. This flooring also improves the performance of the dancers.
Reversible Marley Flooring
A double-sided Marley flooring for dance and stage.
This flooring offers an ideal surface for ballet, jazz, and contemporary dance.
Well suited for temporary installation. Unrolls instantly and lays flat.
Different colors on the reverse, there are usually color combinations from which to choose.
Marley products are designed to be laid over a sprung (rebound) Marley subfloor.
'Portable' Tile-Based Dance Floors
It has an elegant look and will be great for hosting indoor events.
Sumptuous and warm in its brown tone. Other color tones may be available, as well.
It can be placed indoors over rugs or flooring without the removal of carpeting or scuffing existing flooring. This flooring will be an excellent option for those who cannot pursue a permanent dance studio flooring solution.
'Temporary' Flooring Solutions For Dance Studios
Some companies provide cascade flooring, which offers an ideal surface while also remaining silky soft without any hint of being slippery.
It is designed for extra strength and with a firm cushioned foam backing.
They protect against hard sub-floors but is still light enough to be portable for touring.
There are plenty of 'roll-on top of an even surface' solutions available in the market.
Why Is It Crucial To Choose The Right Flooring For Your Dance Studio?
Although there are recognized international standards for general types of flooring, there are none specifically for dance floors. Investing in the right dance flooring solution is a vital part of a dance studio for the safety of the dancers as well as the full enjoyment of the performance art.
An experienced dancer can judge the right floor purely by instinct as to whether it 'feels' right. An essential part of the performance is the reassurance that the flooring will not contribute to any slips or trips.
A poor or a sub-optimal flooring choice can contribute to injuries during an occasional fall. It can also be the cause of stress-related injuries attributed to repeatedly landing on an unyielding hard surface. Also, it is essential to note that a sports surface may not be the best choice for a dance surface.
A dance floor with anti-bacterial and anti-fungal additives to the top layer will also be a valuable investment.
Cost Of Dance Studio Flooring
A good portable or a temporary solution could cost you anywhere between £2 to £6 + VAT per square foot. If you are renting a property of roughly 1000 square feet in size, it is ideal to budget for £5000 to £8000.
A permanent sprung flooring solution can cost anywhere between £8 to £11 per square foot. For a dance studio that measures 1000 square feet, it is ideal to budget for around £10000 for both the subfloor and the top vinyl layer.
Please bear in mind there may be additional costs related to mirrors, observation windows, and other miscellaneous dance related equipment.
Summary
Choosing the right flooring for your dance studio is one of the most crucial decisions you have to make as a dance studio owner. When you are starting-up your dance studio, you can minimize costs by focusing on temporary flooring solutions outlined in the article. However, once the reputation of your dance studio grows, investing in the right flooring solution will pay off in the long term.
I write about topics related to establishing and Growing your boutique Fitness/Wellness stuido. I promise no spam, i hate spam.
Ready ?
---
About the author
Naz Ahm is the founder of StudioGrowth and has spent a decade growing start-ups and venture-backed companies. He writes about sales, marketing, and growth, especially in the fitness and wellness industry.
Naz has an MBA from IESE Business School and started his journey in the wellness industry when he set-up an on-demand wellness business in London.