Pilates studio software needs to focus on the unique requirements of Pilates studios. If you are a Pilates studio owner, you will have difficulty finding the right software for your studio because generic scheduling software can "almost" meet your needs, and you have hundreds of options.
In this guide, I explore the unique requirements of Pilates studios and review the top 7 Pilates studio software explicitly built for Pilates studios.
Over the last several years, I have worked with hundreds of Pilates studio owners and distilled my knowledge into this article. This guide has also received inputs from experts in the Pilates industry, such as studio owners and consultants. Additionally, my team has analyzed online reviews and customer feedback to create this shortlist of top 7 Pilates studio software.
Pilates Studio Software – Top 7 As Rated By Experts
StudioGrowth
Wellness Living
Mindbody
TeamUp
Vagaro
Glofox
Acuity Scheduling
Pilates Studio Requirements
Before jumping into the top Pilates studio software countdown, let us review the unique requirements of Pilates studios that need special software features.
You need features to manage the core workflows listed below:
Group Classes: You will most likely offer group reformer and mat classes. Your chosen software should support basic group class scheduling, waitlisting, cancellation, and management features.
Privates, Duets, & Semi-Privates: Given the limitations imposed by the number of reformers you may have, you will most likely offer semi-private sessions and privates and duets. The software you choose must have the appointment functionality as well.
To summarise, make sure you choose software that has both group class scheduling and appointment scheduling functionality. During the demos, dive deep into the appointment functionality, as you will need features to manage appointments based on the availability of instructors and equipment.
#1. StudioGrowth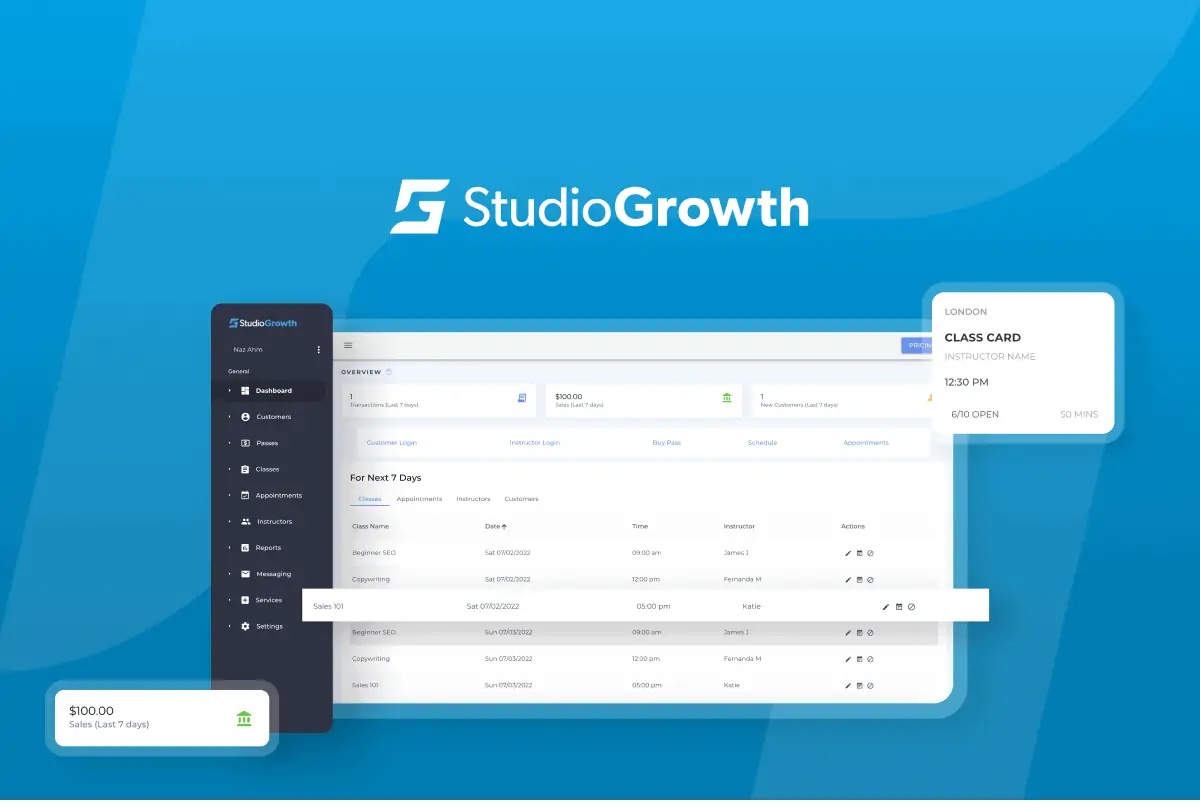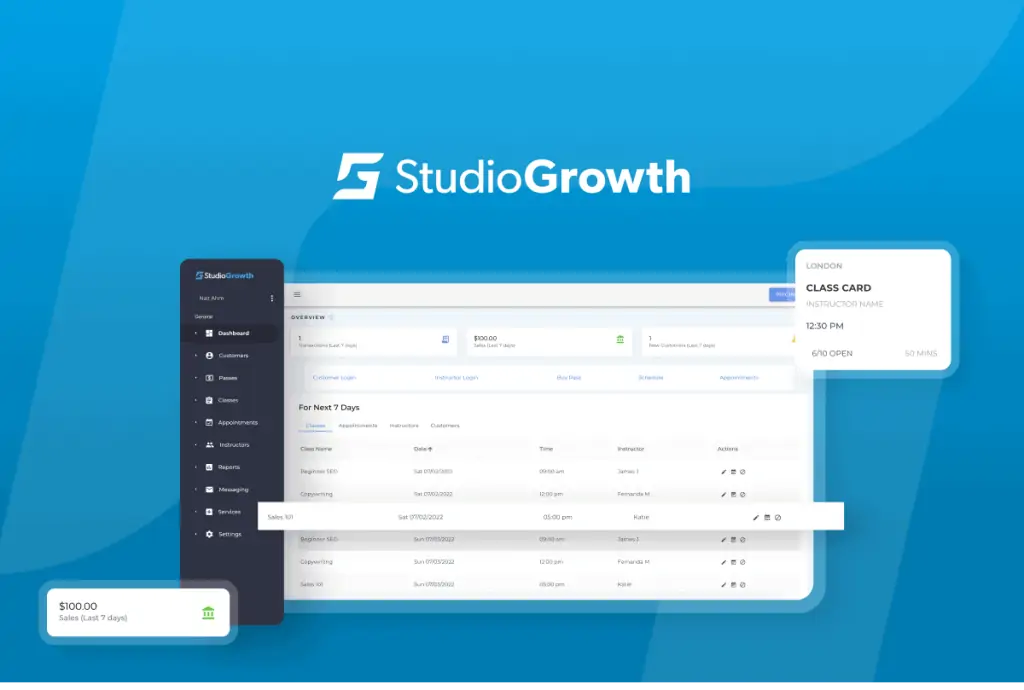 StudioGrowth is hands down the top choice for Pilates studios because it offers both group class scheduling and advanced appointment booking capability. The appointment capability makes scheduling privates, duets, and semi-privates a breeze.
StudioGrowth is the all-in-one Pilates studio software that offers everything you need to establish and grow your Pilates studio:
Group class scheduling
Appointment booking (privates, duets, and semi-privates)
Member management
Automated notifications
Built-in marketing capabilities
The support offered is top-notch, and the pricing is studio-owner-friendly. Additionally, StudioGrowth caters specifically to Pilates studios.
To see their full list of features, click here.
Price:
StudioGrowth pricing is unique in the industry. StudioGrowth offers a single price that includes all the features and has zero hidden fees.
$99/month on the annual plan OR $139/month on the monthly plan
No hidden or processing fees
All features included
Support, onboarding, and data migration included
Why In The Top 15:
Robust platform while maintaining ease of use
Used by top Pilates studios globally
Features specific to Pilates studios
Highest-rated support organization
Several case studies of Pilates studios growing into high six figures per month using the platform
PROS
Custom built for Pilates studios
In-depth expertise in and experience in the Pilates industry
Pilates studio owner-friendly pricing
Easy to use
A robust and reliable platform that works
CONS
A self-funded startup that focuses solely on the customer needs and is not accountable to anyone else, including VCs or shareholders. Such an organization may not be ideal if you don't get along with their small team.
BEST FOR
Pilates studios of all sizes
Pilates studios in English-speaking countries
NOT FIT FOR
Pilates studios that operate in non-English-speaking countries
#2. Wellness Living
Wellness Living is one of the most configurable platforms available today, making it a top choice for Pilates studios. It has some drawbacks, but it may be the right choice for your Pilates studio if you don't mind the dated user experience and high price.
Wellness Living has an excellent appointment feature that not only takes into account instructor availability but also the availability of resources such as reformer machines. You will likely never seed such an in-depth configuration, but Wellness Living is the perfect fit for you if you do.
It is a reasonably old platform, and the user experience is decades old. You and your customers will feel like you are using ancient software. Additionally, leaving Wellness Living can be a nightmare. You will be dealing with exit fees and pushy salespeople offering you discounts to stay. On the other hand, it is one of the few platforms I have seen studios use for 5+ years without changing.
Price:
One of the biggest complaints I have heard from Wellness Living users is that they lied about keeping users on their pricing plans (grandfathered into existing plans). The price increase affected everyone, which has hampered trust in the company.
Pricing starts from $89/month and goes up to $500-$700/month.
Wellness Living uses its own payment processor, so be sure to check for processing fees that range from 2% to 6%
Hidden fees. Have your salesperson list all your costs, including processing and miscellaneous fees.
Why In The Top 15:
Wellness Living is a respected and popular scheduling software provider. They have been in the industry for decades and, along with Mindbody, are the yoga and pilates studio software leaders.
Software provider with decades of experience
Highly configurable platform suitable for Pilates studios
Affordable compared to the competitors
PROS
Detailed appointments feature including staff and resource management
Well established player
CONS
Ancient and dated user interface
The admin section is challenging to navigate
Substantial hidden fees
BEST FOR
Pilates studios that have complex requirements to manage both staff and resource (reformer) availability simultaneously
NOT FIT FOR
Pilates studios that want to build a brand
Studios that care about user experience
Pilates studios that want flexibility in terms of monthly fees and the ability to leave when they want
#3. Mindbody
I am a big fan of Mindbody. This company was among the first to create software for Pilates studios and, over the last 20+ years, has maintained its dominance in the industry.
Many Pilates studio owners do not like Mindbody. Given the 20+ year history of the software and the numerous acquisitions and updates, the platform has become overly bloated, complex, and almost unusable.
Although Mindbody has flaws, it is hands down the most configurable platform on the market. Mindbody is your top choice for Pilates studio software if you have overly complex and custom requirements.
Price:
Mindbody is among the highest-priced Pilates studio software on the market. The price depends on the features you use and several other factors. Mindbody uses its payment processor and has significant processing and hidden fees.
Price ranges from $150/month to $800/month.
Significant hidden fees of up to 5% of your revenue
Private payment processor
24/7 support staffed by the offshore team comes with the price
Why In The Top 15:
Clear market leader with decades of experience
Highly configurable platform. You can't go wrong with Mindbody.
PROS
Extensive features will meet your studio's scheduling and management needs.
Even after 20+ years, the team regularly updates the platform and adds enhancements.
CONS
Expensive for what it offers. You will find similar functionality at a more affordable price.
Bulky and difficult-to-use platform
Bad customer experience
BEST FOR
Pilates studios that have complex requirements to manage both staff and resource (reformer) availability simultaneously
NOT FIT FOR
Startup or scaleup Pilates studios
Studios that want to build a brand
Cost-conscious Pilates studios
#4. TeamUp
TeamUp is the OG Pilates studio software provider, serving customers for over a decade. Most recently, they have been acquired by Daysmart, so you can expect to see changes in the platform.
TeamUp users mainly operate in the UK, and the UK and Europe are its core markets. TeamUp is a highly configurable platform, making it perfect for use in Pilates studios.
If you operate a Pilates studio in the UK or mainland Europe, then TeamUp could be an option.
Price:
TeamUp pricing is tiered, and they offer all the features to all the tiers. The pricing tiers are dependent on the number of active customers you have.
Price ranges from $100 to $310 per month.
Standard processing fees as they use Stripe and GoCardless for payment processing
Why In The Top 15:
Company with decades of experience in the space
Significant market share in the UK
PROS
More affordable as compared to other providers from the US
It is a highly configurable platform, making it ideal for Pilates studios that need both group classes and appointments
CONS
Significant price increase after the acquisition by Daysmart
Complaints from customers about support offered
BEST FOR
Pilates studios in the UK and Europe
Pilates studios requiring multi-language capabilities
NOT FIT FOR
Pilates studios in North America
Studios that want a brandable platform
#5. Vagaro
Vagaro is the best software for spas, salons, and similar wellness businesses. The whole platform focuses on appointment scheduling as its core functionality. Due to this, it is an excellent fit for Pilates studios since most Pilates studios offer small group classes and mainly operate privates, duets, and semi-privates.
The biggest drawback of Vagaro is its weak group scheduling functionality. Unless you only offer privates and duets, I would stay away from Vagaro. Although the pricing is attractive, it quickly scales as you add more instructors to your business.
Price:
Price is dependent on the number of staff members you have (bookable calendars) and also on the number of locations. Although the price starts at $35/month for a single bookable calendar, it can scale very quickly to hundreds of dollars per month for multiple staff members and locations.
Why In The Top 15:
The best platform for appointment-based businesses
Company with decades of experience in the space
PROS
Great for appointment-based businesses, making scheduling appointments, duets, and semi-privates based on staff and reformer availability a breeze
Relatively affordable compared to other providers
CONS
It's not ideal for group class scheduling. If you offer both group classes and appointments, then Vagaro is not ideal
Rapid price increase as you grow your business, locking you into the Vagaro ecosystem and making it difficult to leave
BEST FOR
Appointment-based businesses such as hair salons, spas, and massage studios
NOT FIT FOR
Pilates studios that offer any group classes
#6. Glofox
Glofox is a good software for fitness studios and does offer some features that may be relevant for Pilates studios. It is excellent if you want an app for your customers and staff.
However, the overall functionality is lacking, especially the functionality required for Pilates studios, such as appointment booking based on the live availability of staff and resources.
Additionally, Glofox lacks core functionality such as discount codes and requesting staff substitutions.
Price:
The price depends on the features you use. The base price starts at $110/month and can go up to $500/month for all elements, including the branded app.
The USP of Glofox was the app's branding capabilities. However, more recently, this feature has become commonplace among other providers.
For the price, you can do better by choosing another provider that focuses on the needs of Pilates studios rather than those of fitness studios.
Why In The Top 15:
It used to be a good option for studios that needed branded app capabilities.
PROS
One of the best branded app experiences on the market
CONS
Core functionality such as discount codes, referrals, and staff substitutions are missing.
Poor support and an aggressive sales team
BEST FOR
Pilates studios that only offer group classes
Studios that cannot do without a mobile app
NOT FIT FOR
Most pilates studios that offer appointments in addition to group classes
Studios that require sound, consistent support
Studios that require training and onboarding
#7. Acuity Scheduling
Squarespace owns Acuity Scheduling, and it is now known as Squarespace Scheduling. It is on this list because it does provide basic group and appointment scheduling capabilities.
It is a good choice if you have a minimal budget and are just starting your Pilates business. Acuity will work well for you if you are the only teacher. The moment you have a full-fledged studio with multiple instructors, Acuity Scheduling will not work for your growing business.
If you wish to remain a small business and sole operator, then it is a great choice. But if you want to grow your Pilates business into a studio and more significant company, you will struggle with Acuity Scheduling.
Price:
Acuity Scheduling is the most affordable Pilates studio platform on the market. You can get the highest tier with all the features for under $50/month.
Why In The Top 15:
Easy and affordable to get started
Owned by Squarespace and seamlessly integrates with Squarespace websites
PROS
Offers both group classes and appointments at an affordable price
CONS
It does not scale with your business. The moment you need to add a teacher or need advanced features, you will need Pilates studio software.
BEST FOR
Independent Pilates teachers with a limited budget
NOT FIT FOR
Established Pilates studios
Studios that want to grow their business
Conclusion
Pilates studios have unique needs and requirements and require Pilates software that is custom-built for Pilates studios. All Pilates studios require the core functionality of both group classes and appointments. Shortlist software providers that offer the core functionality and then choose based on price, branding capabilities, and support provided.
If you'd like to learn more about operating and growing a Pilates studio, review my in-depth guides:
This guide gives you all the information you need to shortlist your top 3 Pilates studio software companies. I'll be happy to discuss your specific situation and direct you to the right Pilates business software provider for your business needs. You can easily schedule a call with me below.

I write abouT establishing and Growing your boutique Fitness/Wellness Business. I promise no spam, I hate spam.
Enter Your Email To Receive Growth Tips For Your Boutique Studio. I Also Send Out Occasional Discounts And Freebies
---
About the author
Naz Ahm is the founder of StudioGrowth and has spent a decade growing start-ups and venture-backed companies. He writes about sales, marketing, and growth, especially in the yoga, fitness, and wellness industry.
Naz has an MBA from IESE Business School and started his journey in the wellness industry when he set up an on-demand wellness business. Naz currently splits his time between the U.K and the US.