The place where you open your Yoga studio is perhaps the most crucial decision you will make as an aspiring Yoga studio owner. The location of your Yoga studio should be convenient for your members and cost-effective for you.
So, What is the best place to open a Yoga studio? The best place to open your yoga studio is a location that has the following characteristics:
Located at the heart of the community you serve
Convenient to get to for your members
Away from big box Yoga chains and fitness clubs
Fits the specialization, energy, and budget of your Yoga studio
In this article, I will explore the characteristics you should take into account before finalizing the location of your Yoga studio. Where you open your Yoga studio will play a significant role in the success or failure of your studio. So, read till the end and reach out to me if you have further questions.
This post is part of a series of guides and articles providing in-depth information about how to start a yoga studio. Head to the main article to find a list of articles and guides covering the topic.
Where To Open A Yoga Studio
As you consider the best place to open your Yoga studio, it will be helpful to look at the overarching industry trends to inform your decision. We know that the boutique studio industry is booming.
There is an overarching trend where convenience and tribe (community) guide the decisions of people when they choose the right yoga or fitness studio for them. People are willing to pay more per class in return for a specialized experience rather than a generic one; for example, this unique take on the yoga experience.
Once you are mindful of the industry trends and take into account the main characteristics of the location, you will be in a position to choose the right site for your Yoga studio. Let us consider the key aspects you should take into account before finalizing the location of your Yoga studio.
The Community Your Yoga Studio Serves
If you are starting a boutique Yoga studio, you will have an idea of the type of community of members that you want to serve. The kind of community you want to help will play a crucial role in the location of your studio.
Consider you want to serve busy, professional city workers in London. In this case, the shortlist of your locations will include Canary Wharf and Liverpool Street in the east to Paddington and Hammersmith in the west. On the other hand, let's say you want to serve the yoga community in a specific location, for example, West London. In this case, your site shortlist could be Notting Hill, Queensway, etc.
Every major city or town has localities that have their unique vibe and sense of community. As a starting point, identify the type of community you want to serve and then shortlist the locations where you will find such communities already existing.
Proximity Of Your Yoga Studio To Your Members
One of the critical factors that people take into account before choosing a Yoga studio is the proximity of the studio to them. Proximity is also the advantage that you have as a Yoga studio owner against big-box chains and fitness studios offering generic yoga classes. Keep in mind that your strength is the fact that your members can get to you quickly as part of their daily routine.
One of the critical reasons for the rise of the boutique studio industry is that people no longer want to travel hours to visit big-box chain gyms and studios. Big-box chains do not have the capital or the desire to build locations close to each other. The lack of proximity is the gap that boutique studios fill. Take advantage of this fact.
Identify a location within the community that you want to serve that is easy and convenient to get to for your members. Perhaps, the site has excellent public transport connections or can be reached by a short drive or walk by your members. Do not shortlist any location that is difficult to get to, whether it is a lack of parking options or is not easy to find.
Distance From Other Studios And Big-Box Chains
Ideally, choose a location that is away from big-box chains that offer yoga classes along with other fitness and wellness classes. When you are beginning from scratch, avoid areas in vicinity to already existing well-known studios. If you have a famous brand, you will be able to overcome any local competition, but for a new yoga studio, avoid competitive locations.
Take advantage of the fact that people will choose your yoga studio because of your unique specialization/branding and the proximity to them. Some of the most important factors that people consider when choosing a yoga studio are convenience and time. So if you want a competitive location, you are nullifying this significant advantage.
Specialization and Budget Of Your Yoga Studio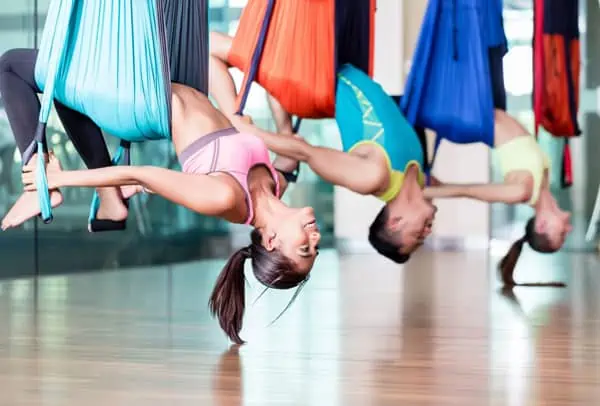 Finally, the best place to open a yoga studio will also depend on the specialization of your studio and your budget. The specialty of your yoga studio will determine the demographics of your members.
Whether you offer hot yoga, aerial yoga, silent disco yoga or laughter yoga, your requirements for your studio will be different. For example, for hot yoga, you will need a contained practice area. Similarly, for aerial yoga, you will require a studio with high ceilings. All these factors will directly affect your budget and hence, the location of your yoga studio.
It is best to provide a fantastic experience in a not so ideal location than to offer a sub-par experience in the best site. For example, consider that you have identified the best site based on proximity and community. However, your budget does not allow you to create a fantastic Hot Yoga experience at that location. Then it is perfectly fine to choose a different location that compromises proximity and community to offer the best experience possible.
Ideally, you will be able to find a site that is optimized for proximity, community, location, and budget while offering your members convenience and flexibility. These are the winning combinations that, when aligned, result in the best place to open your Yoga studio.
What Is Needed To Open A Yoga Studio
Now that you have identified the ideal place to open your yoga studio, your journey to becoming a yoga entrepreneur has just begun. It can take months from identifying a location to finally opening the doors of your yoga studio.
Licenses And Permits
Along this journey, there are several decisions you will need to take. For example, whether you will lease or rent the studio, the duration of the lease, whether you can sublease the studio. You will need to identify the licenses you will need to run your yoga studio. For example, in the U.K, you will need to set-up a limited company, get relevant licenses, and permits (fire department, health department).
Yoga Studio Management Software
Another crucial choice will be the choice of your yoga studio booking software. You will need a booking system that is easy to use and not bloated with features you will never use. Look for a studio management software that helps you attract new customers and retain and engage existing members.
Staff
Even if you are a single person yoga studio, at some point, you will need to hire freelancers to help you. It is best to maintain good relationships with other yoga teachers and yogis who can cover for you when you are sick or on holiday.
Hiring and retaining excellent staff for your yoga studio will be among the hardest things you do in your journey of becoming a yoga studio owner. Your yoga studio has a particular brand, quality, and experience that it offers. You will need to hire yoga teachers who can convey that brand and expertise to members.
One thing you can do early on is to offer yoga teacher classes at your studio. Offering teacher qualification classes will allow you to train yogis to become yoga teachers who you can hire when needed. Adding teacher qualification classes will also add a new revenue stream to your yoga studio.
This post is part of a series of posts providing in-depth information on everything you need to know to start a yoga studio. The other posts in this series include:
I write about topics related to establishing and Growing your boutique Fitness/Wellness stuido. I promise no spam, i hate spam.
Ready ?
---
About the author
Naz Ahm is the founder of StudioGrowth and has spent a decade growing start-ups and venture-backed companies. He writes about sales, marketing, and growth, especially in the fitness and wellness industry.
Naz has an MBA from IESE Business School and started his journey in the wellness industry when he set-up an on-demand wellness business in London.