Having a dance studio in your garage sounds convenient, but is it practical or legal to turn your garage into a dance studio? Having a dance studio in your garage would let you practice on a 24/7 basis and would allow you to run your dance studio from your garage saving on the most significant dance studio cost – rent.
So, can you turn your garage into a dance studio? Yes, you can turn your garage into a dance studio. To convert a garage into a dance studio, you have to install mirrors, flooring, and a sound system. It's possible to convert an average garage into a full-blown dance studio for less than $1,000.
In this article, I will explain the benefits of turning your garage into a dance studio. I will also guide you through the necessary steps of installing:
Mirrors
Dance floor
Sound system
Benefits of Converting a Garage Into a Dance Studio
Without constant access to a proper studio, your dance training will be severely limited. But booking an empty dance studio can cost as much as $30/hour, and you might have to drive a couple of hours just to commute to and from the studio.
That's why you need a private dance studio where you can rehearse whenever you feel like it – and the garage is the perfect place to make one.
To summarize, here are the main benefits of turning your garage into a dance studio:
Rehearse whenever you want.
Save money on commute and dance lessons.
Cut down on your commute.
Affordable cost of equipment.
Teach students and charge for classes.
Rent space to other dancers.
How to Turn Your Garage Into a Dance Studio: A 3-Step Process
The following 3-step process will teach you how to convert a bland garage into a full-blown dance studio.
Step #1: Install the Mirrors
To start a dance studio, you need to install large 'activity mirrors.' These are gigantic mirrors that envelop the whole wall and reflect the entire room – you've seen them in other dance studios or gyms.
Choosing a Mirror
Activity mirrors are mounted on the wall and can be found on Amazon and in home improvement stores.
This type of mirror can be costly. However, as activity mirrors are the critical component for converting a room into a studio, you shouldn't skimp on this investment.
Here are a few guidelines for choosing the right activity mirror:
Average Size: 40″-50″
Average Cost: $250-$400
Example: Fab Glass and Mirror (available on Amazon)
The mirror is the most significant investment you'll have to make in your dance studio, with the most suitable options costing between $250 and $400.
The average size of a dance studio mirror is 40-50″. However, you can find some over 70″ wide that are suitable for larger garages.
Buy frameless activity mirrors. Framed mirrors can be tricky to install and cost a lot more on average.
Note: I have written a detailed article on the cost of dance studio mirrors. Before selecting the mirrors for your garage dance studio, do read the guide to get an understanding of the cost options.
How to Save Money on Dance Studio Mirrors
There are some tricks you can use to find mirrors on the cheap.
For example, you can go to Craigslist and find closet mirrors. Many people are trying to get rid of their mirrors and virtually give them away. To get the equivalent of an activity mirror as a deal on Craigslist, you should try to look up "sliding mirrors" or "closet mirrors." These types of mirrors are just as sizeable as activity mirrors but cost a lot less as people aren't aware of their actual value.
It's possible to land a giant mirror for less than $100, saving you a lot of money in the process. If you don't care about aesthetic perfection and you're not selling and teaching dance classes, you can save money by looking up nearby closet mirror deals. Closet mirrors are also easy to find at home improvement stores.
How to Install Mirrors on Your Own
If you don't want to pay for installation, you can purchase sticky wall mirrors that you can piece together on your wall by hand.
Two primary negatives come with installing sticky wall mirrors:
The sticker lines are visible.
They are hard to remove once you've attached them to the walls.
If you're uncomfortable with installing mirrors, it's worth paying a contractor to install them for you. Lifting heavy panes of glass is a dangerous task, and you need to know what you're doing to avoid harm.
Things To Look For Before Buying Mirrors
Before you buy a mirror, you should check for the following things:
The mirror should be clean and not beveled (sloped) on the edges. A few sloped sides are passable if you're trying to look at the upper parts of your body, but if you stack them against each other, they can distort the reflection. If the mirrors have large sloping surfaces, you won't have a clear image of the room because bevels don't reflect light.
If you're buying large mirrors, you'll want to get thin ones. Thick mirrors add to the overall weight, and you want your mirrors to be as lightweight as possible.
The average thickness for an activity mirror is 3/16 inches. Depending on the thickness, that mirror could weigh as much as 40 pounds.
This weight makes them sensitive and prone to damage, and you'll have to be very careful handling them. The size and weight could also present a problem for the delivery crew, as the mirrors are oversized and quite bulky.
Compare the thickness of the mirrors you're considering and opt for the thinnest one. And no matter what thickness or weight you're working with, find a friend to help you install the mirrors.
Mirror Alternative: Mylar Reflective Sheets
Mylar reflective sheets are an affordable alternative to traditional glass mirrors. These sheets are as lightweight as aluminum foil, making them more comfortable and safer to install. Opting for mylar sheets also cuts down on shipping costs as they're easier to transport.
The downside is that they have to be perfectly pulled on each side to angle the reflection. Any slack in the sheets will cause distortions to appear.
Step #2: Install the Dance Floor To Turn Your Garage Into A Dance Studio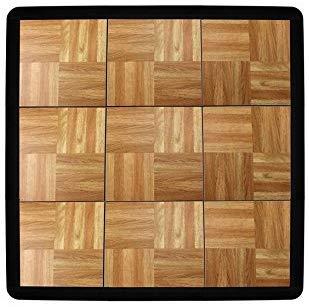 Your garage likely has an uncomfortable concrete floor. Unfortunately, you can't dance on concrete. Therefore, you need padding or a subfloor that will be forgiving on the joints.
There are a few standard flooring options to choose from:
Wooden floors (standard for dance studios).
Marley vinyl floors
Foam floors (most common in yoga studios).
Most professional dancers prefer wooden floors or Marley vinyl floors over foam floors. These options don't absorb the impact on the floor, which allows dancers to get better hold of their rhythm.
Are far as cost goes, wooden floors are the most expensive, while Marley floors and foam floors tend to be on the cheaper side.
Here's an overview of what you can expect when buying the components for your dance studio floor:
Average Size: 12″ per tile (sold in kits of 30-50)
Average Price: $100-200/kit
Wooden Floor Example: IncStores – 9 Piece Modular Tap Dance Set with Edge Pieces (Oak) (available on Amazon).
Marley Vinyl Floor Example: Alvas Matlay Dance Floor (available on Amazon).
Foam Floor Example: SoftFloors Interlocking Tiles 5/8″ (available on Amazon)
Note: I have written an in-depth guide on choosing the best flooring for your dance studio. I cover aspects such as cost, materials, and the right type of flooring for specific types of dance.
Marley Vinyl Floors
Marley floors are the typical vinyl dance floors that you'll find in many dance studios. These floors tend to be double-sided and lightweight, and many have a black and silver finish.
Here are a few reasons you might want to go with Marley vinyl floors:
Marley vinyl is ideal for all forms of dance. You can use it for tap, ballet, hip hop, jazz, pop, and more.
It's cost-effective. You can probably cover your entire garage for less than $100.
Installation is easy. The material is of thin PVC vinyl, which means you can easily roll the vinyl on the floor by yourself and avoid and paying for installation costs.
Wooden Floors
Wooden floors are the premier choice for a dance studio. If you want to make a great impression on students, you need wooden floors.
Most dancers prefer dancing on wood, as it's better for your knees and joints.
If you're worried about the installation cost, you can breathe easy – you don't have to pay thousands of dollars to install a whole new floor.
It's possible to cover the entire garage for only $100 to $200 using modular wooden floors. These are portable wooden floors that you can lay in your garage by hand by attaching the adjacent tiles.
Modular wooden kits come with 20-30 tiles on average, which means two kits should be enough to cover the entire floor of your garage.
Foam Floors
Foam floors are also the most cost-effective solution, as you could pay less than $100 to cover the entire garage. They are easy to snap together and usually built of high-density EVA foam, which makes them soft and long-lasting.
The main downside to using foam is that it tends to absorb movement, which makes it harder to dance correctly.
Step #3: Install a Sound System To Turn Your Garage Into A Dance Studio
What good is your dance studio if there's no music playing?
If you only use your dance studio for occasional practice, you can get away with using headphones. However, installing a sound system is mandatory for professional studios.
Fortunately, you can buy a dual sound system with Bluetooth connectivity for less than $200.
You're better off purchasing sound systems that come with stands because the stands hold them in place. You also won't have to attach the speakers on the wall, which can send vibrations to the mirrors and de-stabilize them.
How to Prepare the Garage To Turn It Into A Dance Studio
There are two steps to preparing the garage for conversion into a dance studio:
Step 1: Clean the Garage
You'll need a lot of space to install your giant mirrors, floors, and sound systems. Therefore, you need to clean out the garage before you proceed with any of the equipment installations.
It might take you a day to clear out your garage. However, it's a necessary step, so make sure you do it thoroughly.
Step 2: Install Heating
The garage is the only unheated part of the home. You'll be freezing if you spend time dancing in the winter. Therefore, you must purchase a remote heater that can heat the garage during the winter months.
Conversely, you should also consider installing an air conditioner for the summer months, as the garage is a closed space that consolidates heat.
Do You Need a License to Open a Dance Studio in a Residential Area?
Now that we've covered the practical aspects of turning your garage into a dance studio, we need to cover the legal aspects.
It is legal in most locations to open a dance studio in your garage – no worries there. However, you need to make sure you obtain a Certificate of Occupancy. This certificate confirms that all zoning and building codes are up-to-date and that it's safe for you to teach dance out in your garage.
If you're at all concerned about the potential licenses and permits you might need to open a dance studio in your garage, contact a lawyer with expertise with your jurisdiction's laws.
To conclude, you can turn your garage into a dance studio. It might require some upfront investment and a bit of contracting savvy, but it undoubtedly doable – even if you're on a budget.
I write abouT establishing and Growing your boutique Fitness/Wellness Business. I promise no spam, i hate spam.
Enter Your Email To Receive Growth Tips For your Boutique Studio
---
About the author
Naz Ahm is the founder of StudioGrowth and has spent a decade growing start-ups and venture-backed companies. He writes about sales, marketing, and growth, especially in the fitness and wellness industry.
Naz has an MBA from IESE Business School and started his journey in the wellness industry when he set-up an on-demand wellness business. Naz currently resides in London, U.K.