If you've always dreamed of being a gym owner, you're probably interested in knowing how much it costs to start a gym.
The cost to start a gym ranges from $10,000 to $70,000. The cost varies depending on size, location, rent, gym equipment, number of staff, and legal fees.
The rest of this article will break down everything you need to know about the cost of starting a gym. We'll talk about the average monthly expenses, gym equipment, gym management software, and how much profit you'll generate.
How Much Does It Cost To Start a Gym?
Starting a gym costs an average of $10,000-$70,000. You'll have to invest money in gym equipment, renovation, sound & lighting, and legal fees. Monthly costs, such as rent, utilities, salaries, and advertising, are also associated with owning a gym.
Without considering rent (as this can vary depending on your location), it'll cost you an average of $30,000 to start your gym.
The cost essentially boils down to renovating the facility and buying gym equipment. Costs also add up if you have specialized sound and lighting, which is becoming crucial these days.
Although the startup costs are high, if your location and timing are on point, you'll break even in less than a year.
You only need 100 regular members to pay you the low price of $30 to make $36,000 annually.
The average monthly price for a low-end gym membership is $31. Once you've made back your initial investment, you can focus on improving the gym so that you have justification for increasing membership fees.
Review my article on building a fitness brand, and you will be able to command higher membership fees if you create a recognizable brand.
How Profitable Is Owning a Gym?
Owning a gym can be highly profitable, and the profit margins range from 5% to 25%. A successful gym can make at least $20,000 per month with a 10% profit margin within a year.
The profits depend on the stage of your gym. If you reinvest all revenue in growth, your profit margins will be negligible. However, if you maintain the status quo of your gym and don't invest in growth, you can increase your profits. As mentioned above, reinvesting in your gym is an excellent way to boost your revenue in the long run.
Keep in mind that gyms don't require a lot of maintenance and investment. Making gyms a good option for people looking for a way to generate passive income – there's not much you'll need to do as the owner once your gym is up and running.
Of course, the start might be difficult if you aren't getting enough regular members. But if you build a good gym and find the right channel to attract your target market, you'll fill up the gym in no time.
ZipRecruiter states that the national average salary for a gym owner is $65,685. Additionally, states like California, Washington, and New York see the highest salaries. However, your earning potential is not limited as you can pay yourself the profits at the end of the year.
What is the Monthly Cost of Running a Gym?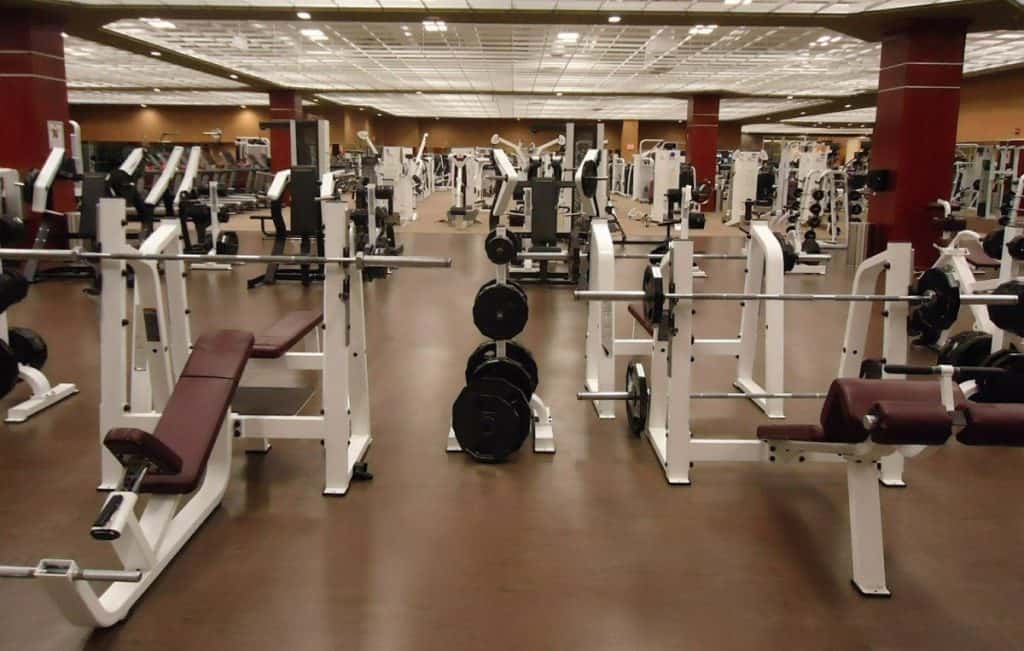 The monthly cost of running a gym ranges from $3000 to $20,000. The monthly cost depends on many factors: your rent, employee salary, electricity (mostly HVAC), water, Internet, advertising, scheduling software, and other miscellaneous expenses.
A sizeable commercial gym will have to shell out thousands of dollars on heating, whereas a small basement gym only needs a couple of radiators. Here's a breakdown of most monthly costs:
Facility Rent Expenses
If you don't already own a place where you can start your gym, you'll have to rent one.
Look for a place frequented by members of your target market or something close to the city center. Since rent in the center is costly, you'll probably go with the former.
Expect to pay around $1,000 to $5,000 depending on the state, location, and size.
Gym Staff Salaries
The average gym staff member makes $32,657 annually. You'll probably have to pay more than that for experienced staff or personal trainers.
However, you can hire freelance staff, significantly reducing your costs.
Whatever you choose, keep the wages fair and pay on time. Your gym staff will play a crucial role in the success of your gym.
Gym Equipment Rent
Although you should buy gym equipment as part of capital expenses to increase profit, you don't have to. So, this monthly cost only applies if you're renting your equipment.
Equipment rental costs increase over time, so it's not worth it in the long run. However, if you can strike a deal with your local gym equipment retailer, you may find it's more cost-effective during the first few months when you're starting, after which you should have the funds to buy your equipment.
Utility Bills
Gym utility bills usually include:
Electricity
Water
Garbage disposal
Heating
Your utility bills on average, would be – $2.10/sq ft (0.092 sq. m.).
If you have a 3,000 sq ft (278.70 sq. m.) gym, you might have to pay up to $6,300 for utility bills.
Internet and Streaming for Members
Virtually all commercial gyms have free Wi-Fi and cable TV or streaming services.
Unfortunately, you'll have to pay more for your gym Internet than your home connection – you will need high-speed and high-bandwidth Internet. With a streaming service bill, expect to pay around $100 monthly.
You may also need to invest in signal boosters and Wi-Fi repeaters if you have a large gym.
Advertising
You might be surprised to see advertising under monthly costs.
But you need to pay for ads regularly to maintain a regular number of members. There is natural churn, and you will have members leaving monthly, and you must find new members to replace them. Word of mouth is a good business strategy, but it should never be your only one.
Of course, there's no upper limit to how much you can spend on advertising. But expect to spend $200-$300 monthly at the very least.
Gym Licenses and Permits Cost
Gym licenses and permits can cost about $1,000-$2,000, but it varies by state. In general, you need building permits, insurance, a license for gym service, a child care license (if you plan to allow children), a food seller's permit, shower regulations, and more.
It depends on what you plan to do with your gym. Selling gym merchandise and workout supplements is a fantastic way to increase your income, but you'll need a permit.
In most cases, you'll need to take care of the following:
Defining and registering your business
Following safety and emergency protocols
Building permits
Shower permits
Licensing and certificates for gym services
Food, retail, spa, massage, and other licenses
Music licensing
Child Care licensing
If you and your staff members already have personal trainer licenses, you won't have to repurchase them.
It's in your best interest to contact a local gym owner and ask them what permits and licenses they have and how much they cost. If you can't do that, you can hire a lawyer or legal consultant to do it for you.
A gym license costs between $50 to $200, but it's not the only essential license. Building licenses can cost several hundred dollars and upwards of $1,000.
All in all, expect to pay about $2,000 for all licenses and permits for a fully equipped gym.
Average Cost of Gym Equipment
The average cost of gym equipment is $1,000 to $2,000 per piece. Buying used equipment is two to three times cheaper. Furnishing a gym with all the required equipment can cost between $20,000 and $100,000.
When starting a gym, one of the most significant expenses is purchasing the equipment. For example, an affordable used exercise bike costs $200-$300.
You probably need at least 3 or 4 exercise bikes for a modest gym, bringing the cost to at least $600.
Apply this to all other gym equipment, and it wouldn't be surprising to see a six-figure mark depending on the size of your gym.
An alternative to buying all gym equipment is to lease it instead. For example, you can get $20,000 worth of equipment for about $555/month over 36 months.
You'd get far more equipment if you took a $20,000 loan and bought everything used. If you can find a gym shutting down, you'll get lucky and catch a clearance sale, allowing you to outfit your whole gym for under $20,000.
New vs. Used Gym Equipment
In general, it's advisable to purchase used gym equipment. Sure, new gym equipment looks shiny and impressive. But there's a catch.
Brand-new weight plates and machines will look used in less than a year. Accidental drops, scratches, and general wear and tear will ruin your equipment's appearance. Also, modern gym machines usually don't look worn out, even after a decade.
You can buy used gym equipment for a third of the price, allowing you to get higher quality equipment for less.
Of course, you could also go the custom route by adding your logo to everything. However, this will likely put your gym equipment at the six-figure mark.
Don't believe me? Watch this video of Russel Orhii's incredible gym that has a black-and-red theme with custom gear:
Weight Plates, Barbells, and EZ Bars
You should generally buy new or lightly used barbells and EZ bars. Also, only get the high-quality Olympic stuff, not cheap Chinese knock-offs. It's better to have two good barbells than 20 bad ones, so don't worry if you can't afford as many pieces when you're just starting.
Weight plates cost about $1.5 per pound (0.45 kg), but you can get used plates for under $0.5 per pound. Try to get a complete set of weight plates instead of buying a few at a time. You'll probably get a weight rack for free too!
Pre-Weighted Barbells
You'll likely pay about $100 per barbell if you want a pre-weighted barbell set. However, it's better to avoid them altogether when starting. Olympic barbells and weight plates are far more versatile and a better way to spend your likely limited budget.
Dumbbells
Like weight plates, new dumbbells also cost about $1.5 per pound. You'll likely pay about $1,000 to $2,000 for a 10-piece set with a rack.
If you go for used dumbbells, you can probably snatch a complete set for under $500.
Adjustable Dumbbells
The best way to save on dumbbells is to get 3-4 sets of adjustable ones. It's not ideal, but the cost makes it worth it. A pair of adjustable dumbbells only costs about $200 to $500. Used ones will cost half or a third as much.
However, keep your client's needs in mind when making this choice. If your clients prefer non-adjustable dumbbells, investing a little more is always best to ensure they have the best experience possible in your gym.
Weight Racks and Cages
Weight racks and power cages are among the most expensive gym equipment. For an average gym, you'll likely need at least two weight racks and one power cage.
A new power cage will cost you $800 – $1000, and a new weight rack costs about $200- $500.
Benches and Exercise Bikes
You'll probably need at least two or three adjustable benches. They cost about $100 to $200 new, so they're not super expensive. A bench with a rack is about $300.
Exercise bikes cost between $200 and $2,000, depending on quality, features, and condition. An average used exercise bike is usually around $300 to $400.
Treadmills and Stepmills
A new treadmill costs about $300 to $1000. That said, used treadmills are usually a good bet. Replace the walking belt, and it'll be like new.
Stepmills are some of the most expensive gym equipment out there. They cost between $2,000 and $5,000, so it's always worth getting used steppers.
Ellipticals and Pull-Up Stations/Power Towers
Ellipticals cost anywhere between $200 to $1,000 based on features and quality. Remember that, unlike most other equipment pieces discussed here, you can't get away with cheap ellipticals. You can get high-quality used ones for about $600 to $800.
A pull-up station (also known as a power tower) costs $200 to $500. You probably only need one in your gym. Make sure to buy pull-up stations that can double as dip stations to get the most versatility out of one piece of equipment possible.
Cable Crossover Machine
A fully-equipped cable crossover machine is essential. You need at least one for your gym because it's used for dozens of different exercises.
It costs about $500 to over $3,000. The quality of your crossover machine matters to most gym members, so get something decent.
Workout Mats, Resistance Bands, Kettlebells, and Medicine Balls
An average workout mat costs about $20 to $100, depending on size, thickness, and overall quality.
A set of high-quality resistance bands is about $30 to $100.
Kettlebells can cost anywhere between $20 and $200. Medicine balls are cheaper and cost about $20 to $50.
Gym Management Software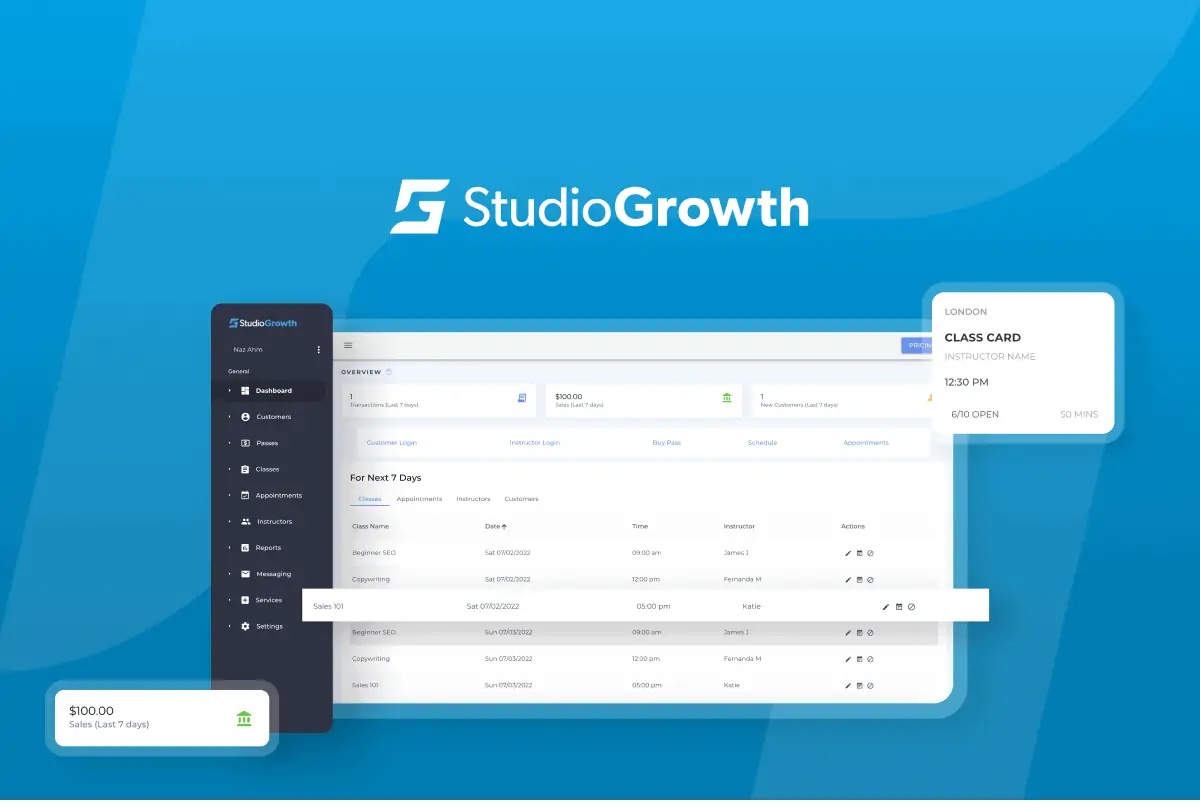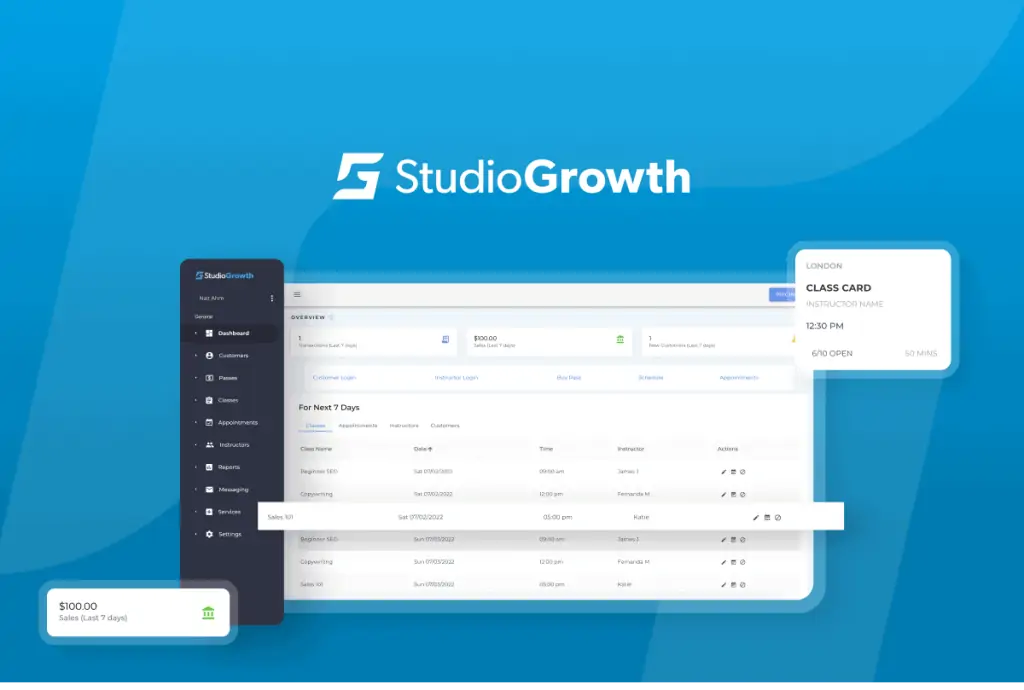 Gym management software costs $100-$200/month on average. Gym management software allows you to manage memberships, bills, staff, inventory, and other miscellaneous tasks.
Gym management software is a necessity, not a luxury.
Sure, you can run your gym without it. But manually managing operations is time-consuming and harder to track data for auditing purposes. The right gym management software will simplify your workflow and improve efficiency, so it's worth every penny.
StudioGrowth is a highly recommended gym management software. It is an all-in-one platform offering scheduling, payments, staff management, member management, etc. Additionally, review my comprehensive guide on the top fitness studio software to help make the right decision for your gym.
Other Costs
You probably think that we've covered every cost imaginable so far. Unfortunately, we have to talk about quite a few more expenses.
Adaptation and Renovation
Adapting and renovating the facility you've rented or own is the most expensive starting cost. But it's a one-time expense, so let's break it down.
Restroom and Shower
If the facility doesn't have a restroom already, expect to pay up to $250 per square foot (0.92 sq. m.). Of course, you can save a lot of money by doing most of the work yourself – it's possible if you're handy enough around the house.
A basic shower stall costs at least $1,000, while a high-end one can cost up to $10,000. I suggest getting at least one shower per locker room.
Locker Room
You'll need two locker rooms for your gym. They cost about $30 to $80 per square foot. Again, doing the flooring, walls, and painting yourself will save you a lot of money.
However, please note that unless you're truly confident in your skills, it might be best to get professional help. If you're unsure of what you're doing, you'll end up doing more harm than good, and when you call in a professional, they'll charge you additionally for clearing the work you've done before they can start over.
Flooring
You probably don't need to redo the flooring in most gyms. Simply throwing down a few thick rubber mats is much cheaper than redoing everything.
But if you do decide to go for laminate flooring, expect to pay about $10 per square foot (0.92 sq. m.) for hardwood flooring or $2 per square foot for laminate without labor. Reserve an additional $1-$2 per square foot (0.92 sq. m.) for labor.
Painting
If you do the painting yourself, you can get away with a few hundred dollars just for the materials. If you pay someone to do it for you, you'll have to pay about $2 per square foot (0.92 sq m).
Mirrors
Large gym mirrors are an absolute must as they allow clients to check if they're working out correctly. You'll probably pay about $50 to $100 per piece for large mirrors.
Electrical Wiring and Outlets
If the facility doesn't have wiring and outlets, you'll have to pay a few hundred dollars to install them. Large facilities drive the cost up to $1,000.
For electrical wiring, it's essential to get professional help.
Electronics
Although most electronics mentioned here aren't a must-have, they're something you should get as soon as possible.
People love listening to music when working out, for example, while others prefer watching TV. So, make sure to offer people all the facilities you can to make them stay.
Also, remember that gym membership cards are part of the electronics you'll have to invest in. Luckily, membership cards with NFC are surprisingly cheap. You can find them for around $0.10/piece online.
Speakers and Amplifier
If you get a pair of new passive speakers and an amplifier, expect to pay about $500. Used ones will cost half as much.
Large passive speakers cost about $50 to $200, depending on the quality. A high-end amplifier can cost over $1,000 too.
Computers and TVs
You need a desktop computer or laptop to run gym management software, surveillance, and music. You only need something basic, so $300 will be enough.
You can find a cheap TV for about $200 – $300. If you want something fancy, expect to pay about $1,000.
Surveillance System
A business surveillance system solution costs about $1,000 for a set with eight cameras.
While it may seem expensive, it's worth the cost because you can record and track the activity in your gym.
HVAC
An HVAC system is a must for any gym. You need good ventilation to get rid of unpleasant smells, and you need heating and cooling to make your members feel comfortable.
An HVAC system costs about $7,000 on average. If you own a 3,000-square-foot gym, expect to pay about $10,000.
Final Thoughts
Starting a gym is relatively expensive. To start a gym, you'll have to:
Buy equipment
Rent a facility, renovate and adapt it
Pay for equipment and electronics
Pay for monthly salaries, utilities, and gym management software

I write abouT establishing and Growing your boutique Fitness/Wellness Business. I promise no spam, I hate spam.
Enter Your Email To Receive Growth Tips For Your Boutique Studio. I Also Send Out Occasional Discounts And Freebies
---
About the author
Naz Ahm is the founder of StudioGrowth and has spent a decade growing start-ups and venture-backed companies. He writes about sales, marketing, and growth, especially in the yoga, fitness, and wellness industry.
Naz has an MBA from IESE Business School and started his journey in the wellness industry when he set up an on-demand wellness business. Naz currently splits his time between the U.K and the US.