If you're starting a fitness studio, one of the first things you need to think about is the amount of space you'll need for your fitness studio. In addition to the location of your fitness studio, the space required will make or break your fitness business.
So, how much space do you need for a fitness studio? You need, at the minimum a 1000 square feet for a fitness studio. According to the Association of Fitness Studios, the average size for a fitness studio is 3,813 square feet. Buildings comprising over 1000 square feet are suitable for commercial fitness enterprises such as fitness studios.
In this article, I will dive deep into the space requirements for your fitness studios. I will also explore the different types of fitness studios.
How Do I Know How Much Space Is Needed For My Fitness Studio?
Your budget, revenue, and expected membership numbers will be the decisive factors in determining the studio space you need.
If you're a millionaire with a limitless Amex card, you can open a 50,000 square foot studio with a luxurious lobby, locker rooms, glass showers, and state-of-the-art equipment.
But if you're on a tight budget, you might have to open your first studio in the basement of an apartment complex, which isn't ideal.
Some fitness studios require less space due to the nature of the exercise routines their member's practice.
Gyms that emphasize weight-lifting need more space to place the weights and give each member ample space to work out. On average, a gym can expect a 10% attendance of the total membership count at any time of the day.
Yoga studios and group fitness studios can hold up to 20 students in a 20 x 20-foot room. Therefore, they require less space than gyms, as students work out close together.
Pro Tip: You'll have to sign a lease on the space for at least 6-12 months, and it's much easier to finance a lease on a small space than a lease on a larger property. Furthermore, you'll have to purchase or lease fitness equipment, which adds to the total cost.
What's the takeaway? Start small and scale-up as needed. If you wish to go big from the get-go, you will need financial backers for your fitness studio.
Cost To Open A Fitness Studio
The cost to open a fitness studio ranges from $10,000- $100,000.
The price depends on how trendy the area is, the size of the studio, and the equipment you're buying or leasing.
To open a studio in Manhattan, you might have to pay $10,000 a month for a lease and abide by city regulations to obtain a permit. You'll also have to pay tens of thousands of dollars for the commercial equipment you need.
If you open a small yoga studio in a makeshift apartment at the edge of the city, you could get away with paying something slightly above the rent price of the apartment.
The cash you spend will depend on what you're trying to achieve. Let's say your studio is the size of the average US studio at 4,000 square feet.
What Would It Take To Equip A 4,000 Square Foot Fitness Studio?
You'll need the following things:
Main workout room + equipment.
Lobby/reception room + sitting benches.
Locker/shower room + equipment.
Storage room/warehouse.
The main workout room should take up the most space – at least 50% of the total area available.
The other rooms should be smaller, though the exact proportions are up to you. The waiting lobby should also have benches that can accommodate at least five people.
Fitness Studio Space For The Main Exercise Room
The main exercise room is where the magic happens. Members will be spending more than 90% of the time they're in your gym in the exercise area, which is why this room should take up most of the space in the studio.
If you allocate only 20% of the total space for a lobby and locker room, you can use the remaining 80% for the exercise area. For example, if you sign a lease for a 2000 square foot space, you'll want to use more than 1500 square feet in the main room that contains all of the equipment.
Here's a bit of math to make this clearer: if your studio has 200 members and has a 10% attendance at all times, you'll need roughly 2000 square feet for the main exercise room. But if the studio is smaller and you only have 100 paying members, you can get away with a smaller exercise room.
Fitness Studio Space For The Reception Lobby
The reception or "Welcome" area can be small, as all you need is a reception desk with an iPad where you can sign-up new members and invoice payments using fitness scheduling software.
Reception lobbies should be the first thing members see when they enter your studio. The layout of your studio should make sure that outsiders who don't participate in the exercises can sit and wait in the lobby.
The reception lobby should take up only 5-10% of the total space.
In addition to the desk and computer, all you need is a seating area that can accommodate 5-10 people on average.
For a bit of extra profit, consider installing coffee or vending machines in the reception lobby.
Fitness Studio Space For The Lockers
Locker rooms are a luxury for the largest gyms. If you run a small studio, you won't need a locker room. You can place 3-tier lockers in the waiting room and let your members store their belongings there for the duration of their exercise. It's also possible to convert a small back room into a locker room. However, if you are running a HIIT studio, then you need significant space for lockers and showers.
For commercial studios located in prime areas, you'll need at least 2000 square feet for a locker room with showers. You should segment locker rooms by gender – so if you have 2,000 square feet for a locker room, you'll need 1000 square feet for a men's room and 1000 square feet for a women's room.
Fitness Studio Space For Storage
You'll also need additional storage in the studio that members can't access. You can store all of your surplus equipment and accessories such as dumbbells, yoga mats, blankets, gym apparel, and more.
This room is necessary; unless you plan to store the entire gym inventory in your home, you'll need at least one small place where you can store things.
5 Popular Types of Fitness Studios
Traditional Style Gyms
Gyms primarily focus on strength training, cardio, and weight-lifting exercises. Gyms offer members many free weights that vary widely in size. Gyms also offer machines designed to facilitate effective exercise and improve health. Large gyms typically have both weight training equipment and cardio equipment, while small gyms tend to have only weight-training equipment.
If you start small, you can equip the gym with weights and purchase more expensive cardio equipment as the gym expands. Commercial cardio equipment is more costly than the private cardio equipment that we use at home, so make sure you need it before you invest.
Because most gym members focus on weight training, stocking up on weight-lifting equipment should be your top priority.
Aerobic [Fitness] Studios
Aerobic studios teach classes similar to those you've seen in fitness commercials. Aerobic exercises focus on cardiovascular health, and the emphasis in aerobic studios is on teaching classes related to flexibility, toning, and cardio workouts.
Aerobic studios occasionally teach lessons in unconventional exercises such as dance, martial arts, and traditional weight-lifting. Aerobic studios usually offer pre-arranged classes, and most students pay per class.
Yoga Studios
Yoga studios have a more spiritual "vibe" than other fitness studios. The students are gathered together in a single room, and they practice together while seated next to each other.
The students attend a class teaching them techniques related to flexibility, mental and physical relaxation, and body-strengthening movements.
Classes are taught by yoga professionals who charge individually per lesson or in monthly subscription.
Dance Studios
Dance studios teach many different dance classes that show students how to perform a particular dance style.
Dance has fitness benefits, such as improving the cardiovascular system, balance, and coordination of students. Dance teachers typically charge by the class, or they offer monthly membership prices.
Dance studios sometimes teach ethnic dances, and you can usually find these specialized studios in communities with people who are familiar with that style of dance.
Pilates Studios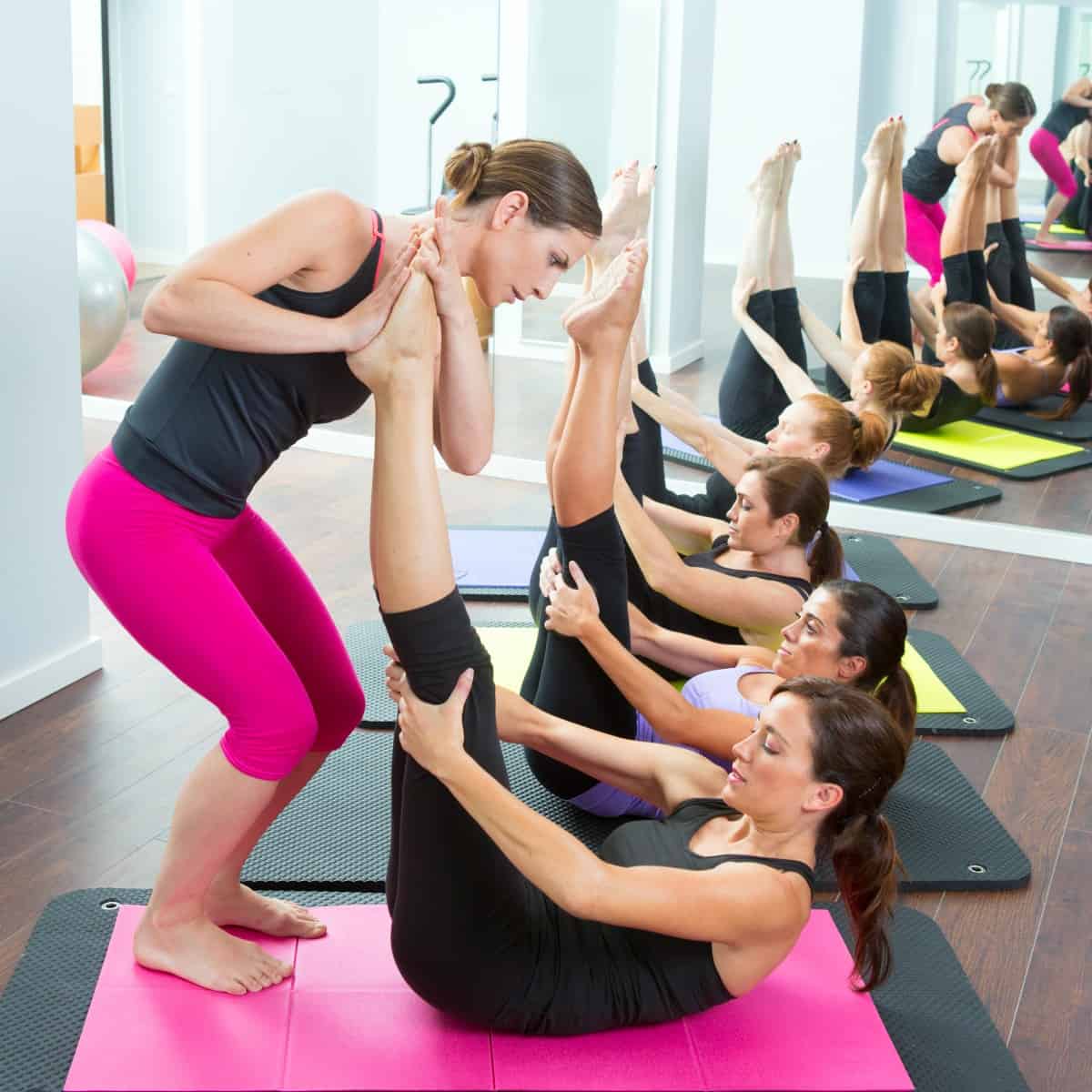 Pilates is a form of exercise similar to yoga that focuses on both the mental and physical aspects of health.
The art of Pilates teaches body alignment, centering, and breathing techniques. Pilates also teaches mental strengthening tactics such as concentration, control, and precision.
Pilates studios charge by the hour, or they offer monthly membership prices.
To conclude, the amount of space you need depends on the type of fitness studio you're opening. A small yoga studio can get away with a few hundred square feet, while you'll need at least 1,000 square feet for a more extensive fitness studio.
Note: The location of your fitness studio can make or break your fitness business. I have written a detailed guide on how to choose the best location for a yoga studio. The concepts explored in the article also apply to fitness studios. Give it a read!
I write abouT establishing and Growing your boutique Fitness/Wellness Business. I promise no spam, i hate spam.
Enter Your Email To Receive Growth Tips For your Boutique Studio
---
About the author
Naz Ahm is the founder of StudioGrowth and has spent a decade growing start-ups and venture-backed companies. He writes about sales, marketing, and growth, especially in the fitness and wellness industry.
Naz has an MBA from IESE Business School and started his journey in the wellness industry when he set-up an on-demand wellness business. Naz currently resides in London, U.K.