Good lighting is essential for the success of a gym or a fitness studio. Not only does the right type of illumination create the ambiance required for training, but the proper lighting also allows members to see their progress. However, gym lighting is different from fitness studio lighting.
Gyms require a stable, reliable source of light. The goal is to provide bright, reliable lighting that mimics daylight. Often gyms require light that is used continuously (24-hour gyms). A gym lighting system is designed to be simple so that any staff member or trainer can operate the lighting system.
Fitness studios rely heavily on lighting to create the ambiance associated with their brand. They require fairly complex lighting systems connected to music systems often designed by specialists to convey the brand. The focus is on using light to affect the physical and mental state of the students.
Brands like Onforu, Hykolity, and ANTLUX make some of the most popular products in the industry.
In this article, I will discuss the top 12 best lighting options for gyms and fitness studios. I will also explore why lighting systems are so crucial for a gym and fitness studio. Additionally, I will explore:
Installation advice
How to use mirrors with your lights
Common mistakes when choosing lights for your gym or fitness studio
Tips for picking out the right lighting systems
NOTE: Before we get into the weeds with lighting systems for gyms and fitness studios, I would encourage you to sign-up for the free 14-day trial of StudioGrowth. We have built a powerful fitness studio software that accelerates the growth of your fitness business at a fraction of the cost of other systems. Do give it a try, you will love it, I promise. With that out of the way, let's get into it!
Difference Between Lighting For Gyms & Fitness Studios
If you operate a group fitness studio, then the lighting system will play a significant role in the success of your group fitness concept. Group fitness studios, especially those offering short 20 min – 40 min HIIT sessions, rely heavily on lighting and music to create the right ambiance.
In such fitness studios, the lighting alters the mental state of the students, helping them tap into the inner strength and motivation needed to push through psychological barriers.
Often, HIIT fitness studios mimic a nightclub environment. From using bright lights during high-intensity pushes to using red lights during cool down, the lighting is often part of the brand of the fitness studio.
Lighting For Gyms
Gyms require stable and reliable lighting. Often gyms require light that is used continuously (24-hour gyms). In this case, lighting is more functional and has less to do with the brand and the fitness concept.
The goal is to provide bright, reliable lighting that mimics daylight. The lighting system is straightforward and not connected to the music systems. The system is designed for ease of use so that any staff member or trainer can operate the lighting system.
Lighting For Fitness Studios
Fitness studios, especially group fitness studios, rely heavily on lighting to create the ambiance associated with their brand. Fitness studios require fairly complex lighting systems connected to music systems.
The focus is not on bright white lights, mimicking daylight, but using light to affect the physical and mental state of the students. For example, red lights assist during cool down and dark lights or no lights during high concentration phases.
Often you will need to work with specialists to design the lights and music that conveys your brand and offers a differentiated workout.
In this article, I will explore the 12 best lights that are reliable and are excellent for any gym or fitness studio.
The Best Lights for Your Gym or Fitness Studio
1. LED Gym Light
The LED Gym Light is the perfect light for all sorts of applications. It opens up with four sections and resembles a ceiling fan. You can raise or lower each section to widen or narrow the illuminated area. They also collapse inward to shine a small light that doesn't overwhelm everyone near it.
Since it's an LED lightbulb, this light can save you tons of money on your electricity bill. If you're running a gym, having a few of these around will let you adjust the light in ways that will benefit your clientele. To install them, simply screw each bulb into an E26 lightbulb socket on the ceiling.
These lights have a 4000-lumen output that comes out in 6500K daylight white. Daylight lights improve the overall mood since they mimic the daylight. You'll have happy members working out in a well-lit room. What more could you ask for from a set of lights?
Pros
Adjustable sections to control the amount of light
No tools required to install
Bright white daylight
Saves you tons of money on your energy bill
2. LED Canopy Lights by WYZM
If you just want a simple set of lights that don't require any adjusting or maintenance, then the LED Canopy Lights by WYZM should be at the top of your selection. They're quick and easy to install, and you can buy them individually or in a two-pack.
Another convenient feature of these lights is that they connect to 120V or 220V, so you won't be limited or either/or. They also have a bracket that seals off each bulb from moisture, preventing any harm. You'll be able to use four mounting brackets per fixture to put it wherever you want to.
The 70W bulbs are great for conserving energy as well. They replace 300W non-LED bulbs, which means that they'll last longer and cost less. A switch from traditional bulbs to these lights is a no-brainer for any gym or fitness studio owner.
Pros
Compatible with remotes
Ideal for 110W/220W electricity
Includes four mounting brackets
Uses a built-in moisture seal
3. QiMH LED Lights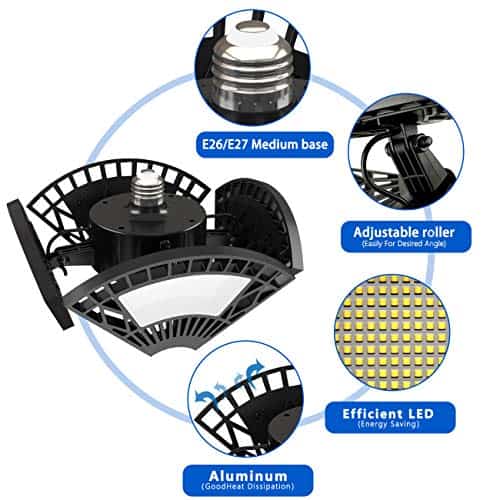 You might also enjoy the simplicity of the QiMH LED Lights. Much like a few other choices on this list, they only need to be screwed into a bulb socket to start working. This light has four sections that operate independently to give you the maximum or minimum amount of light that you need. All you have to do is pull or push each blade to activate it.
The overall dimensions of each light come out to 9.86 inches x 9.86 inches x 4.72 inches, giving you plenty of room to install as many as you'd like. The company claims that the bulbs last for up to 50,000 hours of operating time, which shatters the expectations of traditional lightbulbs, and is the perfect fit for 24-hour gyms. With the long duration, you'll also receive upwards of 88% savings.
Perhaps the best part of owning these unique lights is that they can be used to illuminate an area 360 degrees around them. Rather than having a bunch of dome lights that leave gaps of darkness on the floor and ceiling, you'll have an even 6000K daylit area.
Pros
Adjust fan-like blades for each light
Illuminates 360 degrees area
Compact design
50,000 operating hours
4. Falive Lighting Tri Bright Gym Light
The Falive Lighting Tri Bright Gym Light offers a 20-foot diameter of bright light. Three sections come with a newly-upgrade assortment of advanced lighting technology to prevent glares while still providing optimal illumination. The internal wiring is all secured as well.
Each of the three sections has a set of aluminum hinges. Aluminum is known to be lightweight and extremely durable, primarily when used with light fixtures. If you're looking for a set of lights to brighten up your gym or fitness studio, you cannot find a better choice!
A unique feature that you might not find in many other lights is the heat-resistant technology. Most lightbulbs get warm or hot when used for too long. This temperature increase eventually leads to a burnt filament, thus ruining the bulb. However, these lights don't warm up very much, saving the thread and extending their lifespan.
Pros
Made with secure wiring and aluminum hinges
Designed to illuminate a 20-foot diameter
Three adjustable light sections
Won't overheat or burn out
5. UFO LED High Bay Light by Ankishi
Hanging lights have been around for decades, and they continue to look classic and modern at the same time. The UFO LED High Bay Light by Ankishi is a circular light that illuminates everything around it. All you need to do is mount it to the chain and hook the chain to the ceiling.
If you choose to buy these lights, you'll be able to select from 100W, 150W, 200W, and 300W depending on how much illumination you need. The top of the fixture is wide and vented to prevent heat from building up, making these lights last much longer than most others.
Perhaps one of the best features of this light is the fact that you can mount it to a ceiling, wall, or floor. Wherever you're comfortable with drilling holes is where this light can go. The mounting brace adjusts to give you the perfect angle at all times.
Pros
Easy to hang or mount anywhere
Choose from several different sizes
Wide area of illumination
Timeless UFO design
6. Premium LED High Bay 2'x 2′ by Superior Lighting
There's no doubt that the Premium LED High Bay 2′ x 2′ Lights are some of the most common fixtures in grocery stores, gyms, warehouses, and other commercial buildings. They last for an incredible amount of time, 50,000 hours, to be exact. Once you install them, you only have to change the bulb rather than the whole fixture.
You'll be able to choose from 36W, 90W, 135W, 180W, or 320W. Each fixture comes with a standard surge protector to prevent shocks, fires, and other electrical damage. If you're working with several clients in a small space such as a fitness center or a studio, these lights are perfectly safe.
It comes with everything that you need to hang each fixture. You won't have to go out of your way to find pendants, chains, or mounting brackets. You can also raise or lower the height of them to correspond with fans and other items hanging from the ceiling.
Pros
Numerous sizes to choose from
Long-lasting 50,000-hour lightbulbs
Comes with everything you need for installation
Wide lighting arrangement
7. Onforu 2 Pack 100W UV LED Black Light
The Onforu UV LED Black Light is the easiest light to install and use on the market. It's a plug-and-play setup that comes with a long cord, allowing you to illuminate virtually any space around your studio. You can also change the angle by tilting the fixture.
The housing of this light is rather impressive. It's made out of die-cast aluminum to reduce the weight while adding high-quality durability to protect the internals. Its design pushes heat out of the back, preventing damage to the filaments.
The power cord that comes with the Onforu light is five feet long, and it plugs into any socket that's between 100V and 120V. There's also a rotating stand that can be used as a mounting bracket if you want to install it on the ceiling or a wall.
Pros
Comes with a five-foot electrical cord
Made out of durable materials
Self-cooling design
Mount it on the wall or leave it on the ground
8. AntLux UFO LED High Bay Light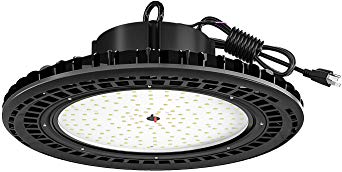 Self-cooling technology is a rare feature, but the AntLux UFO LED High Bay Light has an IP65 rating. This rating classifies it as waterproof, so you can rest assured that small spills won't ruin your investment. They come in 100W, 150W, and 200W sizes that all offer excellent illumination for all sorts of studios and gyms.
You can plug each light into a USB port to power it, which isn't something you can say about most other gym lights! There's a dimming wire to adjust the brightness whenever you need to. Next to the wire is a hanging loop that can be hooked up to a chain, string, or wire to hang it on the ceiling.
The company currently claims that each light saves up to 78% on the average business's energy bill. What makes it even more impressive is the lifespan that allows you to use these lights for 23 years at six hours per day. Even if you run them from morning until nighttime, you'll still be able to use them for over a decade.
Pros
Comes in three different wattages
Easy to hang on the ceiling with a built-in loop
Adjustable dimming wire
Long-lasting lightbulbs
9. Synmixx LED Ceiling Lighting Fixture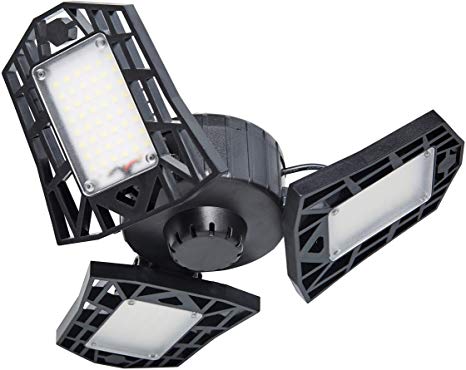 Made with stainless steel, aluminum, and pro-grade plastic, the Synmixx LED Ceiling Light Fixture is one of my favorites. The low price makes it even more tempting once you review the three adjustable light sections that each have 48 top-quality diodes, producing twice the brightness that you get from an average bulb.
These LED light fixtures have steel braided cables to protect the electrical components. You'll also notice that each of the hinges is made with aluminum to prevent rust and corrosion over time. Gyms and fitness studios can get humid from all of the body heat, which eventually damages most other lights.
Up to 50,000 hours of operating time make these lights some of the best around. They also don't leave dull glares or shadows all over the place. Fold up each section to widen or narrow the illuminated area in seconds. These bulbs fit into any standard E26 or E27 socket.
Pros
Durable materials used throughout the lights
Numerous diodes that brighten up the area
Adjustable sections to change whenever you want to
Works with most light sockets
10. Hykolity 150W UFO LED High Bay Light Fixture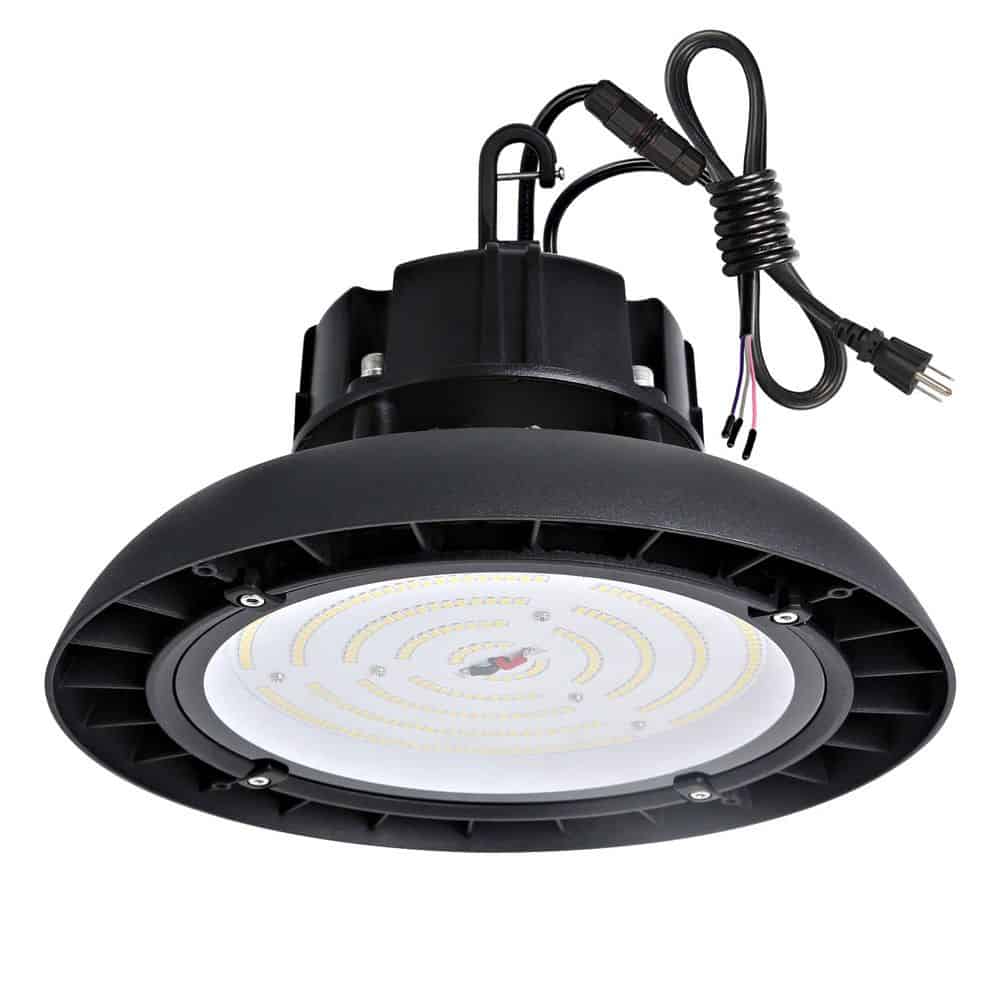 The Hykolity 150W UFO LED Light offers some of the brightest light on the list with 9500 lumens. This 150W lightbulb also comes in 100 watts and 200 watts, so pick out the one that works best for your fitness studio or gym. Regardless of the size, you'll be able to save up to 80% on your energy bill.
They have a 110-degree angle that brightens up any building right away. You can also adjust the dimming switch to increase or decrease the brightness of each light. They last for up to 50,000 hours each, which makes the budget-friendly price quite a steal.
One of the best features is the fact that you can hook it up to a motion sensor. Whenever clients come in late at night or early in the morning, they'll have their path illuminated right away. There's even a U-shaped hook if you want to hang it on the ceiling.
Pros
Comes in three sizes
Saves you tons of money on your electric bill
Bright as natural daylight
Lasts up to 50,000 hours
11. Hykolity 4FT 36W Linkable LED Shop Light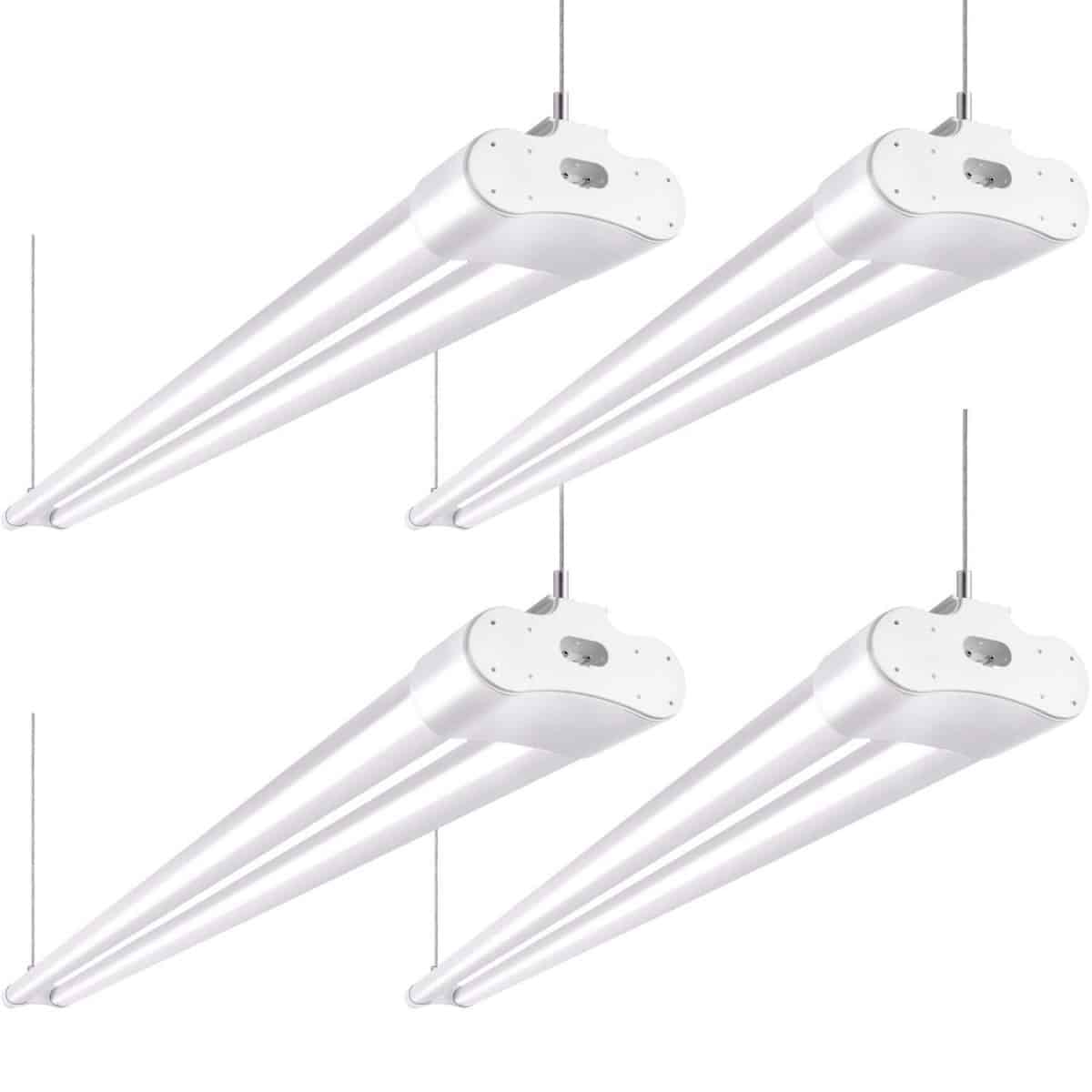 Shop lights are perfect for fitness studios, gyms, and equipment centers. The Hykolity 4FT Linkable LED Shop Light lets you connect multiple bulbs to use as a single power source. You can program them to dim or switch on and off at the same time.
These powerful lightbulbs are very energy-efficient. They use bulbs with 4000 lumens at 5K daylight brightness. The natural glow brightens up the building without using an uncomfortable glaring shine. You can raise or lower the hanging chain as needed.
The mounting hardware is all included with these lights. You'll receive the lights, chains, mounting pieces to hook right on a wall, and a power strip with an on/off switch. Setting up one of these lights takes under five minutes with the proper tools.
Pros
Link several lights together to function as a single unit
Mount on the wall or hang from the ceiling with chains
Simple on/off switch
Powerful 5K daylight bulbs
12. TREONYIA 100W UFO LED High Bay Light Lamp
Last on my list is the TREONYIA 100W UFO LED High Bay Light Lamp. As one of the most robust lights out of the selection, it boasts a massive 15000 lumens at 5K Daylight White color. Each LED chip saves energy while producing steady, non-flickering light throughout the day.
The aluminum exterior releases heat out of the top by using heat's natural tendency to rise. This process keeps the light cooled down, even after several hours of usage. You can use this lamp for up to 50,000 hours (or 6 hours a day for 23 years) before you have to replace it.
On top of the whole fixture is a loop to hang the lamp. You can use a string, a chain, or any other hanging device that you'd like. It also has a five-foot power cord to give you plenty of room to hook it up anywhere that you need. These lights are compatible with power strips as well.
Pros
Comes with a dimming wire, a hanging loop, and a 5′ power cord
Easy to install in a matter of minutes
15000 lumens at 5K Daylight White
Heat-resistant cold-forged aluminum
Do You Need Mirrors To Enhance Lighting In A Gym Or Fitness Studio?
Alongside proper lighting, mirrors have always had their place in a fitness studio or gym. They brighten up the building and also allow members to work on their form. As a person works towards their fitness goal, being able to see the results as they work is a huge motivator.
So, do mirrors enhance the lighting of your gym or fitness studio? The obvious answer is yes. Mirrors can have a significant impact on the quality of light in your gym or fitness studio. Mirrors can also light up sections of your gym that do not have sufficient lighting in place.
They're not necessary, but the benefits are undeniable. There's no doubt that mirrors can cost quite a bit of money, especially when you have to line the walls of a large building. If they're not in your budget, try to add them later. You'll brighten up the exercise space, and your clients will appreciate them!
If you do decide to buy some mirrors for your gym or fitness studio, make sure you get a high-quality set. It's easy to skimp on this purchase (it's only a piece of glass – right?), but you shouldn't. Shoddy mirrors will look bad, have insecure fastenings, and will reflect poorly on your gym. Put in the research and find a great set before you make a purchase.
How to Install Lights in a Gym or Fitness Studio
The idea of buying and installing a brand-new lighting system can be intimidating. Don't worry, follow this step-by-step guide on how to install lighting at your gym and fitness studio.
Unless you are building a custom light show for Bootcamp sessions, you can install the lighting system yourself.
Pro Tip: Each light should be about six feet apart. This space gives them enough room not to look crowded, but you'll also have overlapped brightness to make it look much more uniform. Depending on the light that you choose, you might be able to expand the gap to about nine feet or so.
Step-By-Step Guide To Install Lighting In A Gym Or Fitness Studio
Locate the sockets that you'll be using for the lights. If you don't have bulb sockets, you'll either have to use electrical outlets with cords or have an electrician come out to run socket lines for you.
Choose the light fixtures that you'd like to install. Don't forget to measure the dimensions to ensure that there's enough room. You shouldn't crowd the ceiling with too many lights, or it'll look tacky.
Using the mounting hardware that comes with each light in the list above, mount the lights to the floor, ceiling, or walls. You'll typically have to use a drill to drive screws through the holes in the bracket of the lights. Using a product such as Loctite will seal the screw and hold it in place.
If it's a screw-in lightbulb, you won't have to mount anything. Simply screw it in, and you'll be all set. Don't forget to verify the socket type, i.e., E26 or E27.
Plug in the light fixture if there's an electrical cord attached to it. You can use power strips to extend the cord length if it's not long enough. Also, find out which switch is the master switch for the lights in your building. That will allow you to turn all of the lights on and off at once.
Once you've installed all of the lights, adjust each of them to illuminate the entire room evenly. Spaced lighting can produce shadows and glares, leading to an ugly or tacky appearance. Use mirrors to your advantage by bouncing light off of them.
Common Mistakes When Choosing Lighting For A Gym Or Fitness Studios
Installing lights in your gym is not too difficult, but some scenarios can create annoying problems.
To prevent unwanted issues, review the most common mistakes that people make:
Overloading circuit breakers is much more common than you'd think. You should always seek the advice of a local electrician before you install too many lights in your building. If you use too much power, you'll trip the breakers and turn off all of the power to your fitness studio or gym.
Don't forget to look at the color of the lights that you're buying. "Daylight White" isn't the same as "Warm Daylight," nor is it the same as "Regular White" or "Regular Daylight." As you can probably imagine, there are all sorts of bulbs to consider. Make sure that you get the same color for each light.
Brighter doesn't always mean better. You shouldn't reach for the brightest lights thinking that they'll help your gym members to see everything more clearly. Lights that are too bright can cause headaches, fatigue, and eye irritation.
Another common issue is that people forget to clean their lights once installed. Dust and other debris can build up over time, leading to dull brightness and overheating. Both of these problems can burn out a lightbulb much quicker than it naturally would.
If the lights you choose don't have surge protectors, you need to buy them to prevent electrical shortages and fires. Failure to do so could be a direct violation of your local fire code, so make sure you research the requirements before buying anything.
Choose lighting that is specific to gyms and fitness studios. Buying a generic studio lighting kit is not ideal for a gym or fitness studio.
Quick and Helpful Tips
Now that you've seen the frequent mistakes that people make, it's time to find out how you can optimize your lights. Here are the three best tips:
Always choose light fixtures that match your gym or fitness studio. The light fixture shouldn't be a focal point of the room. Instead, it should blend in smoothly to be almost unnoticeable.
Save money by sectioning your lights. When it's bright outside, consider leaving off the lights that are closest to the windows. If you're using Daylight fixtures, they'll blend in perfectly.
Leave enough room for people to move around in the building. There shouldn't be any lights that go below 8′ off of the ground.
Conclusion
Lighting is one of the most crucial factors for the success of a gym or fitness studio. As you go about setting up your fitness studio or gym, pay close attention to the lighting requirements of your facility.
Sort through the list at the top of the article and find out which set of lights is the one that'll illuminate your building. Whether you're choosing UFO-style, bar lights, sectional lights, or any other assortment, there's something for everyone based on your brand.
Combine your lights with mirrors, and don't forget to follow all of the necessary safety precautions. Your light fixtures should be smooth, relaxing, and energizing at the same time. Not too bright, not too dull.
I write abouT establishing and Growing your boutique Fitness/Wellness Business. I promise no spam, i hate spam.
Enter Your Email To Receive Growth Tips For Your Boutique Studio. I Also Send Out Occasional Discounts And Freebies
---
About the author
Naz Ahm is the founder of StudioGrowth and has spent a decade growing start-ups and venture-backed companies. He writes about sales, marketing, and growth, especially in the yoga, fitness and wellness industry.
Naz has an MBA from IESE Business School and started his journey in the wellness industry when he set-up an on-demand wellness business. Naz currently resides in London, U.K.