A perfect grand opening can make your yoga studio known in the community. Brainstorming yoga studio grand opening ideas can help you launch your yoga studio successfully to your community. Grand openings allow you to make a big splash in your community by introducing your studio to potential customers and showcasing who you are to the community.
So, what are the top yoga studio grand opening ideas? Some grand opening ideas for yoga studios:
Hold a soft opening
Conduct a free yoga lesson
Host a charity event
Offer freebies
Invite local celebrities
Hire a band
Offer guided tours
Hold competition games with prizes
Offer kid-friendly treats
Finish off with fireworks
In this article, I will cover how to prepare for your grand opening by choosing the right kind of event for your studio, hiring caterers and, partnering up with local influencers who will spread the word about your studio in your community.
This post is part of a series of guides and articles providing in-depth information about how to start a yoga studio. Head to the main article to find a list of articles and guides covering the topic.
Benefits Of Grand Openings For Yoga Studios
Yoga studios can't be marketed to the general population, as restaurants or coffee shops can. Yoga is a rather niche form of exercise that appeals to a limited number of people from the general population. This reason is why raising awareness about your yoga studio in the local community is imperative to gaining a foothold in the area. Grand openings are an excellent way to attract your ideal customers.
Exposing your studio to everyone in the community with a big grand opening allows you to attract people who otherwise wouldn't notice your studio's presence: The aunt next door, children, college students, etc.
Doing so is your opportunity to get everyone talking about your yoga studio, and to attract new students that don't know yoga could be beneficial for them.
How many times have you heard of people attending yoga only because they had a studio nearby and decided to try it? This process is how you'll get your first clients, right on opening day.
The grand opening is not like any other day for your business. It is a big day for the studio, the birth of your yoga studio! You'll have to prepare for your grand opening in advance by planning the event, marketing, and entertaining guests throughout the day.
Here are the main benefits of hosting a grand opening for your yoga studio:
✔Attract Local Yogis
The local community is bound to have a few yogis who actively practice yoga at home or display an interest in the practice. The grand opening is your opportunity to introduce yourself to them and offer them your services.
The awareness about your yoga studio will increase rapidly in your community if you have a grand opening. People like to talk, and the word will get out fast. Word-of-mouth referrals are one of the most significant sources of new customers for yoga studios.
Even if they don't sign up right away, the fact you have a presence there will remain in the back of their mind. Once members of your community eventually decide to sign up for yoga classes, you'll be the first studio they explore. Each person that attends your grand opening is a potential future student.
✔ Generate Community Buzz
People will give you automatic referrals. The nice lady who attended your grand opening might not sign up for classes, but she might have a daughter who wants to practice yoga, and she'll come through and register for classes. The opening event will help you establish a genuine connection with your community.
If you're not the first yoga studio in the area, you will still be talked about because your event is attracting attention. The grander your opening is, the more people will talk about it. If you have fireworks, people will wonder what the celebration is about, and many will drop in, especially if you have an open-door policy.
✔ Make Business Connections
The grand opening is your chance to develop personal relationships with your local community. If the location of your yoga studio is in a commercial district with other businesses, there's a chance all the other business owners will pop in and introduce themselves. Other business owners are also your potential customers.
You will also have families dropping by and checking out your yoga studio. Make them have a good time and get to know them on a personal basis. Some of them could be your future students. Don't be surprised if the owner of a close-by yoga studio also drops by to say hello.
✔ Get Your First Few Members
The grand opening is a great way to get your first few customers. On the day of the grand opening, you will run special offers (discussed below). Such offers are bound to attract people to sign-up for your classes.
If you have not done any marketing before your grand opening and don't have many customers yet, the grand opening is a great way to kick-start your yoga studio with membership sign-ups.
How To Prepare For A Grand Opening
Grand opening preparation scares new studio owners. It forces them to ask a bunch of difficult questions, like:
What if no one shows up?
Will I get students after the opening?
How much will this cost me?
Will a grand opening help my business?
Although these thoughts might haunt you, remember that there is no need to act like you're supposed to surpass the presidential inauguration in terms of size. Grand openings can be small, simple affairs.
As long as you prepare for the event adequately and invite the right people, you will have streams of people saying hello and dropping by the entire day. You can also count on your friends and family to come and stay with you the whole day.
The following are the best ways to prepare for your grand opening:
Hire Catering
The catering company prepares all the food and drinks for the grand opening. Catering is integral to attracting strangers and keeping them entertained. People attend openings to try out the food, have a drink, learn about your business, and enjoy themselves.
The catering company can make sure all the delicacies arrive on time, they will serve everything, and they can even send waiters to serve guests. If you are serving drinks at the grand opening, the catering company can also provide a bartender.
You can do this on your own, but it's better to free up your time and focus on connecting with the community and talking to people. You can hire a local catering company at a relatively low price, as long as your grand opening is not over multiple days.
Local Community Outreach
It's more effective to do community outreach for grand openings than it is to advertise online. Digital advertising is only effective for reaching out to people over the long term. For a local grand opening event, you need to attract the locals who live within walking distance to show up for the launch.
To attract the local community, you should start by decorating the exterior of the studio and announcing the Grand Opening day.
The community will anticipate your grand opening after you show a sign to all passers-by. You should also run a marketing campaign by printing leaflets and distributing them to all households in your area. Make sure the flyers state there will be free food, drinks, and games with exciting prizes the whole day!
Social Media Advertising
Announce the grand opening day on social media and spread the word at least a month in advance. If you're just starting without an audience, you likely won't have a large follower base, so use the opportunity to invite all yogis in your city/community to attend your grand opening for free.
Social media is a powerful tool to prepare for grand openings. Make sure to follow that up by creating a Facebook Event page and inviting everyone on your friends' list. Ads on social media such as Instagram and Facebook allow you to target yogis in your city.
Pro Tip: If you offer a free 1-hour demo class, including T-shirts + Freebies for the first 50 that sign up, you can guarantee you'll have dozens of potential students before your studio even opens.
Create An Offer
One of the success factors for your grand opening will be the offer you create. You should create an enticing offer that will only be available to people who come to the grand opening and sign-up for memberships.
You could offer as much as 50% discounts on monthly and yearly memberships on the grand opening day. The advantage of providing this only on the grand opening day is that the offer is time-limited and will encourage people to sign-up.
Another offer you need to create is to get people walking into your yoga studio for the grand opening. For this, you could create a game that is open to everyone, and the prize could be a 1-year free membership to your yoga studio. You could have this game in the form of a raffle or a competition.
Advertise the offers heavily and get people to sign-up on your Facebook events page or Eventbrite.
Create An Event For The Grand Opening
If you organize your grand opening without any marketing, the chances are high that you will have a low turnout. You cannot solely rely on walk-in traffic to fill up your yoga studio for the grand opening.
Create events for your yoga studio grand opening on Facebook and Eventbrite. Ask people who will be attending your event to RSVP so that you know how many people to expect.
To get people to sign-up for your grand opening, you can run Facebook and Instagram ads targeting your local community. Mention that the event is free and do mention the offers that will be offered only on that day.
You should get several sign-ups since it's a free event with the opportunity to win excellent prizes and the chance to see your yoga studio.
Top 10 Yoga Studio Grand Opening Ideas
Yoga Studio Grand Opening Idea #1. Hold A Soft Opening
The safe way to have a successful grand opening is to start with a soft opening. The soft opening is similar to a grand opening, but it's not as big. A soft opening is to test the reception of your yoga studio from your local community.
Soft openings don't have to be exceptional. You only need to keep the door open and invite people in! Doing so means you can engage with your visitors in a more relaxed and authentic manner than having to impress them.
The soft opening will give you some practice of speaking to prospective customers and pitching your yoga studio authentically before you make it to the grand opening. This way, you can get immediate feedback from the community.
The soft opening is the best way to start if you're feeling insecure because it can remove the anxiety from having to make everything go right in a single day. Soft openings are akin to hosting "Open House" days for real estate, but your door is always open to visitors.
You can build real, genuine connections with the people visiting, by discussing yoga with them and telling them about the perks of your studio.
Focus on providing great food and drinks to the customers, and focus less on fancy decorations, balloons, and other spectacular decors. The soft opening is your gateway to the big grand opening, so use that time wisely and prepare yourself. Soft opening is also a great way to test your offer for the grand opening and see the response from your prospective customers.
Yoga Studio Grand Opening Idea #2. Hold Free Yoga Classes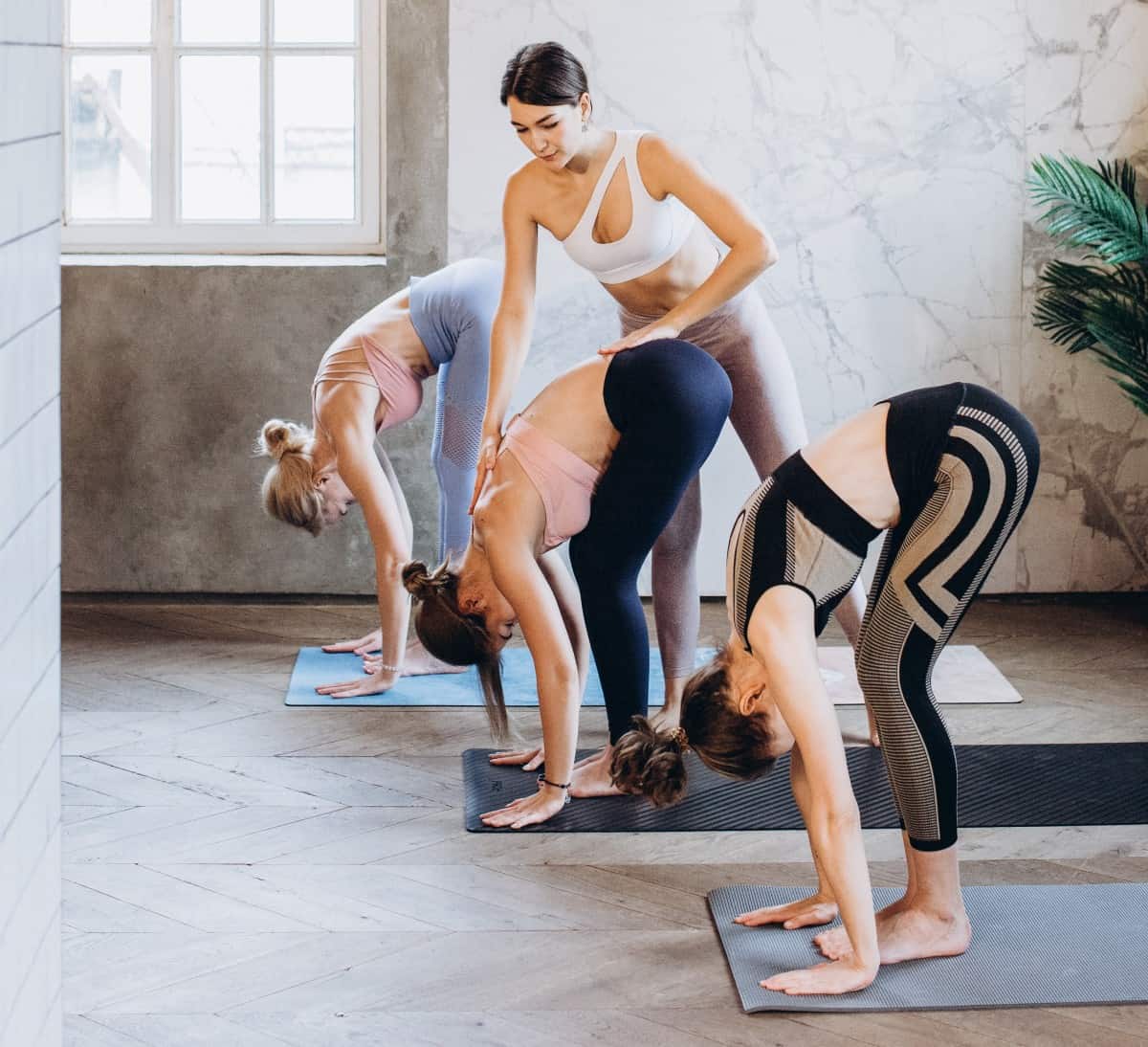 What better way to engage new clients than to give them free yoga lessons? Offering a free taster session is the primary way to drive large numbers of people to try your yoga studio classes.
Do a mini-demonstration during your grand opening. Bring everyone down to the practice area, have your visitors sit down on yoga mats, and do basic breathing exercises with some chants.
Doing so will make your guests feel great because they've probably never attended a yoga class before. Instead of explaining yoga to them in theory, show them the basics and demonstrate advanced moves in front of the crowd.
Doing so will make them interested in attending your classes. You can then present the offer you have created only for the grand opening (for example, 50% off on yearly memberships) and open it for sign-ups.
Yoga Studio Grand Opening Idea #3. Give Away Freebies (T-Shirts, Snacks, etc.)
People love getting stuff for free, and there are ways to produce merchandise such as t-shirts, sweatshirts, sweatpants, and hats for a meager price in bulk. If you only invest $500 in clothing, you could end up with hundreds of t-shirts that you can redistribute to the first visitors at your studio.
An advantage of giving out free t-shirts is that now you will have 100s of people wearing the name of your yoga studio and advertising your business.
Make a big sign saying you'll be handing out free t-shirts and water bottles on the grand opening, and this will attract many people. Always work on a first-come-first-serve basis and make sure you limit the number of people who can get the freebies.
Pro Tip: Freebies do not include things like food, drinks, and snacks. Freebies should be more valuable. For example, printing t-shirts or offering a class for free is an enticing freebie.
Many people will show up if they can get a class for free to learn the basics of yoga. You can use your grand opening day to host 2-3 classes where you teach people from your community.
Yoga Studio Grand Opening Idea #4. Hold a Charity Event
Ask yourself: What is the biggest problem in your community? Is the community struggling with a homeless population, opioid crisis, or any other cause you can support? People want to get behind a meaningful cause, and they will attend your opening if you support a charity and ask for donations for that charity.
Look up charities in your area and discover which charity organizations are the most popular. Get in touch with those organizations and tell them you'll be willing to help their cause by asking for donations at your event.
The charity organization will be glad to help out, and they'll help you draft up the promo banners and spread the word to bring people to your event. Your grand opening could be a large charity event that attracts the best people in your local community.
Yoga Studio Grand Opening Idea #5. Bring Local Celebrities
Do you happen to know any people who are popular in your area and can spread the word about your event? If not, pay them and bring them over! If you have a local celebrity who is known by the general population, one social media post by them could bring hundreds of people to your grand opening.
What's better is that if you can convince them to attend the opening themselves, and this will drive people there by default. Look up famous people in your community or try to find influencers with large followings on social media who reside in your area. Social media influencers can give you huge exposure for your event in advance.
Yoga Studio Grand Opening Idea #6. Live Performances
You can hire a local band to perform a mini-concert in front of your yoga studio. Doing so can draw a huge crowd because people will notice the activity. Hiring a band is akin to having a social influencer spread the word about your yoga studio.
Live music is always a great way to attract local members of the community, and many bands will perform for free only to get extra exposure.
You should also consider hiring a DJ who can play music at the event and make people have a good time. The only downside is that if you want to combine that with short demo classes, you might have a hard time balancing them out.
Yoga Studio Grand Opening Idea #7. Competition With Exciting Prizes
Competitions with exciting prizes are a great way to attract local community members to your grand opening. I am talking about prizes that generate significant interest; for example, the winner gets 1-year free access to all classes at your yoga studio.
Example: You could have a competition for who does the "plank" for the longest time. People can try out anytime during the day and their times displayed on a leaderboard. The person with the longest time wins the prize!
Prize games make people excited, and this can bring vast numbers of people to your studio if you announce the prize in advance. Try to invent other prizes such as free monthly membership at the studio or a private yoga class. You can also throw merchandise in the mix and offer clothing as a prize for the first few people who come to the grand opening.
Yoga Studio Grand Opening Idea #8. Fire Fireworks
Fireworks to celebrate your grand opening can create a buzz in your area and make people wonder who's celebrating. If you blast fireworks, people will assume something big is going on, and many of them will join the celebration.
Shooting off fireworks shouldn't be the only thing you do at your grand opening. However, they make for a high end to the festivities. Fireworks can be reasonably affordable, although you'll have to make sure you comply with local laws and get permission from the city administration before you're allowed to use them.
Yoga Studio Grand Opening Idea #9. Give Children Treats
If your yoga studio is for children and you're going to be teaching young kids yoga, you need to have separate treats for the children. Likewise, if the location of your yoga studio is in a family-friendly suburb, you're going to have many families popping over with children.
What happens when the only thing you have to serve children is smoked meat and champagne? You should have treats and prizes for children.
Stock up on chocolate and treats for the kids. Make up small games for children and give the winning child a prize such as a remote-controlled car toy. Doing so will make children have a blast at your event, and you'll entertain entire families.
Yoga Studio Grand Opening Idea #10. Provide Guided Tours
Guided tours are an alternative to hosting demo-classes because you simply lead the group and show off the individual rooms at your studio, the equipment, and decorations. The idea behind a guided tour is to show off the studio and help people understand what you have to offer.
When you begin teaching, you will often get requests from people to come and watch a class in session. Most yoga studios deny such requests; however, on the grand opening, a guided tour with the option to sit-in on a class is a good option.
If you have a few attendees, you can give a quick guided tour to everyone that enters your studio. If lots of people show up to your grand opening, you'll have to schedule the guided tours every 30 minutes to 1 hour.
To make the grand opening go smoothly, you will need to make sure people are well-entertained in the main lounge area, and then periodically check-in and do something such as host a short demo class or give them a tour.
Grand Opening For Yoga Studios: Q&A
Q: How Long Should The Grand Opening Last?
A: The grand opening typically lasts one day. If you want, you can extend the grand opening over two or three days. Start with a soft opening to give everyone the chance to check out your yoga studio and then make one grand opening that lasts a few hours and has live music, fireworks, etc.
If you don't feel confident you can pull off a 1-day grand opening, you can always extend it for a few days. The trick is to announce this in advance instead of the day after your studio opening.
Q: Which Day Is Best For Grand Openings?
A: The best days for grand openings are Fridays, Saturdays, and Sundays. You want to open your yoga studio when everyone in your community is relaxing at home.
Hosting the grand opening over the weekend allows people a chance to show up and check out your yoga studio with their family because most people are working on weekdays, and they can't come to your opening. Think of your grand opening like a wedding. People will show up only if they're available and welcome.
Q: How To Decorate The Studio For The Grand Opening?
A: You can use essential decorations such as balloons and lights. You want to have a festive decoration, similar to a birthday party. Consider purchasing balloons made of helium because they last longer, children love them.
Q: How Much Do Grand Openings Cost?
A: Grand openings can cost as little as $1000 for decorations, food, and catering. Some companies recommend spending 10-20% of your total yearly marketing budget on a grand opening.
If you hire a catering company, bands, fireworks, merchandise, prizes, ads, etc., the costs can add up pretty fast. You can save money by going minimalistic on your grand opening and only giving people free drinks and food.
Q: Which Supplies Do I Need For The Grand Opening?
A: You'll need lots of drinking water, coffee, sodas, and beverages. The drinks are your most important supply for a grand opening. Every guest will expect at-least a drink. In terms of food, you can serve pastries or spend more money and serve appetizers. The drinks and appetizers will go a long way in making your potential customers feel comfortable and welcomed.
This post is part of a series of posts providing in-depth information on everything you need to know to start a yoga studio. The other posts in this series include:

I write abouT establishing and Growing your boutique Fitness/Wellness Business. I promise no spam, i hate spam.
Enter Your Email To Receive Growth Tips For Your Boutique Studio. I Also Send Out Occasional Discounts And Freebies
---
About the author
Naz Ahm is the founder of StudioGrowth and has spent a decade growing start-ups and venture-backed companies. He writes about sales, marketing, and growth, especially in the yoga, fitness and wellness industry.
Naz has an MBA from IESE Business School and started his journey in the wellness industry when he set-up an on-demand wellness business. Naz currently resides in London, U.K.