Opening a yoga studio in a small town of fewer than 100,000 people is challenging because most small towns don't have sufficient inherent demand to establish a profitable yoga studio.
In metropolitan areas, yoga studios attract people who already have a particular interest in yoga before they attend classes. In small cities, the challenge is that you have to work with people of all backgrounds and convince them to try yoga.
So, how do you go about opening a yoga studio in a small town? To open a yoga studio in a small town:
Obtain licenses and permits by the town administration.
Furnish the yoga studio with equipment.
Apply unique marketing strategies such as community outreach to attract local business and word-of-mouth marketing to attract consumers.
This guide will show you how to start a yoga studio in a small town, connect with the community, and grow your yoga classes progressively. To learn everything you need to know about opening your small-town yoga studio, read on.
This post is part of a series of guides and articles providing in-depth information about how to start a yoga studio. Head to the main article to find a list of articles and guides covering the topic.
Opening A Yoga Studio In A Small Town: Is It Worth It?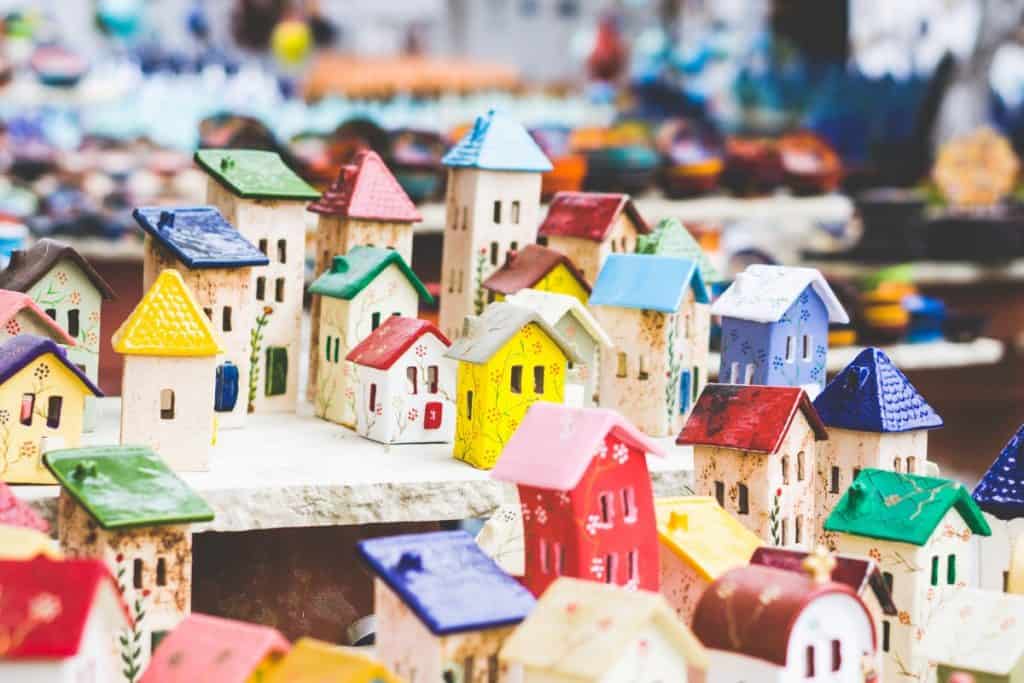 Before we can go into the specifics of how you can open a yoga studio in a small town, let us first consider the viability of opening a yoga studio in a small town.
One of the first considerations of opening a yoga studio in a small town is whether there is sufficient demand to justify opening a yoga studio. You don't want to open a yoga studio and then realize that your yoga studio will never be profitable given the limited demand and the high costs.
Begin by first laying out all your income and expenses once your yoga studio is operating. Project operating at 80% capacity and see if your yoga studio will be profitable.
Below I have outlined the pros and cons of opening a yoga studio in a small town. After using the profit calculator and reviewing the pros and cons, you will be in a position to identify if opening a yoga studio in a small town is worth the effort.
Pros Of Opening A Yoga Studio In A Small Town
Limited competition. If you can kick-start the word of mouth marketing in a small town, you can pretty much own the market of yoga practitioners in the town.
Costs (marketing spend, rent, staff) are small. The cost of opening and operating a yoga studio in a small town is less. The path to profitability is faster.
Cons Of Opening A Yoga Studio In A Small Town
Lack of demand. The biggest challenge you will face in a small town is the lack of inherent demand for yoga classes. Without a natural need, you have an uphill task of educating the people in the city about yoga before they can join your studio.
Limited marketing channels. In a big city, you can use tried and tested methods such as paid ads and social media to attract new members. You do not have this luxury in a small town. Your primary channel of growth is word-of-mouth marketing and grassroots events.
Perception of yoga. In small towns, the general attitude could be that yoga is for rich, middle-class big city folks. Or yoga could be perceived as a religious practice given its connections to eastern philosophy.
Opening A Yoga Studio In A Small Town Step #1) Paperwork & Licenses
To open a yoga studio in a small town, you need to get permits from the town council and register for taxes with the federal government. You also have to consult your landlord to help you get a "Certificate of Occupancy" once you've furnished the yoga studio.
The CO permit will allow you to operate the studio legally until you have to carry out renovations. Starting a yoga studio in small towns is no different than large cities when it comes to the paperwork and registrations needed. You still have to consider the following:
Business Registration
The yoga studio is a commercial entity that generates a profit. In a yoga studio, you might have to hire full-time teachers or sub-contractors who can teach the class for a salary. Doing this means you'll need to have a business registered.
The business registration also helps you get other perks like merchant bank accounts/credit cards, easy tax filing, and permits from the city council.
To start with, you have to file an LLC application for small businesses in your state. LLC registration will take 7-10 business days on average. This process will register your yoga studio as a small business, and you'll receive a certificate upon completion. The filing fees for business registration vary from as little as $50 up to $500 depending on the state.
In the UK, you can form a Limited company and register with Companies House.
Tax Registration
You have to register with the IRS to be able to file taxes annually. The process is different when you run a yoga studio because you're considered a business. For this purpose, you need to register for an EIN by applying with the IRS online.
The EIN is simply a registration number for your business, similar to an SSN. Once you have an EIN, you can file all your taxes under that number and include your employees for payroll tax.
The application is straightforward, and the number is issued immediately. Start by visiting the IRS EIN page and having a look at the information you need. EINs can be obtained by foreign nationals too, but the process is lengthier, and they have to contact the IRS personally (instead of applying online).
Business Bank Account
If you run a yoga studio full-time, you will have to make payments to lots of businesses such as the lease company/landlord, cleaning services, teachers, corporate partners, etc. Making payments means you need a business bank account that can send payments in your business name instead of making payments from your personal account.
You also need a business bank account to take payments from your members. Although in small towns, cash is popular to book classes, for your yoga studio, you will be using an online booking system also to take bookings and payments online.
There are perks to opening a business account, such as higher credit limits and free bonuses upon sign-up. You must open a bank account in your business name, and the bank will request a business certificate and an EIN before they give you a business account.
Certificate Of Occupancy
The CO is the most critical certificate which serves as the ultimate permit that you're allowed to run that particular business in the space you're renting. The small town where you open your studio will deploy a set of inspections such as a fire expert to examine how fire-proof the building is and a medical expert to check if your yoga studio is sanitary.
Once you pass all inspections, the town will issue you a certificate and allow you to operate as a studio. Your landlord has to help you obtain this certificate, and in many cases, they provide the certificate once you sign a lease. If you have to pass all inspections from the get-go, the process takes, on average, 4-5 weeks.
Yoga Teacher Insurance
Yoga teachers need to purchase liability insurance or professional yoga insurance to protect themselves against lawsuits. Liability insurance for the yoga studio might only protect you if the student sues the studio (i.e., the business you registered). However, if they sue you personally, then you'll need an extra layer of protection.
There are yoga teacher insurance plans that range from $150-400/year, and they provide you with $2-3M worth of liability insurance per year. Having this insurance secures you from all potential lawsuits and allows you to pursue your practice with a peace of mind. The insurance extends outside your studio when you're teaching private classes to students.
Even though you will be teaching in a small town where everyone knows everyone, having a yoga teacher insurance is necessary.
Opening A Yoga Studio In A Small Town Step #2) Furnish The Yoga Studio
If you are leasing a 1000 sq. Ft. yoga studio in your small town, you want to turn it into a mesmerizing space that visitors will remember. You have to purchase necessities for the studio, such as yoga mats, blocks, blankets, furniture, and decorations.
Such purchases can cost less than $1000 in total if you have a limited budget, or it could cost 5-10x as much, depending on how much you're willing to invest.
Be authentic, and remain true to your style. Only purchase the kind of equipment and decorations that are genuine to your tastes and personal beliefs in regards to yoga. Doing so will attract people who are like-minded because even in small towns, authenticity matters, and you can develop your niche.
The following are the most important pieces of equipment you need for a yoga studio:
Yoga Mats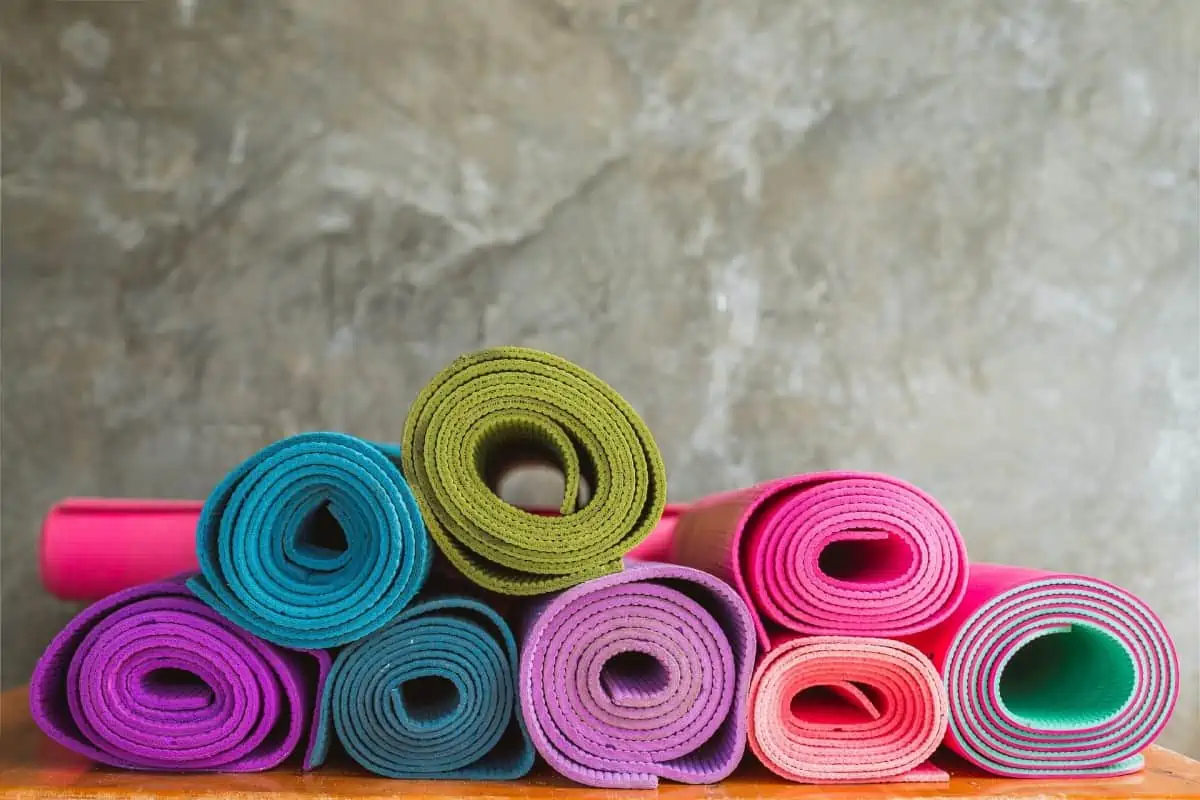 Yoga mats are the core, most essential piece of equipment that you'll find in every yoga studio. Each student needs their own mat because yoga mats not only make practicing yoga easy but also because they serve as a mark of personal space, allowing each student the ability to move around and carry out their practice.
The main advantage of yoga mats is that they feature anti-slipping properties that keep the students in place even when things get sweaty during summer months. You need to purchase yoga mats specifically and not regular gym mats.
You can arrange the yoga mats on your studio floor to create the appeal of a yoga studio. Some students will bring their own mats, and you can rent out mats for $1-2 per class. You're charging not because you're greedy, but you'll have to clean those mats, and that takes time and effort.
There are huge variations in the quality of yoga mats and the price. If you look at basic mats on Amazon, you can find them for as low as $10-20. You could also find them on the cheap at Walmart. However, to purchase some of the higher-end/premium mats, expect to shell out at least $100 per mat.
For any serious teacher who spends a lot of time dedicated to their craft, you need to have at least one premium mat for your practice. Some yoga organizations, such as non-profit support groups, offer yoga mats for free to studios.
Yoga Blankets
Yoga blankets are not typical blankets people use for sleeping, but they're usually made from harder materials because they provide the extra support students need to make challenging postures possible.
Yoga blankets come in different materials. However, folk-themed blankets originating in Mexico and India are very popular. Each studio has dozens of yoga blankets available for students at no extra charge.
Technically you could use a bedroom blanket to practice yoga, but for the studio, you have to purchase separate blankets specifically designed for yoga.
The main advantage is that even the higher end blankets tend to be cheap and only cost $10-20 on average. You could purchase a dozen of these for less than $200.
Yoga Blocks
Yoga blocks are support structures for students that help them improve their alignment and make them comfortable trying out new positions.
Example: When a student is trying a challenging posture, and they lack the space between the feet and the ground, they can use a block to help their feet stabilize.
Yoga blocks are essential for beginner classes, and each studio should have 10-20 blocks available for students. There are many practical applications for yoga blocks during a session.
If you're in a small town, you'll likely be teaching beginners who have perhaps never practiced yoga, and you need something to encourage them and give them the confidence to push forward.
Yoga blocks help students strengthen their chest and core, which is essential for stability during yoga practice. Instead of collapsing on the floor, they will remain stable, and they will get used to naturally doing these postures.
With consistent practice, your students will be able to maintain their alignment without any yoga blocks. Typically yoga blocks are 4″ wide, and they are very lightweight. Yoga blocks are some of the most affordable yoga equipment and tend to cost $10-20 a pop.
Yoga Straps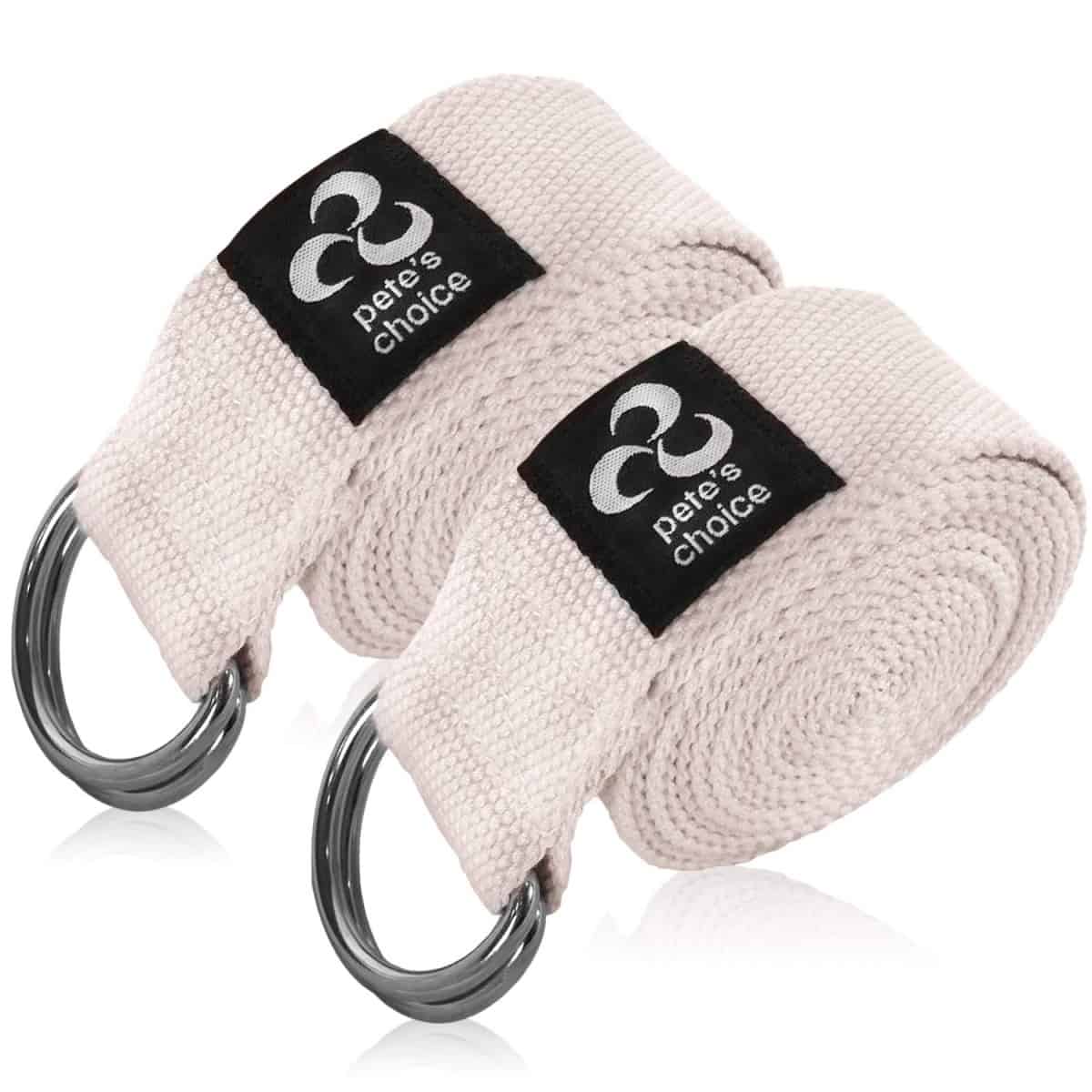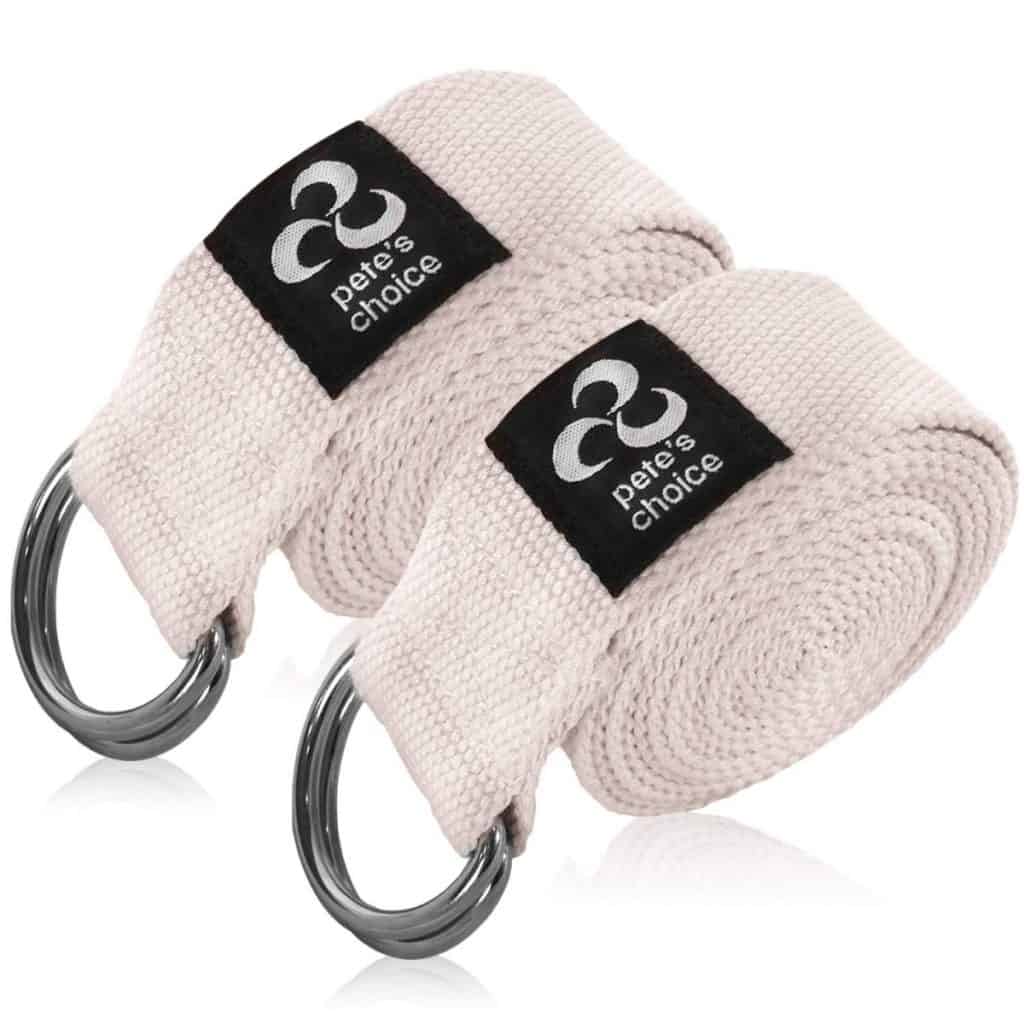 Yoga straps are essential for feet exercise because they provide similar stability benefits to yoga blocks, but they're mostly helpful for the lower-body.
Straps or "belts" are essentially extenders for the arm that help students reach their feet with their hands once they're trying challenging positions and don't have the flexibility to pull this off. You can teach your students to wrap their straps at the bottom of the feet while maintaining a flat back.
In practice, many household items could serve as a strap. For example, a belt or a small towel could serve as a strap during home yoga exercise.
However, you need actual yoga straps in the yoga studio, and most of them are affordable. Yoga straps typically cost under $10 a piece, and you can give them to each student for free during the class.
Inspirational Posters
Inspirational posters help motivate students to push forward and improve their performance. They keep morale high and motivate students to perform at a high level during class.
You can find many yoga-related inspirational quotes on Amazon. Choose the posters and wall art that compliments your yoga studio.
Adding print-outs of yoga motivational quotes will bring a lot of energy to your classes because it will make your students think about yoga deeper.
It will also add a lot of energy to your class, and you might even get questions about them, which will allow you to discuss the meaning of the quotes in detail. Doing so will allow you to build a personal connection with your students by having deeper conversations.
Pro Tip: If you are using hand-written quotes, replace the quotes with new quotes every week and mention them at the beginning of your class. Most yoga teachers have a talking segment where they introduce the class and what they'll be teaching, which takes 5-10 minutes on average.
Use this introduction talk to mention the quote and how it resonated with you. Then connect the quote with the context of your class and how it can help your students improve their practice.
Opening A Yoga Studio In A Small Town Step #3) Get To Know The Town Personally
In a small town, your primary channel of acquiring customers will be word-of-mouth marketing. You can easily use social media and paid advertising to attract new members in big cities. In a small town, people are more inclined to act on reputation and referrals.
Small town people are more open than people in big cities because their communities operate on trust.
You have to use trust and authenticity to introduce yourself and the benefits of yoga to the community. If you reside in a small town with a population of 5000, you can get to know hundreds of people in the span of a few months.
The way you introduce yourself to the community in your first few months of existence will determine the success of your studio over the long term.
Demystify Yoga To Beginners
People in small towns don't understand that yoga is for everyone. The common premise is that yoga is for the 35-year old suburban housewife with a $100,000 annual income. People don't realize that everyone can practice yoga regardless of their age, gender, and health condition or income level.
Such perception of yoga in small towns is why you have to demystify the practice. Not only that, but you'll have to deal with people who don't know what yoga is in the first place. It's not uncommon for people to confuse yoga for a form of religious practice.
Make sure to point out that it's a form of gymnastics which is good for the body. Remain open to everyone and talk to people even outside your target demographic.
Example: If you're talking to a middle-aged truck driver, you probably won't gain much from trying to convince him to sign up for yoga. However, if you make a good impression on him, he might tell his wife about the yoga place, and she might pop in and sign up for classes.
If you can generate buzz and create an event when you get started like a yoga studio grand opening where you hand out gifts and explain the basics of yoga, you could be the most talked-about event in the town. The word will go out, and all your potential customers will naturally come to you. From there on out, growth is a gradual progress.
Don't Expect Huge Profits
Warning: You might lose money if you're teaching a few students and paying rent. Expect that the first few months, you're going to have to introduce yourself to the community and make a name for yourself.
Save up enough money to go in the red for the first few months (especially if you're renting!) and make a considerable effort to attract paying students to remain above water.
When you're in a large city, you can get students to sign up immediately because they are seeking out yoga classes. In smaller towns, you first have to convince the community that it's the right thing for them. The upside is that once you've achieved that, you will have a substantial client base for years to come.
The most important aspect of success in small towns is consistency. You have to make a consistent effort to engage with random people, run promotions, and be willing to participate in all community events that would give you exposure.
Don't expect to get rich by teaching yoga in a small town. Your classes likely won't have 30-40 students either, as this is very hard to pull off even in large metropolitan areas. What you can hope for is that you'll be able to make a living, pay off your mortgage, and help hundreds of people throughout your lifetime.
There also won't be a lot of room for expansion because even though you're successful, the market pool is limited as you only have 5-10K residents in a small town. In a large city, you could start a new studio branch every year and hire additional teachers to keep up with the demand.
Opening A Yoga Studio In A Small Town Step #4) Start By Teaching Small Groups
To get started in a small town, you will inevitably start by teaching small groups. Get comfortable working with small groups that have a very intimate setting where you get to know your students on a personal level. You might even have to begin by offering classes to individual students at your yoga studio.
Smaller groups are harder to teach because you have to engage each student instead of broadly teaching to a large class.
There are benefits and downsides to both large and small groups. Large groups have an element of energy and competition that infuses people with a willingness to learn. Small groups have an element of privacy and intimacy that allows students to focus deeper on the class.
Guest-Teach At Other Businesses
Small towns will have at least one large thriving business that employs the bulk of the town's population. Such a business could be a manufacturing plant that manufactures airplane parts or an oil company that employs oil workers. Use this business community to expose yourself and your knowledge to members of the community.
Schedule a meeting with the owners or HR staff of this business and tell them you're willing to offer a free class (or even daily classes) for their employees after work. They will give you a 1-hour slot that you can use to introduce the basics of yoga, do a few exercises, and tell them where they can sign up for classes.
Pro Tip: Repeat the process for all businesses in the area until you have such a large student base that you no longer have to promote yourself.
Develop Personal Connections
The majority of the revenues yoga teachers make is from teaching classes and supplementing their income with private classes, workshops, and retreats. If you want to teach private classes, you'll have to establish a personal connection with the students.
The key to making a decent living teaching yoga in small towns is to be successful in teaching groups and then be good enough that the students pay you for private classes at your home. To develop a personal connection, you'll have to start in the classroom.
Always remember your student's names. Ask them questions about their life and have a conversation with them. Help them overcome challenges when you notice they're struggling.
It's the same as making friends in the yoga studio when you're a student – you just mingle with other students. After a while, you'll be friends with all your students. Doing so not only brings other students in the form of referrals, but it also opens you up to private classes where you can earn extra income.
Opening A Yoga Studio In A Small Town Step #5) Double Down On Customer Referrals
Growing a business using customer referrals is a tried and tested method. In the case of a yoga studio in a small town, this is even more true.
Encourage your students and yoga teachers to refer their friends and family to the yoga studio. You don't have to do this explicitly, but have incentives in place that encourage your members and teachers to attract new members on your behalf.
Use a yoga studio booking system like StudioGrowth to put together a referral system. For example, every member will have their unique referral link, and when someone signs up with their link, both the new member and the referring member get $50 in credits to buy class-packs and memberships at your yoga studio.
Understand that marketing techniques that work in big cities might not work as well in a small town to attract new members.
This post is part of a series of posts providing in-depth information on everything you need to know to start a yoga studio. The other posts in this series include:

I write abouT establishing and Growing your boutique Fitness/Wellness Business. I promise no spam, i hate spam.
Enter Your Email To Receive Growth Tips For Your Boutique Studio. I Also Send Out Occasional Discounts And Freebies
---
About the author
Naz Ahm is the founder of StudioGrowth and has spent a decade growing start-ups and venture-backed companies. He writes about sales, marketing, and growth, especially in the yoga, fitness and wellness industry.
Naz has an MBA from IESE Business School and started his journey in the wellness industry when he set-up an on-demand wellness business. Naz currently resides in London, U.K.