Mirrors are one of the essential fixtures in a dance studio, and as a dance studio owner or teacher, you must have wondered how much do dance studio mirrors cost? To answer your question, we consulted with dance studio owners, suppliers, and manufacturers to understand what your expected spend could be and what factors you need to consider before you buy mirrors for your dance studio.
So, how much do dance studio mirrors cost? The cost of dance studio mirrors depends on the type of mirrors. For a standard 6 feet * 4 feet and 4mm thick mirror, the cost is:
Glass Mirrors: £60 to £80 ($80 – $100)
Acrylic mirrors (Perspex) [non-glass]: £80 to £110 ($100 – $150)
Polycarbonate Mirrors [non-glass]: Upwards of £250 (> $300)
In this article, I will cover the key characteristics and attributes of each type of mirrors listed above and how they fare against each other. After reading this article, you will be in an excellent position to make a choice, depending on the needs of your dance studio.
Attributes Of Dance Studio Mirrors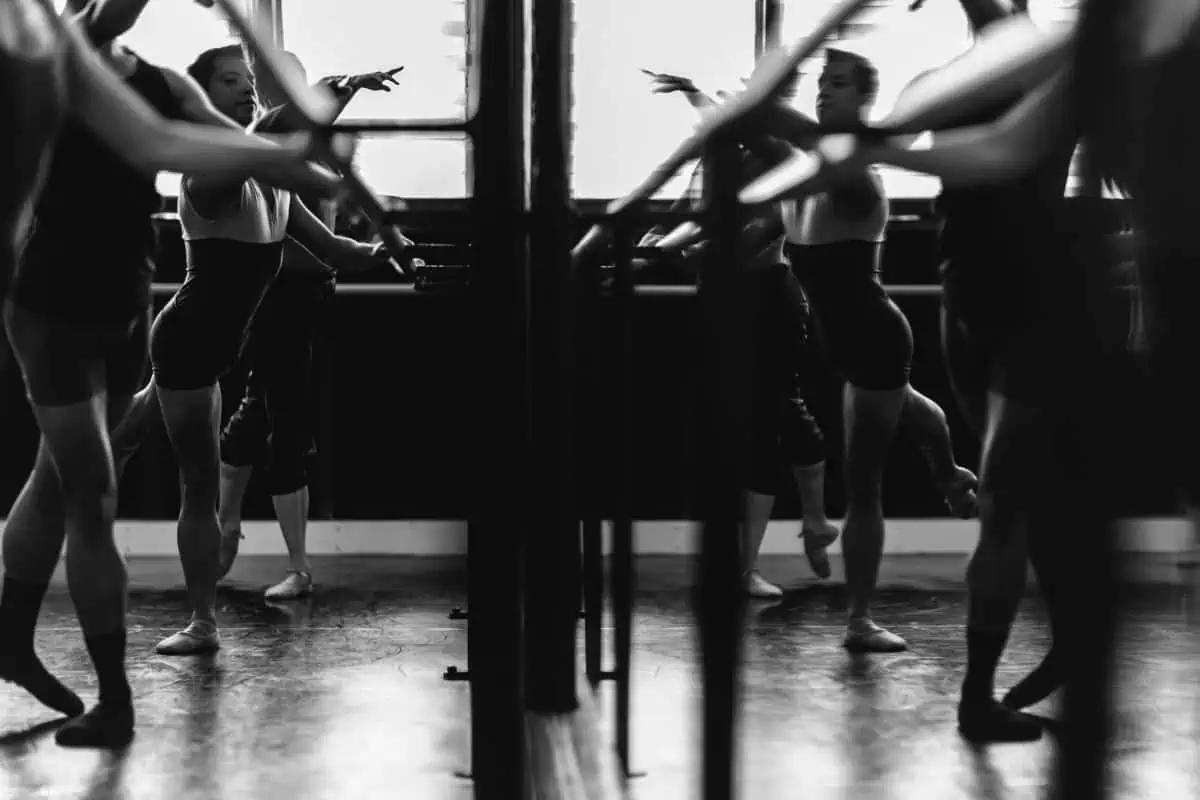 While you don't generally associate mirrors to be resilient to cracking and scratches, dance studio mirrors usually come with this requirement. The reason dance studio mirrors are resilient is because of crucial characteristics specific to mirrors used in boutique studios.
requirement. The reason dance studio mirrors are resilient is because of crucial characteristics specific to mirrors used in boutique studios.
Thickness
The thickness of mirrors are usually between 3mm and 6mm. A 6mm thickness is stronger, rigid, and more resilient than a 3mm mirror making it more suitable in more robust environments such as a dance studio. However, the higher the thickness, the less flexible they are and can potentially result in distorted reflections when adhered to an uneven surface.
If you are going to choose a glass mirror for commercial purposes, please note that most insurance companies may demand a thickness of at least 6mm to cover liabilities. It is best to check with your insurance provider once before committing.
Strength
Glass mirrors while being rigid and can maintain excellent optical integrity. However, they are very fragile. There is a school of thought that believes Acrylic mirrors are inferior due to its poor optical clarity when compared to glass mirrors.
Acrylic (or Perspex) mirrors are being used a lot in gyms, dance studios, and retail spaces. While weighing only half as much as regular glass mirrors, they can withstand ten times the impact a regular mirror can.
Polycarbonate mirrors are an upgrade over acrylic mirrors wherein they are considered 200 times more robust than regular glass mirrors and can be made scratch-proof as well, making it a great candidate for outdoor uses. They have the highest cost of all the options discussed here.
Dance Studio Non-Glass Mirrors
Non Glass mirrors such as polycarbonate mirrors or acrylic mirrors are the popular choices for dance studio mirrors. The below table describes the various distinctions of the two popular types of dance studio non-glass mirrors, their advantages and disadvantages. Glass mirror being the readily available option and generally well knows is omitted in this comparison.
Acrylic Or Perspec Mirrors
Polycarbonate Mirrors
Acrylic mirrors generally come in sheet form.

They are of a lightweight material that offers accurate reflection, similar to that of mirrored glass

Up to 100 times stronger than glass, often used as mirrors in a variety of commercial situations

Easy to clean by applying a simple solution of warm water and soap, then wiping with a clean, lint-free cloth. Some chemicals can damage acrylic and may cause scratches, so not as resistant to damage

While moderately resistant to weather conditions, indoor applications are the best use for acrylic mirrors

Acrylic mirrors are easy to work with; A knife or a sharp object can easily cut them, and drilling acrylic mirrors is easy. Drilling mirrors usually require a skilled tradesperson to do the job.

Cost approximately 50% less than Polycarbonate mirrors, acrylic or Perspex mirror sheets are ideal for a dance studio

Polycarbonate mirrors come in sheet form as well

Very lightweight, roughly weighing 30% the weight of glass mirrors. Polycarbonate mirrors give fantastic optical clarity and integrity.

They are the best choice in situations where glass mirrors are too heavy and unsafe and where Acrylic mirrors are not robust enough

Almost 200 times stronger than glass mirrors, Polycarbonate mirrors are virtually indestructible, and sheets of higher thickness can be considered bulletproof!

Polycarbonate mirrors are considered highly resistant to chemicals such as gasoline and common acids, and cleaning chemicals will not damage them

Polycarbonate mirrors have excellent weather resistance, thus making it a popular choice for outdoor situations.

Despite being slightly harder to cut, Polycarbonate mirrors are more straightforward to drill (holes for fixing) than Acrylic. Therefore, the chances of the mirror getting chipped or cracked are minimal.

Polycarbonate mirrors can be expensive, especially for use in a dance studio. However, if you have a sufficient budget, the benefits outweigh the cost.
Precautions For Installing Dance Studio Mirrors
Although the workers who will install the mirrors will take the necessary precautions, you should also familiarize yourself with the precautions. Knowing the precautions will help you prepare your studio for the installation process.
Acrylic mirrors or Polycarbonate mirrors are a good option, but as they are not as rigid as glass mirrors, fitting them requires care to get a perfect reflection. Any imperfections while installing the mirror will result in poor reflection.
If you are buying large mirror sheets (for example, over 1-meter square), then the best option is to go for at least a thickness of 5mm.
To get a perfect reflection with an acrylic mirror, fix an acrylic mirror sheet on a perfectly flat backing surface like an 18mm MDF board and using a suitable adhesive. A rubber roller can be used to smooth out the mirror sheet.
Screws can be used to mechanically fic Acrylic or Polycarbonate mirrors.
Acrylic mirrors can react to heat and can create focussed heat spots similar to a magnifying glass. Care should be taken not to fix them in a position that is directly against sunlight.
Acrylic mirrors may also expand during warmer temperatures. Leaving an expansion gap of at least 2mm around the edges and sealing them with silicone is recommended.
There are various customization options available for mirrors. When you have decided the type of mirror you are going to buy, you can add additional requirements with your vendor such as

Cut to required shape and size.
Polished edges for clean finishing
Beveled edges
Radius corners (for safety from sharp edges)

Ensure whatever product you buy has excellent fire resistance and conforms to safety standards.
Maintenance Of Dance Studio Mirrors
Maintaining your dance studio mirrors will be a daily task for you. When your mirrors are installed, the workers will take the necessary precautions. However, the precautions and day-to-day use and maintenance of the mirror will fall to you. So you must choose mirrors which are easy to maintain.
Acrylic and polycarbonate mirrors are much easier to maintain than regular glass mirrors. You can easily avoid chemical-based cleaning fluids and stick to the cotton cloth and warm soapy water. There are various cleaning sprays suitable for mirrors that are available in the household section of supermarkets.
If you require an extra sheen for the mirrors, you can use a mirror polish as a top-up.
Movable mirrors are also a great option to consider if you have a small studio or a short term plan.
Conclusion
If you are thinking of setting up a dance studio or are refurbishing one, you have an essential decision to make. If you have sufficient budget, then go for the polycarbonate mirrors for your studio. I would always opt for non-glass mirrors for your studio. Glass mirrors are heavy, and there is a risk of damage and liability from injury.
My advice has always been on working lean. However, when it comes to the essential components of my business, I think it's best to opt for the better option. If budget is not an issue, opt for polycarbonate mirrors. If you have a limited budget, choose acrylic mirrors, which are not much more expensive than standard glass mirrors.
I write abouT establishing and Growing your boutique Fitness/Wellness Business. I promise no spam, i hate spam.
Ready ?
---
About the author
Naz Ahm is the founder of StudioGrowth and has spent a decade growing start-ups and venture-backed companies. He writes about sales, marketing, and growth, especially in the fitness and wellness industry.
Naz has an MBA from IESE Business School and started his journey in the wellness industry when he set-up an on-demand wellness business. Naz currently resides in London, U.K.