Pole fitness is becoming a new alternative to conventional forms of dance, yoga, and Pilates. And with the popularity of pole fitness comes an increase in the number of people looking to become pole fitness instructors.
So, how much do pole fitness instructors get make? Pole fitness instructors get paid between $40-50/hour. Beginner instructors might only be paid $15-20/hour for the first few years, and experienced instructors in top locations can command up to $50-70/hour.
Here are a few additional factors that can affect pole instructor pay:
Instructors get bonuses for students ranging between $1-3/student.
For private lessons, pole fitness instructors earn an average of $50/hour.
The more certified and experienced the instructor is, the higher their pay.
Top locations like Los Angeles and Las Vegas might command 2-3x prices as compared to smaller towns.
The pole fitness industry is thriving, but there's still less competition than other forms of fitness, which means there's room for growth for new pole fitness teachers. In this article, I will explore everything you need to know to become and thrive as a successful pole fitness instructor.
What Is The Job Of A Pole Fitness Instructor
Pole fitness instructors primarily conduct and teach pole fitness classes to groups of students or privately. However, the role of a pole fitness instructor involves other activities such as:
Organize the pole studio facilities, cleaning, arranging the equipment, and creating the ambiance for classes.
Preparing class curriculums and designing individual programs for students at all levels.
Ensuring student safety and motivating them to do better.
Holding classes at the pole studio, 1-2 hours each, multiple times a week
Marketing the pole studio outside the premises, such as with live performances or on social media
Invoicing clients, signing up new students, and socializing outside of class
Top 6 Benefits Of Becoming A Pole Fitness Instructor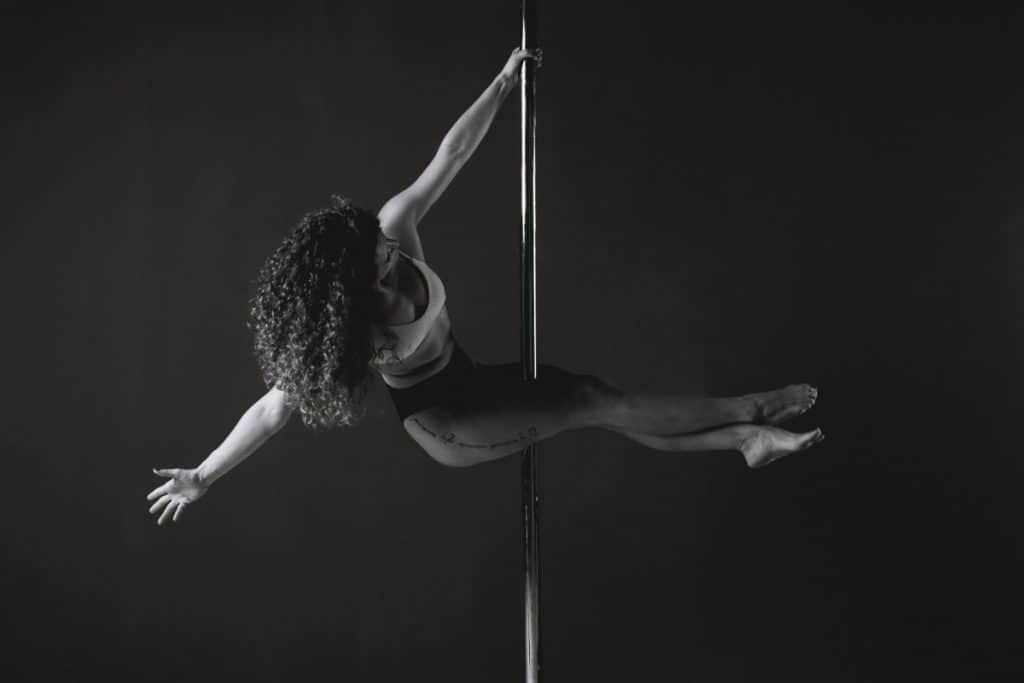 There are numerous benefits to becoming a pole fitness instructor. Pole fitness instructors enjoy high earning potential, ease of getting into the industry, and little/no competition. Pole fitness is a niche fitness space that is growing in popularity.
The following are the top 6 benefits of becoming a pole fitness instructor:
1. Earning Potential
Pole fitness teachers can make anywhere between $15-70/hour.
There's money to be made in pole fitness. Beginner instructors with basic experience can get paid $10-20/h starting, plus bonuses for student attendance. Advanced instructors with certifications can earn $50-70/h and get paid more for additional students. Instructors can teach at multiple schools, increasing their earning potential.
Moreover, instructors can open a pole studio if they believe in their ability to market and attract students. They also collect significant income from private classes, which cost as much as classes at the studio.
The average pole fitness instructor will receive calls by clients every day, asking for a class that might cost $50-100 per hour. The best teachers calendars are full all day.
NOTE: Use StudioGrowth to create your class schedule and share it publicly on social media. Customers can see the schedule and book and pay for classes in a few simple clicks.
Pole Fitness Instructor Pay Is Dependent On Location
The geographic location of the pole fitness studio will determine how much instructors get paid. The rates vary significantly by city, as this is a relatively 'niche' industry, and large cities have the most demand.
Cities with a lot of pole studios such as New York City, Las Vegas, San Francisco, and Los Angeles are the top locations to work as a pole fitness instructor. The average hourly rate is $40-50, and beginner instructors can earn $30-40/h.
Instructors make half as much in smaller towns with lesser demand.
You need to pick a city with a lot of demand because if you're going to make a living teaching pole fitness, you have to go to where the market for pole fitness classes is massive.
The hourly rates vary between studios. Some studios might have less attendance and pay their instructors less. Packed studios will pay instructors more, but they require more experience and certifications.
2. Passion & Experience Needed, Not Formal Qualifications
It's possible to get qualified as a pole fitness instructor for less than $1000. You can be self-taught and only have the minimum experience to start working at a studio.
There is already a wealth of information available online, and future instructors can download courses that will give them insights about teaching pole students. You will also find all the information you need to open your own pole fitness studio.
The simplest way to become a pole fitness instructor is to try out for a job at the pole fitness studio that you already attend.
Top studios will demand a teacher certificate + 2-3 years experience working as a pole instructor if you want to have a packed class with guaranteed income.
Pro Tip: If you do choose to be qualified, sign up for pole teacher training. You will need to spend at least six months taking pole classes on your own before you're allowed to attend an instructor course. You also might be a registered Group Exercise/ Gym Instructor to attain ACE or AFAA CECs.
3. You Can Teach Pole Classes In Any Dance Studio
Dance studios might cost as little as $30/h to rent. If you run a dance studio, you can convert it to a pole studio when required. The studio environment remains the same. You can improvise with a free-standing fitness pole.
If you're a dance studio owner, you can offer pole classes as an additional option to students. Pole fitness can also be taught in several different environments: offices, bars, hotels, even private residences.
The location for the studio could be a regular dance studio with mirrors. You will also need a sound system and suitable floors. You don't even have to rent your own space and spend money on equipment, as the average dance studio costs $30/hour to rent. If you make more than the rental cost, you can pay the rental fee using the money you gather from students.
4. You Can Become Healthier
Pole fitness instructors tend to be in top shape from the frequent workouts. You'll get more in shape as you spend days exercising and teaching pole fitness.
Daily exercise will have positive effects on your body, and students will admire the figure you've obtained. Not only will there be health benefits and aesthetic improvements, but your self-confidence will increase as well.
Check out the Instagram accounts of pole fitness instructors. You can see the real opportunities that pole fitness and being fit has afforded them.
Safety First
The downside to all of this exercising is that you're more prone to getting injured.
Think about it; if you're a pole fitness student, you risk injury. As an instructor, a single injury could mean you lose your livelihood and have to stop teaching. Small injuries could mean you won't be able to teach temporarily while large ones could keep you off the pole for all eternity.
You have to be alert at all times and watch yourself not to repeat identical motions hundreds of times as this might put a strain on certain muscle groups and cause them to snap. Injuries happen on the dance floor, and the instructor is the most prone to injury. Be careful with each lesson and put safety first.
5. You Can Become A Social Influencer
Fitness instructors have to deal with people inside the studio and outside. Your hustle doesn't stop when your classes end. You'll have to perform public demos, respond to DMs on social media, talk to students before/after classes, and get in your local dance scene.
Fortunately, pole students are some of the most open-minded students you will ever meet, which means many of them will spread the word about you.
6. You Can Get A Head-Start In The Industry
Pole fitness is a relatively new industry, which means there's plenty of opportunity for work and little competition. You'll be at the helm of this industry and one of the first studios in your area. You'll help build the community and attract students who might not even be aware that pole fitness exists.
5 Steps To Become The Best Pole Fitness Instructor
The following steps show you the process of becoming a successful pole fitness instructor:
Step 1) Master Technical Skills
Start by gathering technical skills. This step could mean taking pole classes for three years. It could also mean taking regular dance classes with some pole classes mixed. A third option is enrolling in a professional certification course that costs thousands of dollars.
Regardless of how long it takes you to obtain the skills necessary, you must take your time. You want to feel at home when you're in the studio, know how to achieve the different performances, and move carefully and dynamically. Not only that, but you'll have to learn how to convey the techniques you know in words.
You need the skill to become a teacher in the conventional sense. You'll need to know how to progressively increase the difficulty for students and gradually teach them the skill-set. This process means taking on beginner students and rehearsing advanced moves with experienced students.
Step 2) Care For Safety
If you get injured, you might have to cease working as an instructor forever. It's even worse when your students get injured because you have to bear the responsibility.
Safety is your #1 concern when you're teaching students. Aside from skill, a great teacher knows how to asses a student's performance and put an end to their exercise if they're over-extending themselves.
If a student wishes to learn a new move, but you feel they're not ready for it, you must have the confidence to assign them to more exercises beforehand. This way, the student can gain the flexibility they need and attempt the exercise again. If you let them rush, they might get injured.
This process is critical for moves that the students have never performed in the past. You need to know where to place the crash mats for each move. Always optimize the environment for safety.
Step 3) Build Social Media Presence
You're not selling your classes; you're selling yourself. Students want to get to know you personally, and many will want to keep in touch outside the studio. If you're not big on social media, start by creating an Instagram account for your studio or yourself where you can upload videos of yourself and with students.
You should also put your contact information there, such as your email address and website, so that people can reach you. Students will email and DM you questions on your Instagram. You should respond fast to their inquiries; otherwise, they might go to your competitors.
Social media will bring more people to your class than posting print ads in the neighborhood. The dance scene is connected, and everyone knows each other. Once your classes feature on people's stories, the word will get out, and you'll get noticed by hundreds of people who never knew you existed. This process allows you to sell your classes and receive more coverage.
Step 4) Have A Passion For Teaching
You're a teacher, a master, an instructor. Your job is to convey your knowledge to the student. Think of your job as no different than that of a history teacher. You both have to deal with challenging students and help them if they're struggling. You must have a passion for helping your students because you've likely overcome the same challenges as they are facing.
Observe your current teacher and emulate their teaching style. If you don't feel passionate about teaching, you're better off changing career paths. You must bring enthusiasm to classes and show empathy to students struggling to make progression.
Step 5) Build Your Local Community
Your local scene might be smaller than those of large cities. You might even be the only pole fitness studio in the entire county. You need to take charge as the community leader and engage with other studios in your area.
Example: You might want to get to know the owners of dance studios in the area and promote each other's businesses that attract students to both studios. You could also visit gyms and introduce yourself to the members [after obtaining permission from the gym owner] there and tell them what you do. It's going to take time for the community to grow, and there are mutual benefits in engaging with other similar studios.
Frequently Asked Questions: Pole Fitness Training
Q: Do I Need To Lose Weight Before Training?
A: No, you don't have to be a gym expert with a 6-pack to become a pole fitness instructor. However, you will naturally become fit with all the exercise you're getting. Start by taking classes at a pole studio for a couple of months. Doing so will inspire you to get fit naturally, and you'll become healthier.
To join a pole studio, you don't have to be in top shape, although it helps because it's hard to perform certain moves if you're overweight. Aim to at least have a medium level of fitness before you join classes. As an instructor, it's better to be fit as this makes an impression on students that they can achieve the same body as you.
To join certification courses, you don't have to be fit. You only have to be ready to learn. However, most of the certification courses recommend taking a few months of classes before they let you hop on an instructor program. There are no minimum BMI requirements before you enroll.
Q: Can I Enroll In An Instructor Program Without Experience?
A: Yes, you can start training for an instructor program without teaching students beforehand. Many courses are available for future instructors without teaching experience. They teach you the basics in terms of what you need to teach students, or you can immediately sign-up for an intermediate course if you have experience.
Some courses are only 1-2 days worth of material, and this means you can follow them easily, even without prior experience. The general recommendation is six months' experience taking pole classes before starting instructor courses.
Q: What Is The Ideal Age To Become A Pole Fitness Instructor?
A: You're never too old to become an instructor. However, you might be too young. The minimal requirement will be 18 years old to sign up for instructor courses. In certain exceptions, the parents might agree to sign a parental consent form for a 16-year-old, although it's better not to teach until you're at least 18 years old. Every legal adult who is keen on teaching can enroll in a teacher program.
Q: Is Pole Fitness Only For Females?
A: No, men can also attend pole studios and become pole instructors. However, pole fitness is a female-dominated industry.
Q: Can People With Physical Conditions Become Teachers?
A: If you have a medical condition, the answer depends on whether it increases your risk of injury. If an injury could worsen the medical condition, you should generally keep off the pole. Some courses might ask for a doctor's consent when you enroll.
Q: Are Qualifications Mandatory To Get A Pole Fitness Job?
A: No. Many studios will hire pole instructors without qualifications if they have experience or take classes at the same studio. An instructor with years of experience who is well-known on social media will get preference over a new instructor with a certification.
However, the academic barriers are minimal, and there may be more dance requirements. Generally, you want to start out taking dance classes or pole studio classes for a year until you get in pole fitness teaching professionally and obtain the necessary certifications.
I write abouT establishing and Growing your boutique Fitness/Wellness Business. I promise no spam, i hate spam.
Enter Your Email To Receive Growth Tips For Your Boutique Studio. I Also Send Out Occasional Discounts And Freebies
---
About the author
Naz Ahm is the founder of StudioGrowth and has spent a decade growing start-ups and venture-backed companies. He writes about sales, marketing, and growth, especially in the yoga, fitness and wellness industry.
Naz has an MBA from IESE Business School and started his journey in the wellness industry when he set-up an on-demand wellness business. Naz currently resides in London, U.K.