Yoga is an excellent form of exercise and is exploding in popularity. However, to retain your current students and attract new ones, you may need to provide something more trendy ⁠— something like aerial yoga, for example. The first step in considering aerial yoga sessions at your yoga studio is first to identify the aerial yoga equipment you will require.
So, what aerial yoga equipment does a yoga studio need? The primary pieces of equipment you need for aerial yoga are specialized aerial yoga hammocks and the necessary hardware to attach them to the ceiling. However, setting up aerial yoga in your yoga studio requires much more prep work than just hammock installation.
I will explore the nuts and bolts (literally) of what is needed to get going with aerial yoga. I will also cover a few other essential requirements you need to consider when preparing to offer aerial yoga classes.
Aerial Yoga Equipment: The Aerial Yoga Hammock
The key equipment for aerial yoga is a specialized hammock kit that typically costs about $300. A complete kit of one aerial yoga hammock usually contains:
4 Carabiners ('Biners, in the biz)
2 Choke Loops
2 Daisy Chains (or, a better alternative, REI's Metolius Anchor Chain)
1 Ceiling hook
Instructions for assembly and maintenance
The aerial yoga hammock is of silk that is of parachute grade. Often nylon is also used as the fabric for aerial yoga hammocks. Depending on where you buy the hammock from, it will vary in length from 13 feet to 30 feet and be roughly 10 feet to 15 feet in width.
Aerial Yoga Equipment: Carabiners
Carabiners are also known as connectors, and typically iron, steel, or aluminum is used to make them. You must have encountered carabiners in the gym or a fitness studio when you change the attachments of a lat pulldown machine.
The aluminum carabiners can hold up to 5000 pounds (2000 kg) while the steel carabiners can hold up to 10,000 pounds (4500 kg) of weight. For rigging aerial yoga hammocks, the oval carabiners come recommended.
When you purchase an aerial yoga hammock, the carabiners will come with the set. You will also receive instructions on how you will connect the hammock to the ceiling or support using the carabiners.
Aerial Yoga Equipment: Choke Loops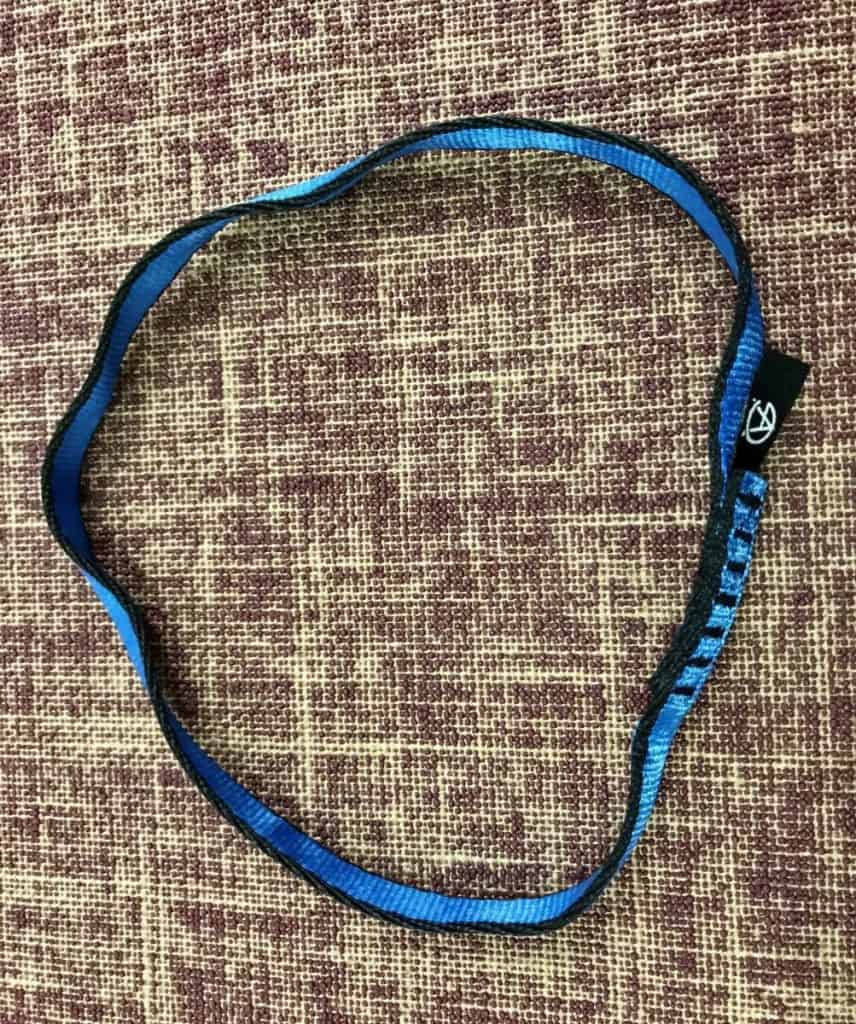 The loops are of heat resistant fibers and flatten out like webbing. The purpose of loops is to connect the aerial yoga hammock to the carabiners.
The choke loops wrap around the silk hammock and form a loop that can be attached to the carabiner. The advantage of using choke loops is that they do not slip on the silk but remain tightly in place.
Aerial Yoga Equipment: Daisy Chains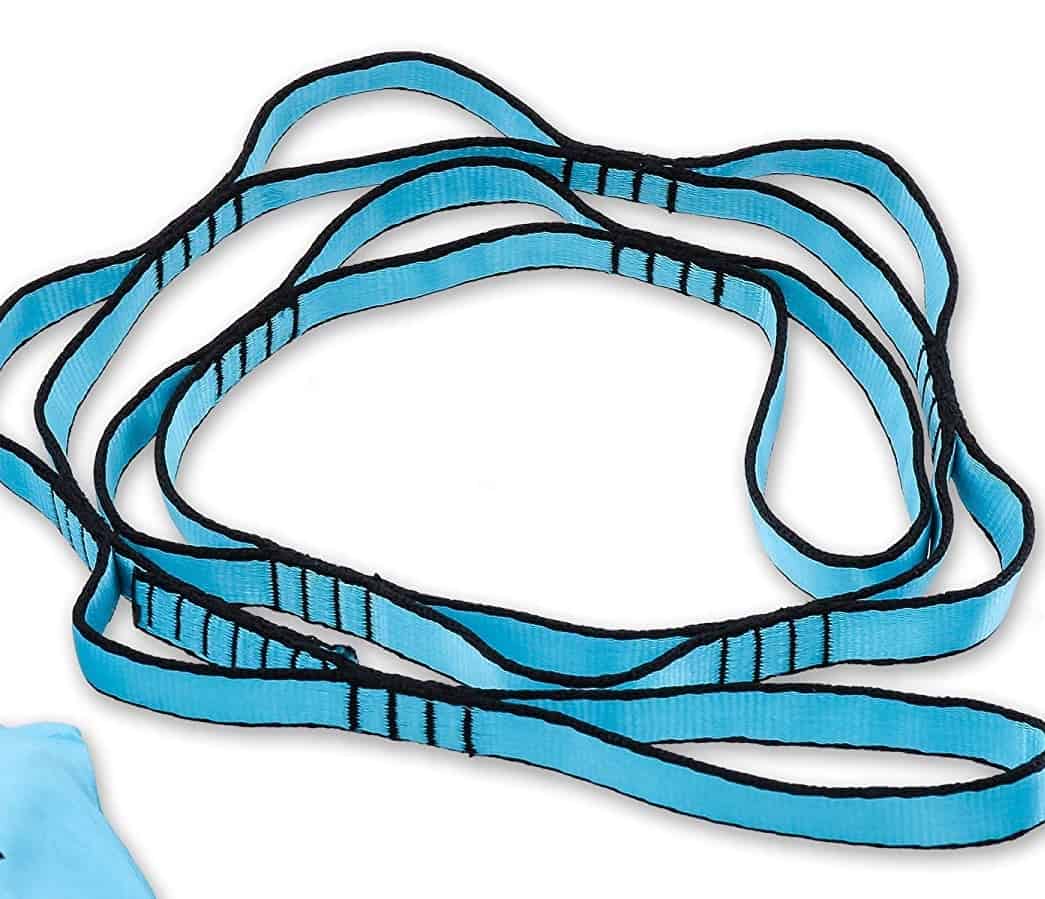 Daisy chains help to adjust the height of the hammock from the ground. The daisy chain has several loops at varying heights to which you can attach the aerial yoga hammock directly.
Daisy chains are often used to hang the hammock from open beams or tree branches. In your yoga studio, you will most likely use daisy chains to alter the height of the aerial yoga hammock based on the needs of different students.
Aerial Yoga Equipment: Ceiling Hook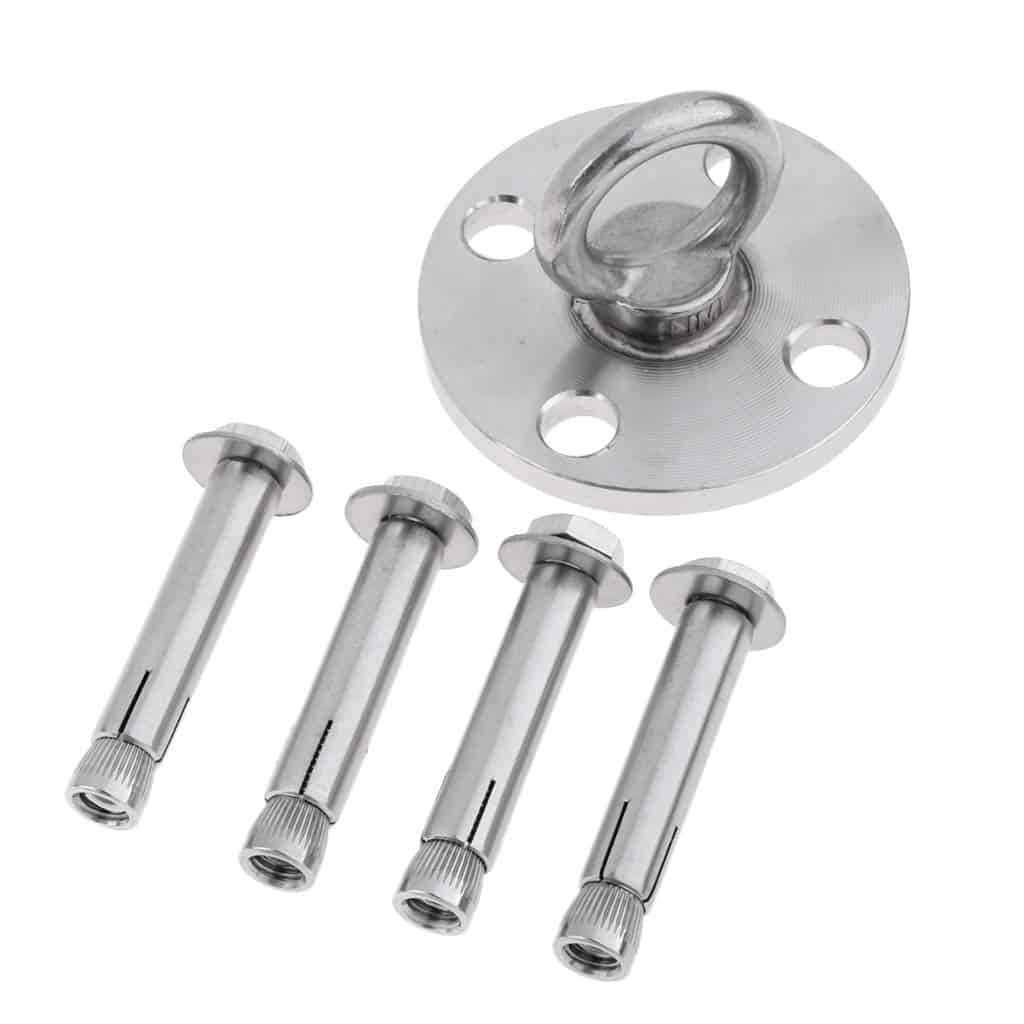 The ceiling hook is how you finally attach the entire kit (hammock, loops & carabiners) to the ceiling. The ceiling hook is attached to the ceiling by drilling into it.
Make sure the maximum load capacity of the ceiling hook is more than 1000 pounds (500 kg). Once the ceiling hook is attached to the ceiling, pass the carabiner through the closed-loop of the ceiling hook to hang the aerial yoga hammock.
Do You Need Permission From Your Landlord To Install Aerial Yoga Equipment?
Do you lease or rent your yoga studio? If so, your first stop should be to look at your lease or rent contract to see if you can even install aerial hammocks.
A small class of, say, six people will put close to 1,000 pounds (500 kg) of weight on ceiling beams, not accounting for force (discussed below).
Before you start drilling in the necessary hardware for hammocks, you must check your lease to see if that is even allowed. If your contract doesn't mention it, you should contact your landlord to make sure you aren't going to have any problems.
You should also consult your liability insurance provider to make sure you have coverage for this advanced form of exercise. Regular yoga, which is performed quite calmly on a mat, is a different proposition from aerial yoga, where your students dangle from the ceiling.
Failure to get permission from your landlord can lead to you losing your deposit, which in cases of commercial leases can be significant. Additionally, if your ceiling cannot handle the high stresses of a class full of aerial yoga students, then you are putting the safety of your students at risk.
Space Requirements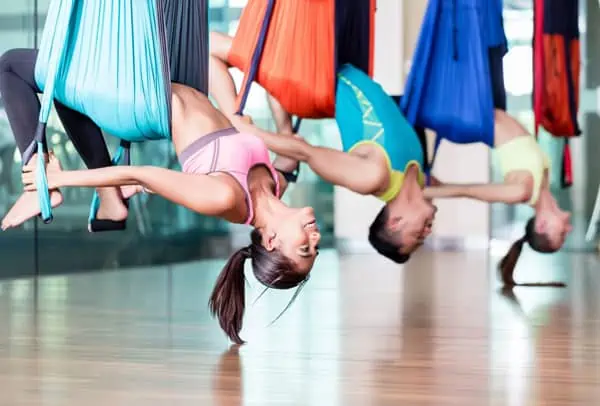 Each student needs 5 – 6 feet of space for aerial yoga, so you'll need to measure out your space and calculate accordingly. Each student requires roughly 36 sq.ft of space, so to accommodate ten students, you will need at the minimum a 400 sq.ft practice room, which is equivalent to the size of a large master bedroom.
Assuming you want to make a profit on the aerial classes, factor in items such as:
The number of students you can accommodate in a session
The amount you'll pay the instructor
Utilization of the equipment
What you'll need to pay for installation
Does the class raise your insurance rates? Will you need to pay for more advertising? It may be time to sit down with your accountant and pencil out whether or not this investment will be profitable.
NOTE: I have built a yoga studio profit calculator that you can use to forecast your income, expenses, and profits. Head on over and plug in the numbers specific to your yoga studio to see if your aerial yoga venture can be profitable.
Hiring a structural engineer
Merely installing the hammocks will not cut it. You want to have an engineer inspect, evaluate, and design a plan for them. An engineer can assess your building to see if the support beams can withstand the dynamic movement that comes with aerial yoga.
If your aerial yoga classes involve swinging or a drop, you need to know about kilonewtons.
Kilonewtons are a measure of force. Aerialists and mountain climbers are very familiar with kN ratings. If there is a possibility you or your students are going to fall during aerial yoga (hint: there is), the kN rating of your aerial yoga apparatus needs to match at least the weight and the force with which you are falling.
A licensed contractor
Your yoga studio members, if aerial yoga classes come to fruition, are going to be hanging from the ceiling. This process means that you want to make sure they are safe and secure in their aerial silk hammocks during exercise.
If you have received the go-ahead from your landlord, engineer, and insurer, you need to find a licensed contractor who can install the necessary hardware. Unless you are purchasing individual aerial rigs (which are about $650 each), you will also need to install ceiling hooks.
Legal Counsel
Yes, I'm talking about hiring a lawyer ⁠— or at least having someone in mind that you can turn to if you're facing a lawsuit.
Ideally, you won't ever need to pay for more than an initial consultation, but aerial yoga does come with an increased risk of injury.
What if a student doesn't sign a release, and falls and gets injured? This situation isn't the time to google up a "general release" and hope for the best. If something goes wrong, you need to be prepared, and that means having a competent lawyer on call.
Other Yoga Equipment
Will you provide yoga mats, which are also part of the set-up? You may be able to obtain cheaper mats if you buy yoga mats in bulk. How about other essential amenities, such as towels or water?
Aerial Yoga Studio Staffing
Before putting out the cash to install the equipment for aerial yoga, you will also want to look at your staffing needs.
How many instructors will you need?
Will they pay for their own aerial yoga certification, or will you?
Do you have a receptionist or a yoga studio software to handle bookings?
You will also need to clean in between classes, so consider whether you will have a custodian in place.
Aerial Yoga Studio Atmosphere
Your students won't just want aerial yoga; they'll want an aerial yoga experience.
Providing this experience means going all out to install mirrors, lighting, scents, music, and those little extras that give a luxurious experience. If it were just about the exercise, they could erect aerial sets in their backyards and watch YouTube videos for instruction.
Final Thoughts: Is Adding Aerial Yoga Classes Worth It?
As you can see, offering aerial yoga classes requires professional evaluation by a myriad of people. You'll need to hire engineers, contractors, certified staff, and potentially even legal counsel.
This requirement leads to an important question: is it worth upgrading your yoga studio to accommodate aerial yoga?
Well, it separates you from the competition. Offering aerial yoga sessions gives you an additional edge that you can use in branding to attract new members.
Let's face it: traditional yoga, done correctly, is a practice. There is repetition involved, and to get the maximum benefit, your head needs to be in the right place. Classes may involve discussion, chanting, reflection, and silence.
Frankly, adding swinging hammocks to the yoga experience adds an unquantifiable aura of excitement and novelty to an activity that many people view as relatively mundane and unchanging. And as anyone who runs a business knows, an exciting "hook" helps to bring in customers ⁠—and more customers means more revenue.
Advantages Of Aerial Yoga
It's not just the added differentiation that makes aerial yoga a smart addition. Proponents of aerial yoga cite the allure of using gravity as something that accentuates the traditional yoga workout.
Aerial yoga uses gravity that results in the following benefits:
Your muscles have to work harder off the mat.
You have to use your core.
Able to deepen your stretches off of the mat.
It's more challenging overall, making it a great step up for your veteran students who want to take their yoga practice to the next level.
There may also be another angle to consider: customers with bad backs. Aerial yoga relieves compression on the spine because your back muscles will relax when you hang. This process will reduce pressure on your joints, which can make the benefits of yoga accessible to people who might have trouble performing traditional yoga.
The complexities and costs required to install aerial yoga equipment properly might be off-putting to some. However, if you're willing to bite the bullet and try it, you'll be able to attract new members and retain existing members for longer by responding to consumer demand.
Adding aerial yoga equipment to your studio may be profitable, but you should consider the business risks before you leap so that you don't leave yourself hanging.
I write abouT establishing and Growing your boutique Fitness/Wellness Business. I promise no spam, i hate spam.
Enter Your Email To Receive Growth Tips For Your Boutique Studio. I Also Send Out Occasional Discounts And Freebies
---
About the author
Naz Ahm is the founder of StudioGrowth and has spent a decade growing start-ups and venture-backed companies. He writes about sales, marketing, and growth, especially in the yoga, fitness and wellness industry.
Naz has an MBA from IESE Business School and started his journey in the wellness industry when he set-up an on-demand wellness business. Naz currently resides in London, U.K.