Gym events are a great way to boost membership at the gym because they engage existing members, and they attract new members. If you run a gym, then having a calendar of gym event ideas should be part of your marketing mix. And while gyms often focus on digital marketing as their primary marketing strategy, gym events shouldn't be overlooked due to their ability to attract the local community.
So, what are the gym event ideas to increase membership? Use these gym event ideas to increase gym membership:
Host training events for upcoming races or competitions
Hold holiday events
Host a creative theme day
Hold a giveaway
Invite local celebrities
Invite well-known fitness instructors
Hold a challenge event
Conduct a gym workshop
Run a gym retreat
Throw a party
Host a charity event
This comprehensive guide will explain how — and why — you should host each of these events. If you want to learn how to boost your gym membership, read on.
Gym Event Idea # 1. Hold Marathon Training Events
Many cities hold large marathons at least once a year. Marathons attract thousands of people, and there are smaller marathons held every month. For example, the London marathon attracts upwards of 40,000 people every year.
All of these marathons provide an opportunity for you to design workout events and training in anticipation of that marathon. You can create classes for the 5K, 10K, or half-marathons that happen in your city. Research which marathons are held in your city and design an event around that.
Example: You could hold a "30 Day Marathon Prep" event and use that to sign up a new class of students who are preparing for the marathon. This strategy is effective on social media because you can use geo-targeting to focus on residents who live in the city and get them to sign them up for your marathon preparation training.
It doesn't cost too much to hold this type of event. You'll only need one personal trainer who can train group classes for 1-2 hours per day, and this can bring dozens of new members to your gym before marathons. Most people start preparing 2-3 months in advance, so you should focus your marketing strategy on the 1-2 big marathons that happen each year.
Marathon training events are going to be hugely popular because people already form groups on Facebook to train together for such events. There is an existing demand that you can fill and establish as a recurring yearly event for your gym.
Gym Event Idea # 2. Holiday-Based Event Days
Each holiday presents a new opportunity to design a workout event around the holiday. Here are some examples:
Thanksgiving: You could create a calorie-burning event where you have people competing and doing HIIT training up to a week in advance.
Valentine's Day: You could offer free monthly membership to all couples who sign up in February.
New year: You could have goal preparation weeks where you allow people to work out for a week for free to prepare for their New Years' goals.
Halloween: You could make up a counter-productive cheat day where you hand out free candy at the gym.
For national holidays such as the 4th of July, offer everyone benefits such as 2-week membership if they show up dressed in red, white, and blue.
Each holiday in the year presents a new opportunity to make a themed event. Themed events can be over multiple days or even a week.
Gym Event Idea # 3. Creative Theme Days
If you want to increase the frequency of events at your gym, you can invent theme days. The advantage of themed days is that unlike holidays, you don't have to wait for a specific date in the year, and you can make them up as you go.
For example, for March, you could have a "Get Moving March" theme. The object could be to focus on running, and you could create a leaderboard for miles run during the month. The more themed days you host, the more your community is going to grow, and your members are going to stay engaged.
Gym Event Idea # 4. Events With Prizes & Giveaways
Prize events draw attention and can make your gym go viral on social media. They're also an excellent way to combine digital marketing with real-life attendance.
Publish a sign at your gym that shows members you're hosting a giveaway from a specific date and that they can all participate by visiting your social media accounts (Instagram, Facebook, etc.).
As far as what prizes you offer, there are a bunch of ideas to choose from:
Free membership packages or class packs
Personal training classes
Weights
Cash prizes
Merchandise
To participate, your members would have to share your event post on their social media, and then winners would get randomly drawn from a pool of candidates. Create your giveaway event images in different formats to share them on Instagram and Facebook.
Here are some ways you can execute prize giveaway events:
Ask members to share your giveaway on their Instagram stories to become eligible.
Ask them to like, comment, or share a post on their Facebook and Instagram profile.
Create videos that promote the gym and show the giveaway prizes which users have to share to become eligible.
Give free yearly membership to users who share "before/after" pictures of their progress at your gym.
Ask users to use hashtags and location tags to give you even more exposure within that area.
Publish winners on the main timeline on your Instagram and Facebook pages, holding the prizes. If they won gym membership, publish pictures with their cards. If they won cash, publish them with a giant signed check.
Gym Event Idea # 5. Celebrity Appearances
Local celebrities can draw a crowd to your gym, and this gives you significant marketing advantages if most of the clientele is from the local community. Stars don't have to be A-list Hollywood celebrities; they can be local politicians, musicians, online influencers, etc.
Example: You could hire a local social media influencer to host a community gathering at your gym and publish the event online. The influencer will then invite their fans to your gym and record the event, and you'll gain exposure because the event took place at your gym.
If you have prominent athletes or personal trainers residing in the community, invite them to come for an appearance and host a short meet-and-greet with your gym members. If they're willing to teach, you could even create a boot-camp and post a video recording of it online.
Pro Tip: Before you bring the celebrity to your gym, make sure to announce this by advertising the celebrity's presence and telling everyone when to show up. You'll also have to excite the crowd on your social media and make them anticipate the celebrity event.
When the big day comes, you'll have dozens, if not hundreds, of people attending the event. Videotape the event and consider hiring a professional video crew to edit the video later. You can use the footage to design short promotional videos for your social media marketing campaigns.
Gym Event Idea # 6. Niche Fitness Instructor Guests
Most gyms employ one or two full-time personal trainers who train gym members in nutrition, lifting techniques, cardio workouts, etc. What you can do to stand out is to bring unique fitness instructors who specialize in a type of fitness such as CrossFit, boot-camp fitness, yoga, etc.
Hundreds of instructors would be willing to make an appearance at your gym and teach a class about the basics of their niche fitness. Doing so also gives your gym exposure because if they have a following, they will invite their followers to attend the event at your gym.
You can pre-schedule this event and announce it to your students to get the hype up before the big day. Once the guest instructors appear, record the event and have fun with all the students.
Example: If you invite a CrossFit teacher, he can teach your students the basics of CrossFit, and you can see how they perform. Doing so presents a challenge to your existing members, and they all learn a new technique.
NOTE: With StudioGrowth, you can easily create new series or events and make it available online for purchase.
Niche Fitness Training At Your Gym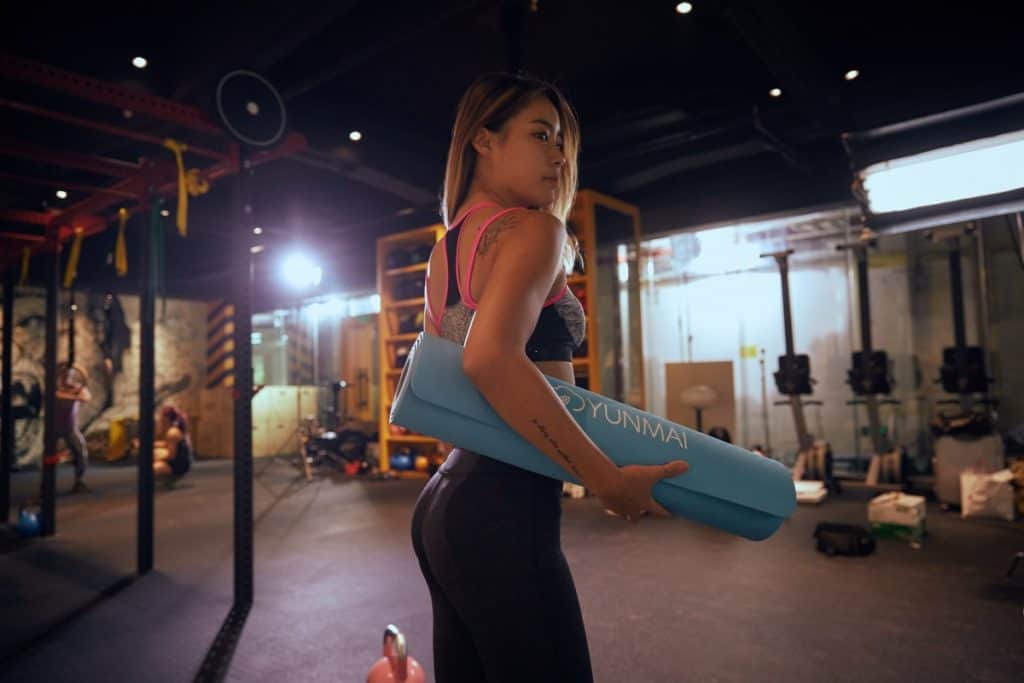 You can charge higher rates for "special classes" with guest instructors where they lead a group class and teach them the fundamentals of a certain fitness type. Many gyms are introducing yoga classes at the gym, and some even have dedicated yoga studios with full-time yoga instructors.
You might think yoga doesn't go along with the hyper workout vibe of the gym, but people like to try out different kinds of fitness. Doing so also makes your gym more competitive compared to boutique studios who specialize in only a specific type of fitness and charge higher rates for sessions. Form partnerships with the instructors and pay them a percentage of the profits generated.
Many of them will also agree to appear for free only to promote their services at your gym. Example: You can call up yoga studios and ask the instructors to teach a class at your gym. Many of them will be willing to host a class for free because even if they gain 2-3 permanent students from your gym, this will increase their income by hundreds of dollars every month.
If you host guest instructors at your gym frequently, you should develop new pricing structures that attract new members. Give free classes to all members who have a monthly membership. Allow non-members to pop-in at those classes for a small fee.
Gym Event Idea # 7. 30-Day Challenge Events
The good-old "30-day challenge" event is always popular in gyms because many people sign up in the hopes of obtaining results in as little as 30 days. 30-day challenges don't always have to be about weight-loss; they can tackle any other fitness challenge. However, weight loss challenges are the most popular type of challenge.
Challenges only work if they're announced in advance because members want to prepare for the challenge in advance. If you're planning a challenge event that lasts from 7 days up to 30 days, make sure to announce this 2-3 months in advance.
To pull this off, you'll have to make an event around the month when the challenge takes place. Let's say you want to hold a challenge in January. You can announce the challenge in November and call it the "30 Day January Challenge – Stick To Your NYE Goals".
Challenges will bring new energy to your gym that lasts for weeks at a time, and many new people will sign up only to attend the challenge. I remember signing up for a famous fitness studio to be part of their hell week challenge.
Once they start making a consistent appearance, this gives your trainer a chance to make them feel at home at your gym, which in turn keeps them there for the long term.
Planning Challenges
Don't go overboard on challenge events. Host one challenge event a month maximum, otherwise your members might get overwhelmed.
You can also design in-house challenges that make your existing members compete too. Doing so raises the competitive spirit at the gym and pushes your members to achieve their goals. Many gyms host fitness competitions where they make members compete with each other and offer prizes at the end.
Example: You could have a lifting competition where members compete to see who can dead-lift more. You could also have running competitions where you measure how fast they can run. CrossFit competitions are also a great way to foster a competitive environment.
These competitions tend to be one-day events, but your members will have to prepare for at least a month in advance. Make sure to announce the contests and give them ample time to prepare.
30-Day Challenge Merchandise
Try to produce merchandise that aligns with the 30-day challenges and competitions at your gym. People love to wear gym merchandise, and if you give it away, they'll wear it and give you extra promotion on social media.
The average influencer with 10,000 followers will have thousands of views on each one of their pictures. Guess who follows fitness influencers? It's other fitness enthusiasts. Thousands of potential gym members could see your branded merchandise if an influencer wears your merchandise during one of these themed events and posts it.
You can print t-shirts at custom printing companies that will print dozens of t-shirts and hand them out to members during the event. Make sure your logo is visible and that people can look up the gym based on that one small print.
Example: If your gym is called "Fitness World," you want to print t-shirts that read "Fitness World" in a clear manner instead of "30 Day Challenge," as they can't Google your business if they don't know the name. Optimize the merchandise for people who don't know you.
Gym Event Idea # 8. Gym Workshops
Workshops are educational training events for gym members. They're fairly easy to organize, and you can offer them for free or charge attendance fees. Workshops should primarily focus on education.
Note: Workshops are typically more academic, and won't produce as much hype as 30-day challenges or fitness competitions.
If you host workshops, you'll need to hire experts who can teach a group of students over a week or two. You can bring in fitness professionals to host this workshop at your gym or consult your personal trainer about developing a workshop educational program.
Pro Tip: Advertise the workshop to audiences different than your general gym demographic. If you're designing a workshop for pregnant women, you can use ad-targeting on Instagram/Facebook ads that allow you to reach out to pregnant women in your city. The algorithm will post your ad in front of those women and allow them to sign up months in advance.
The general audience at your workshops will be mixed and mostly comprise of existing gym members and others who came in due to advertising on the internet. Make sure to convert these newcomers into full gym members by telling your workshop instructors to sell them on your monthly membership once they attend the course.
Once they've attended workshop classes for a week or two, many of the workshop-attendees should sign up for a membership at your gym. Use this to sell them on your monthly or 6-month memberships and offer discounts for new members.
Gym Workshop Ideas
Here are some workshop ideas you can implement at the gym:
Nutrition Workshop. Develop a workshop centered around nutrition where you teach gym members how to cook healthy meals that benefits their gains/cutting, depending on the purpose. Many of them struggle with cooking, and you can bring a chef who works with athletes to teach them how to prepare those meals by themselves.
Pain Management Workshop. Many people come to gyms to alleviate pain because they have pre-existing medical conditions and feel pain throughout the body. You'll have to hire healthcare professionals who specialize in exercise, such as physiotherapists. These people know how to design exercise regimens for people with pre-existing medical conditions.
Flexibility Workshop. Many people feel stifled in their bodies, and they don't know how to become flexible in certain areas such as the shoulders, knees, or hip areas. You can hire a yoga expert to host a flexibility workshop and teach students how to become flexible in all parts of the body using yoga blocks and extenders.
Pregnancy Workshop. You can design pregnancy workshops for women who are with child and have trouble exercising normally. Many pregnant women like to put in a bit of exercise during their pregnancy, but it's delicate because they have to be guided by health educators. You'll need to hire fitness professionals who deal with pregnant women and design a class teaching ideal exercises for women that are safe for the baby.
Parent Workshop. Many parents teach their children basic exercises, and these workshops can teach them how to optimize their children's nutrition, exercises they can do to keep fit, etc. The gym is full of parents who can attend children's fitness/nutrition education workshops.
Gym Event Idea # 9. Gym Retreats/Getaways
Fitness retreats are an excellent way to expand the workshops because you can offer larger packages and increase your gym's revenue. Fitness retreats are harder to pull off than workshops because workshops can be held inside the facilities of the gym, while retreats are typically held outdoors.
You don't need to take your students to the Caribbean to impress them. If you are close to beautiful scenery such as beaches, mountains, or hills, there are probably hotels you can partner with to book stays for your students and charge them a flat fee for a week-long retreat.
Meticulous planning is key to your retreat's success. You'll have to announce the retreat months in advance to get students to sign up, book the hotels/transport, and prepare the teachers for the retreats.
Gym Retreat Ideas
Here are some retreat ideas that you can incorporate at your gym:
Summer Prep Retreat. Many people want to get a 6-pack or a "beach body" before they're ready for the summer. You can organize a summer preparation retreat where your students do heavy HIIT exercises over 1-2 weeks in an outdoor setting. The goal here is to make your students drop 5-10 lbs over the two weeks and prepare themselves for the summer.
Stress Management Retreat. Many people are overworked, and they use the gym as a way to decrease stress because exercise releases dopamine and keeps their brain sharp. Stress management retreats focus on mental health, and they can include meditation, yoga, and other forms of spiritual relief combined with physical exercises. You might have to hire multiple teachers for an event of this kind.
Youth Retreat. If you have many young people practicing at your gym, you can organize youth retreats centered around a certain sport or general fitness training. Doing so can be an exciting trip for your younger members, as they get to make new friends while training at a different location.
Gym Event Idea # 10. Gym Parties/Social Events
Many gyms organize parties or social events where people get to know each other. Although gym members naturally gravitate towards each other and make friends at the gym, you can still help foster relationships between your members by organizing parties, celebrations, and social gatherings.
Doing so is especially helpful if you run group training sessions where people don't get the time to mingle.
Example: If your gym reaches an anniversary, you can host an anniversary party with free drinks and DJs to celebrate. There are also peaceful ways to organize a social gathering, such as inviting everyone to the local juice bar.
Some of these celebrations might be hard to pull off with gym members because many of them don't drink, so you'll have to invent different non-alcoholic parties. Consider inviting your students for dinner after night classes or host a movie night at the gym where everyone is invited. You can also organize a "Bring a Friend" evening where gym members bring their friends, and everyone gets to know each other.
Pro Tip: Always host the parties and gatherings at your gym. This way, non-members who attend will see your facilities, and some of them may want to sign up as a result.
Gym Event Idea # 11. Gym Charity Events
Charity fundraising events are the best community-building events. Find a local charity that resonates with you and contact them. Many communities are struggling with problems such as homelessness, drug addiction, domestic abuse, health problems, etc. Research the active charity organizations that you can help in your area.
You need to get in touch with them and try to organize a fundraising event where people from the community can drop in, socialize, and make donations.
However, fundraisers are one-time events. To make an impact with that charity, you can say that everyone who donates a small amount to the charity will get a free 7-day membership at your gym.
Doing so will attract many people from your community because they'll get to help a cause, train for free, and eventually gravitate towards paid membership. Everyone benefits from this arrangement.
Working with charities also shows that you care for the community, and your gym could become the premier gym that everyone knows about and goes to.
Charity organizations usually have huge outreach and followings. This huge following means that if you organize a fundraising event, they will get the word out, and many people will attend because of their outreach.
Gym Event FAQ: Frequently Asked Questions
Q: How To Prepare For Gym Events?
A: Announce the events in advance, especially if you're hosting a big event. If you're hosting a small event, you can get away with announcing it one week in advance. The key is to create anticipation.
If the regulars at the gym know about an upcoming event, they will talk about it and anticipate it well in advance. You'll have to do a lot of prep-work such as hire instructors, clear out the facilities, prepare the video equipment to record, market the event, etc.
Q: What Is The Best Event For Small Gyms?
A: For small gyms, the best events are training events, workshops & retreats. You should generally avoid hosting large parties, food-tasting events, or charities because you won't have the facilities to house huge numbers of people.
The best strategy for small fitness studios is to focus on your existing client base and develop new workshops, training plans and offers for those members.
Q: What Are The Free Gym Events?
A: There are hardly any events that can be arranged without spending a dime. You'll always have to spend some money. However, you can lower your costs by convincing fitness experts to make appearances at your gym for free in exchange for exposure.

I write abouT establishing and Growing your boutique Fitness/Wellness Business. I promise no spam, i hate spam.
Enter Your Email To Receive Growth Tips For Your Boutique Studio. I Also Send Out Occasional Discounts And Freebies
---
About the author
Naz Ahm is the founder of StudioGrowth and has spent a decade growing start-ups and venture-backed companies. He writes about sales, marketing, and growth, especially in the yoga, fitness and wellness industry.
Naz has an MBA from IESE Business School and started his journey in the wellness industry when he set-up an on-demand wellness business. Naz currently resides in London, U.K.