A yoga retreat can be a life-altering experience for everyone involved. Combining a relaxing getaway with learning and growth can be an eye-opening spiritual experience that enriches your approach to wellness and changes your life. If you like attending yoga retreats or want to organize a yoga retreat, you might wonder what the key elements of planning a successful yoga retreat are? Or, how do I plan a yoga retreat?
You can organize and plan a yoga retreat by following these steps:
1) Conduct a yoga retreat market research
2) Identify your customers
3) Set your intentions and positioning
4) Set goals and expected outcomes
6) Plan the retreat activities
Coordinating a yoga retreat can be an extremely fulfilling and rewarding experience. However, doing so involves quite a few moving parts, and it can quickly feel like you're in over your head.
So, let's do this together. I'll walk you through all the steps of planning your yoga retreat and help you ensure that you meet your retreat goals and create a successful yoga retreat. So let's get started and plan the best event of the year!
Conduct A Yoga Retreat Market Research
A crucial element of organizing a yoga retreat is understanding the market's needs.
Planning such a complex event with several moving parts can be overwhelming. However, not fully understanding your market's needs, requirements, and expectations will only make that confusion linger. The best way to prepare for organizing a yoga retreat is to learn everything about your target market.
Surveys
If you have been teaching yoga, you most likely have a mailing list. This email list is your starting point for learning about the needs of your students.
Create a simple (4-5 questions) questionnaire, and then ask for feedback from your list. Some questions you can include:
Have you ever been to or considered attending a yoga retreat?
Where would be your ideal location for a retreat?
What would be your perfect group size for the retreat?
How much do you expect an all-inclusive yoga retreat to cost?
If you are just starting and don't have an email list, you can use Google Surveys to conduct your research.
Once you have collated the responses, you will notice a theme emerging and get a good insight into the needs of your market. You will also get a list of qualified leads – people who have responded and shown interest in attending your yoga retreat!
Marketplace Research
There are several yoga retreat marketplaces, such as BookRetreats. On these marketplaces, you can see the popular retreats in your location, and you can also see the themes and how such retreats are structured.
Use the information gathered from such marketplaces to identify the latest trends and understand the market's needs. For example, a quick review shows that retreats offering training on nervous system regulation as part of the retreats seem to be more popular.
Independent Research
Most importantly, ask questions. Take a yoga class, and talk to other students. Learn what people enjoy about yoga and how you can incorporate their values and preferences into your retreat.
While it is essential to consider your own goals and preferences for the retreat, a yoga retreat is an experience you create for others. So it is necessary to understand that you must cater to the attendee's wants and needs if you want your retreat to be successful.
One of the best ways to gather insights on yoga retreats is to attend one yourself! Make a record of your experience. Take note of the things you liked and didn't like.
Talking to those who frequently participate in yoga retreats is another good way to gain the necessary insight.
Identify Your Target Customers
When planning a yoga retreat, a critical step is answering the question, who will attend your retreat?
The answer to this question will also help you niche down or target a wider group of people.
If the main motive behind planning your retreat is financial success, then making your retreat appealing to a broader audience will be the right approach.
However, if you are in a crowded market and passionate about specific themes, for example, a yoga retreat for women leaders, niching down will help you attract the right audience.
Knowing your target audience is also crucial, as you will need this information before you start marketing and advertising. For example, the platforms and strategies you use to reach women leaders interested in yoga retreats will differ from those you use to target people interested in trauma healing.
Another aspect to consider is whether your yoga retreat caters to experienced practitioners or beginners. Answering questions like these will also help you decide what kinds of teachers you will need to engage and the activities you might want to plan for the retreat.
Use the insights gathered during the market research phase to identify your target audience. Ideally, you will want to identify a target audience that can be easily reached and has the financial capacity and willingness to pay for yoga retreats.
Set Your Intentions and Positioning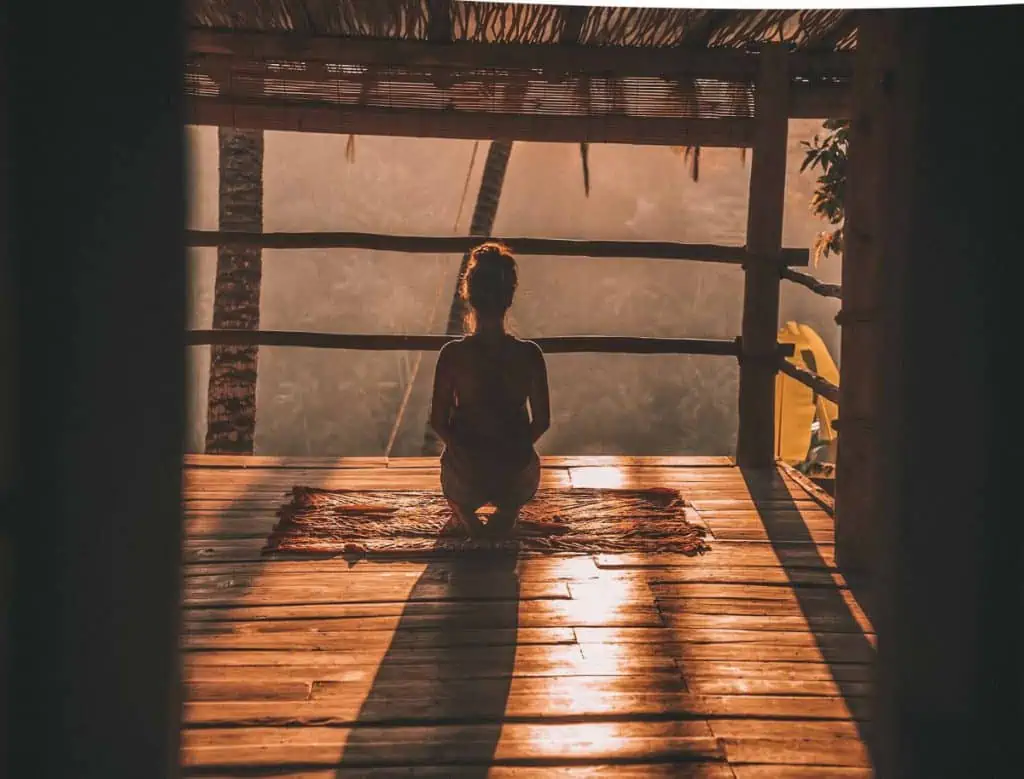 It would help if you decided what will be the focus of your yoga retreat. What kind of experience do you want to offer to those who participate? What aspects of yoga and wellness are most important to you?
Answering these questions will help you set your intention for the yoga retreat. Narrowing down these ideas will help you develop the right atmosphere and execute the retreat in a way that fits your practice.
Setting Intentions
Determining the intent and purpose is crucial for organizing a yoga retreat. Doing so will give you a clearer idea of the location and activities to select. It will also help you determine the cost of your retreat.
Additionally, your retreat is more likely to be successful and easier to plan if you develop a yoga retreat based on your passionate theme.
As an inspiration, many yoga retreats usually have a focus on one or more of these areas:
Relaxation
Meditation
Silence
Nature
Self Discovery
Nervous System Regulation
Nutrition and Weight Loss
Positioning Your Yoga Retreat
Once you have set your intentions and identified your target market, you will need to position the retreat to be attractive to your target market.
Positioning is simply the messaging that you will use to attract your target market. For example, position your yoga retreat as designed for all levels, focusing on people dealing with loss.
Set Goals and Expected Outcomes
When planning a large and complicated event with several moving parts, it's essential to prepare yourself mentally. Organizing a yoga retreat of any size is going to be a challenge!
There are going to be missteps, mistakes, and even epic failures. Especially if this is your first time hosting a retreat, it's almost sure that the experience will not be all sunshine, rainbows, and relaxation. Be prepared to make difficult decisions.
To evaluate the success of your retreat, you will need to set goals and expected outcomes. For example, if this is your first retreat, your goal could be to create media that you can use for marketing your next retreat. If you have run several retreats, your goal could be a specific financial outcome.
To get an idea of what goals and outcomes you could set, try to look for people who have hosted yoga retreats themselves and ask about the results. If you're struggling to find people to talk to, check out social media platforms.
Websites such as Facebook, Instagram, Reddit, or other blogs will show you where yoga retreat hosts may have posted about their experiences. Platforms such as these will also allow you to reach out to former hosts themselves and ask questions.
Select a Retreat Location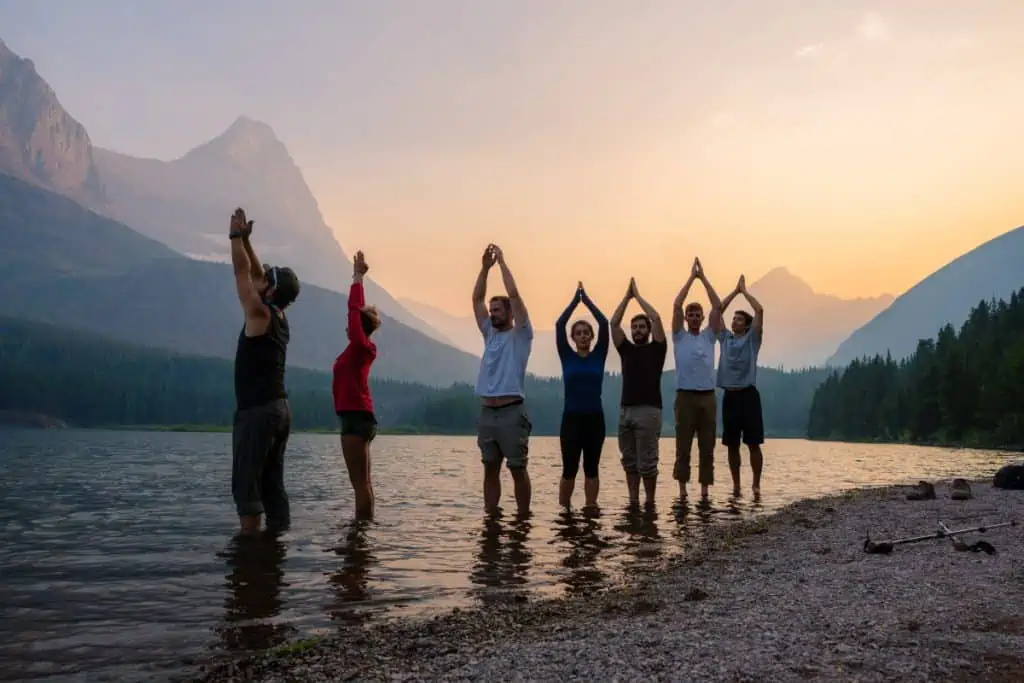 One of the essential aspects when organizing a yoga retreat is location. Several people choose a yoga retreat solely based on the location.
Where you decide to hold your yoga retreat and the venue you choose to book can easily make or break your event. Selecting the right location will guarantee customer satisfaction, while choosing a poor location can ruin the experience for everyone.
There are several options you might have for venues and sites. You can host a yoga retreat pretty much anywhere in the world. When trying to narrow down the location for your retreat, there are several things to consider:
The distance you want to travel. How far do you want to travel to host the retreat? Are you trying to get attendees from your hometown to attend, or do you want to appeal to an audience in a different destination? Answering these questions will clarify the type of location you should choose.
The distance that your participants will have to travel. Can the participants drive to the retreat? Will they need to fly? Usually, retreats tend to be all-inclusive, so consider the various travel options.
How many attendees do you expect? Finding a location with the proper accommodation for your group can be challenging, especially since you'll probably have to book the venue before getting confirmed bookings. It is advisable to pick a place with more capacity than you think you'll need.
What do you want from your venue? Does it have adequate facilities? Showers? A pool? Wireless connection? Good vegetarian food? Choosing a location with the amenities required is key to pleasing your attendees.
These are all critical factors that can make or break your choice of venue.
It is highly encouraged to visit the venue in person before you book it and decide to host your yoga retreat there.
Many hotels or resorts will offer specific contracts or agreements for yoga retreats. Finding venues with special deals and event-specific packages can streamline the process and answer many of your questions about costs. So, do your research, call around, and see what venues best suit your needs.
Yoga Retreat Activities
One of the most crucial elements of your yoga retreat is the various activities you will plan for your participants.
There are a few basic principles when deciding on the kind of activities you want for your retreat: The number of activities you plan, non-yoga activities, and the types of yoga classes you offer are vital to your retreat's success.
You'll also need to pack any materials for these activities, such as supports, musical instruments, blankets, pillows, and aroma diffusers to set the mood.
Beware of Overplanning
As a retreat leader, you might be worried that the activities you plan will not be enough or that your participants might get bored. It's a common mistake to over-plan.
Do not feel compelled to plan the itinerary for your group down to the minute. Remember, this is a relaxing getaway for those who attend, so filling every day with activities can take away from your yoga retreat's overall focus or goals.
Instead of trying to plan every second of the day for your guests, start with a general outline. Start with an activity that coincides with breakfast, lunch, and dinner. These plans might include:
Sunrise-guided meditation
Yoga class by the water before lunch
Spiritual healing session after dinner
Nervous system check-in at regular intervals during the day
You'll also want to plan your schedule for maximum flexibility. Your participants are there to enjoy what you have designed for them, but they will also expect to have some time to themselves.
Similarly, it would help if you made time for yourself when planning a yoga retreat. Being a host of such a significant event is stressful, so make sure you have time to unwind and relax while tackling all the challenges that may come your way.
It would be best to plan your activities based on the group itself. Be prepared to alter the schedule to better suit the needs and wants of your guests. This way, you and your attendees can have a more enjoyable experience.
Include Non-Yoga Activities
As part of the yoga retreat, you will also need to plan non-yoga-related activities. For example, you could schedule a guided walk or a cooking session focusing on vegetarian food.
If appropriate, make time for activities that include elements of nature, such as biking, surfing, or hiking. You might want to plan excursions to visit different locations, such as tourist sites or natural attractions. Other activities such as cooking classes, journaling sessions, or breathing lessons may also help your guests.
Try to choose something that interests you and other yogis. You can even have a reading circle, mellow dance party, or sing-along session.
Yoga Classes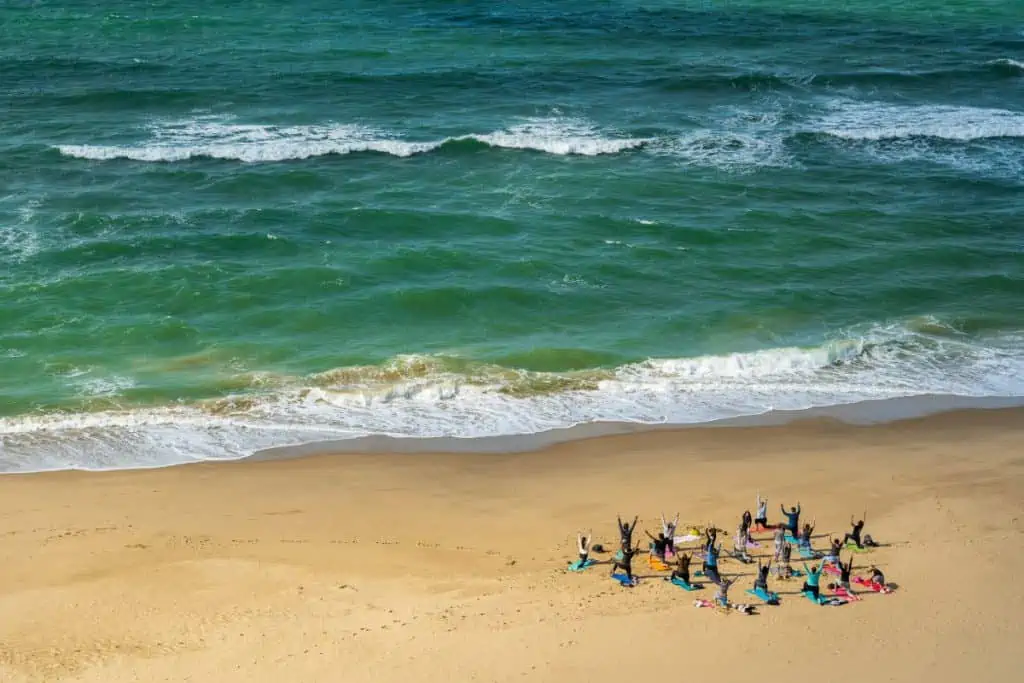 Another vital thing to consider for your yoga retreat is what type of yoga classes you want to host for your attendees. Rely on the theme of the retreat to create the lessons. For example, you might focus on meditation and classes focused on releasing stored emotions for a trauma-focused retreat.
Choosing a yoga type can help you target your clientele and focus on a specific goal during the retreat. The most common types of yoga for retreats include the following:
Kundalini Yoga: in Sanskrit, "Kundalini" means "life force energy." The base of this type of yoga focuses on movement from the bottom of your spine. By carrying the body through specific guided exercises in kundalini, you will release energy flow from this portion of the body to reduce anxiety and negativity. This type of yoga also incorporates elements of singing and chanting.
Vinyasa yoga: also commonly referred to as "flow yoga," this type of yoga is prevalent and often used to teach beginners. Breathing technique, motion, and rhythm play a central role in this style.
Hatha yoga: derived from the Sanskrit words for "sun" and "moon," Hatha is an umbrella term used to describe styles of yoga that use the body as a method of self-regulation. This form of yoga focuses on balance in the body: strength and flexibility, physical and mental sensation, and breath and movement.
Bikram yoga: This hot yoga usually consists of 90-minute classes at 105°F (40°C) with air at a 40% humidity level. Bikram yoga is an intense form of yoga with particular poses where instructors do not adjust or correct students. The high temperature will aid participants in their technique, breathing, and detoxification of the body.
Power yoga: Power yoga, derived from the form Ashtanga, is a more interpretative style of yoga, often taught in ways that vary from teacher to teacher. It is generally more fast-paced and motion-intensive than other styles of yoga.
The Cost of Operating A Yoga Retreat
Assessing the overall cost of the yoga retreat is the next vital step to consider when planning a yoga retreat.
A yoga retreat costs anywhere from $500/person to $5000/per person to operate for a 6-10 day retreat. The cost includes food, classes, supplies, accommodation, and marketing.
Keep in mind that you have to spend money to make money for an event such as this. Taking shortcuts and picking the cheapest option might sacrifice some of the experience's most critical elements for your guests.
When it comes to calculating the costs, consider the most common costs:
Venue deposit and overall cost of the venue
Travel
Dining and food
Supplies and props for class
Marketing and advertising
Cushion (this is crucial! Always have a little money set aside in case something should go awry)
How To Price a Yoga Retreat
There are three main models you can use for pricing your yoga retreat:
Cost-based pricing
Value-based pricing
Competitor/Market pricing
Cost-Based Pricing For Yoga Retreats
Cost-based pricing is one of the most popular methods of pricing a yoga retreat. You identify all your costs per person and then add on a profit you want to see per person to arrive at the final price.
Total cost per person = Food + accommodation + supplies + teacher pay + marketing & advertising
Value-based Pricing For Yoga Retreats
Value-based pricing is pricing the yoga retreat based on your students' perceived value of the retreat and their willingness to pay. Yoga teachers tend to be uncomfortable placing a significant monetary value on their skills; hence rarely use this pricing model.
You could price your yoga retreat at $50,000/person with value-based pricing as long as you have customers willing to pay that amount. The retreat price is not related to the cost of organizing the retreat.
Competitor Pricing For Yoga Retreats
The best way to ensure your prices are fair is to compare your retreat prices to other existing retreats' costs. You can check marketplaces to get a sense of the pricing of other yoga retreats in the exact location of your planned retreat.
Most of your customers will also compare your retreat prices to the prices of similar retreats. So competitor/market pricing of your yoga retreat is also fair pricing in the minds of your customers.
Are Yoga Retreats Profitable?
Yoga retreats' profitability depends on how much you charge for your retreat, how many attendees you have, the activities, teacher's pay, and the venue or location you choose.
Yoga retreats are profitable, with profit margins ranging from 20%-55%. Given the limited spaces and fixed costs such as accommodation and food, the yoga retreat can be profitable with careful planning and organization.
Your yoga retreat will be profitable if you make the right financial decisions and calculate your pricing to ensure you earn more than you will spend.
How Much Can You Make From a Yoga Retreat?
You can make anywhere between $10,000 to $50,000 from a 10-person yoga retreat. However, it will take planning, an excellent venue, plenty of attendees, and high ticket prices to make such revenue.
Most retreats cost anywhere between $1,000 to $5,000 per person. Assuming you have a party of 10 people and a 30% profit margin, the profits can be anywhere from $3,000 to $15,000.
Not all yoga retreats should be that expensive, and you'll have to think about your clientele when deciding to set the price of attendance.
Marketing and Advertising A Yoga Retreat
One of the most critical factors of a successful yoga retreat is drawing in guests through sufficient marketing and advertising. At this stage, you will have all the information you need to start marketing and advertising: target customers, positioning, and market insights.
A younger audience may respond better to social media or email advertisements. However, a middle-aged or older audience may be more receptive to hand-out flyers, word-of-mouth, or signs.
However, rely heavily on your email list or social media following to get your retreat customers. Advertising to cold audiences on Google or Facebook should be a secondary approach.
The main point here is to get the word out however you can. Visit yoga centers and classes, and talk to students and teachers. Tell your friends, and family. The more people you reach, the more attendees you'll have.
I have written an in-depth guide on yoga studio marketing. Review the guide to get a step-by-step approach to marketing your yoga event.
Staying Organized For Your Yoga Retreat
One of the most crucial elements for the success of your yoga retreat is to stay organized. You need to know the details of the people attending, their preferences, and payment status.
Often yoga retreats provide installment payments. You need a simple way to manage payments and have all your students' information in a single place. Typically retreat organizers use excel, but soon the whole process becomes unmanageable.
You can use a yoga studio software to manage your yoga retreat. Most yoga studio software provides the functionality to organize workshops and retreats.
StudioGrowth is built specifically for the yoga industry and provides everything you need to manage and execute a successful retreat: online payments, event notifications, auto-enrollment, etc. There is a free 14-day trial, so do give it a try!
Why Yoga Retreats Fail
The main reason for the failure of yoga retreats is poor planning.
Lack of planning and preparation will be the downfall of any large-scale event. For everything to go smoothly, you need to be over-prepared in every aspect. Check and double-check your lists, dot your i's, and cross your t's. You can never be too prepared. Make sure you invest in a yoga studio software to manage your retreat.
Yoga retreats may also fail due to a lack of financial resources or poor financial planning. If you price your retreat too low or do not calculate all of your costs, you might be setting yourself up to lose money instead of making a profit.
Another reason yoga retreats fail is due to stress and overwhelming feelings. If you do not take time for yourself on the retreat, you might be more prone to emotional responses and decisions in periods of adversity.
Remember, the self-care and relaxation aspect of the retreat is not just for your guests; it's for you too!
Tips To Make Your Yoga Retreat a Success
You can do many things to make your yoga retreat a rewarding experience, both financially and spiritually. Here are some general tips that can help you achieve success:
Plan the event by visualizing and picking a theme.
Pick a venue with a set contract for events of the type you plan to organize.
Set a financial cushion in case something goes wrong.
Know your audience.
Pick certified teachers and instructors if you are not the one teaching.

I write abouT establishing and Growing your boutique Fitness/Wellness Business. I promise no spam, I hate spam.
Enter Your Email To Receive Growth Tips For Your Boutique Studio. I Also Send Out Occasional Discounts And Freebies
---
About the author
Naz Ahm is the founder of StudioGrowth and has spent a decade growing start-ups and venture-backed companies. He writes about sales, marketing, and growth, especially in the yoga, fitness, and wellness industry.
Naz has an MBA from IESE Business School and started his journey in the wellness industry when he set up an on-demand wellness business. Naz currently splits his time between the U.K and the US.