Aerial yoga is a niche type of yoga practice that combines the benefits of pilates and aerobic exercises with traditional yoga. Aerial yoga classes are expensive to attend compared to regular yoga classes, which makes becoming an aerial yoga teacher a lucrative opportunity.
So, how do you become an aerial yoga instructor? To become an aerial yoga instructor, you have to take 200-hour YTT (yoga teacher training). You then have to enroll in an aerial yoga course that takes from 50-200 hours to complete and costs $500-1000 on average. Once certified, you can apply for auditions at aerial yoga studios and start working as an instructor.
This guide will teach you everything you need to know about becoming an aerial yoga instructor. I will also explore topics, such as the earning potential and benefits of aerial yoga, that will be relevant to aerial yoga instructors
Aerial Yoga Is Trendy – Get In Early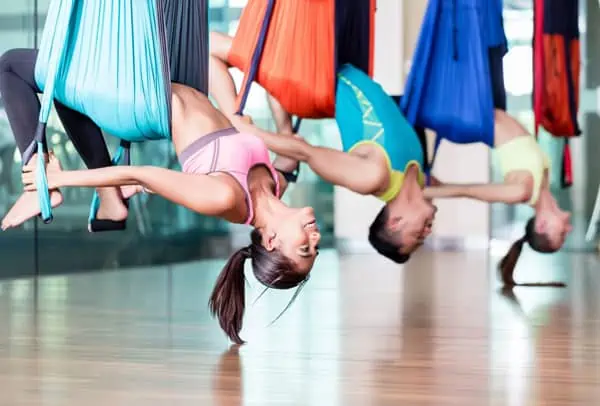 The accounts on the invention of aerial yoga vary. The invention most likely happened anywhere from a few decades ago to as recent as the 2010s. However, one thing is sure that aerial yoga has exploded in popularity and is trendy.
Make no mistake; this practice does embody the main principles of yoga and doesn't deviate much from the ancient teachings. However, it is revolutionary in the sense that it's entirely practiced on hammocks.
Aerial yoga hammocks are very stable and can support 2000 lbs+ of weight, allowing students to practice highly flexible postures that challenge gravity. The hammocks are made of silk and require special aerial yoga equipment to suspend them from the ceiling.
The fact that aerial yoga is new means that teachers are still getting in early and making double that of conventional yoga teachers. There is a high demand for certified aerial yoga instructors. The most important thing is to start with a basic YTT (yoga teacher training) course and gradually progress by completing an aerial yoga teacher-training course.
How To Become A Certified Aerial Yoga Instructor: 4 Step Checklist
To become an aerial yoga instructor might take you 3-6 months and $2000-3000 in total expenses for certification courses. This process is long, and only the most dedicated yoga enthusiasts should consider undergoing training. The courses can be taken entirely online or in retreat-style training.
Aerial yoga instructors have to become certified yoga instructors first. This process entails a minimal 200-hour course that certifies them to teach traditional yoga. Once the teacher has successfully obtained their YTT [yoga teacher training] certificate, they can move on to aerial yoga training courses.
These courses are less extensive, and they cover 50-200 hours of training, certifying the teacher's ability to teach aerial yoga. The aerial yoga instructor courses cost $500-1000 on average.
Here are the steps to becoming an aerial yoga instructor:
Step #1) Become A Certified Yoga Teacher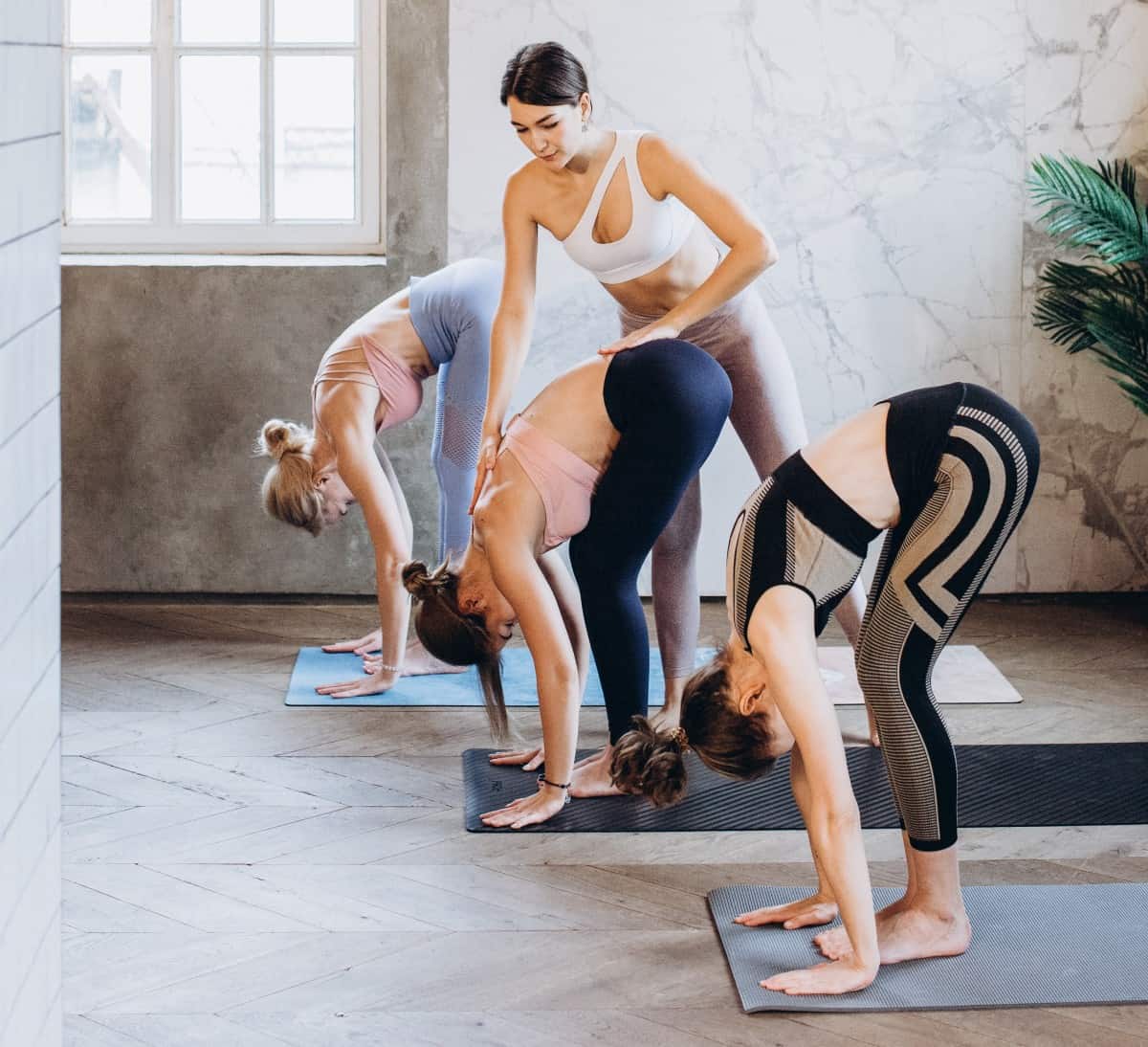 The first step to becoming an aerial yoga instructor is to become a certified yoga teacher. You need to learn about the basics of teaching yoga, postures, teaching styles, safety techniques, and more.
These concepts are what the basic Yoga Teacher Training (YTT) course teaches. There are dozens of YTT courses you can pick online and retreat-school type courses that you could take in exotic locations overseas.
Yoga teacher training [YTT] is the most expensive course in your journey to becoming an aerial yoga instructor and will cost $2000-3000 depending on the school. Here are some examples of yoga teacher training courses.
The course could even cost more if you opt for 500H training, completion of which grants you the level of a master yoga teacher.
The foundational yoga teacher training course prepares you for the niche material of aerial yoga. Teachers get a basic understanding of the philosophy of yoga and pass a test to verify their knowledge. Teachers only need to have basic yoga experience to undergo YTT training.
Expect to spend 1-3 months practicing for the YTT certificate exam. In the end, your school will issue you a certificate that you've successfully passed YTT. This certificate automatically makes you eligible to work at yoga studios, but if you want to work as an aerial yoga instructor, you will need further education and certifications.
Step #2) Sign Up For Aerial Yoga Teacher School
Most aerial yoga schools will require evidence that you've passed Yoga Teacher Training before they allow you to get into aerial training. You won't need any experience practicing aerial yoga to sign up for aerial yoga teacher training. You only need to know how to practice yoga and pass a YTT course before you can enroll.
Keep in mind that the founder of aerial yoga didn't take special aerodynamic classes when he invented aerial yoga, so don't get paranoid that you're not prepared enough to participate in one of these courses.
The most important thing is to bring energy and excitement because you will need this to last through some of the rigorous training and safety precautions the courses teach.
Aerial yoga instructor courses cost $500-1000 on average, while some courses in remote locations can cost $2000-3000 (with hotel accommodation included). Here are examples of aerial yoga teacher courses.
There are many small areas within aerial yoga in which you could specialize. Example: You could get certified in children's aerial yoga. It is a 'niche' version of aerial yoga. You can also specialize in general aerial yoga, as have most aerial yoga instructors.
Join The Aerial Yoga Studio Where You Want To Teach
In the yoga industry, most yoga studios also offer yoga teacher training courses. When it comes to hiring new instructors, the yoga studios give first preference to students from their yoga teacher training courses.
The best approach, if you want to become an aerial yoga instructor, is first to join the aerial yoga studio where you'd like to teach as a member. Then when the studio opens up aerial yoga teacher training programs, you can sign up for the course. Doing so will make it significantly easier for you to land your first aerial yoga teacher job.
NOTE: I have written an in-depth guide on finding yoga teaching jobs. The guide will be helpful if you plan to work in a studio after your aerial yoga teacher certification.
Step #3) Complete The Aerial Yoga Course
Aerial yoga training is intensive, and most basic aerial yoga courses require 50 full hours of training. If the training happens over an entire day, you could complete your certification in as little as 6-7 days.
If you sign up for a more intensive 200-hour course, it could take you months to complete your certification (especially if you take it online and learn at your own pace without supervision).
Example: If you sign up for a 50H basic training course, part of that course will be in the retreat where you get taught by experienced teachers. However, you will also have to complete an additional 25 hours when you're back home. Most courses tend to have deadlines such as 3 or 6 months after the main course.
These extra hours are "non-contract," and these hours allow you to develop your specific style and apply the instructor skills you've learned during the foundational aerial yoga training. You then have to present what you learned.
Pro Tip: Keep in touch with your teachers for feedback and also network with other students while you're attending the course, in case you need support for your non-contract hours.
Step #4) Get Hired At Aerial Yoga Studios
If you live in a small town, you might have to move to a large metropolitan area where you can find aerial yoga studios. Most small towns only have regular yoga classes, and aerial yoga studios are sometimes lacking even in large cities. Once you're in an area with aerial yoga studios nearby, you can start job hunting.
Sending your CV to aerial yoga studios nation-wide until you start getting calls and decide which state you want to move to based on the salary. If you've successfully graduated from both YTT and aerial yoga training, you'll have plenty of opportunities in every state, and you could even open your own yoga studio ($10,000-50,000 start-up cost on average).
Showing up at the studios leaves a strong impression on business owners because it means you're dedicated. If the business owners take a liking to you, they will schedule an audition. Yoga teachers don't go through regular interviews, but they have to demonstrate their skills in real-life via auditions (teaching students under supervision).
Most auditions involve hosting a full class under the observation of the studio owner. You will have to introduce yourself to a group of students and teach them for 20-40 minutes to pass the audition.
If you make a good impression on the yoga studio owners during your audition, you will get the job. There is currently a shortage of aerial yoga instructors, and if you get certified, you're bound to find a job quickly.
How Much Do Aerial Yoga Instructors Make?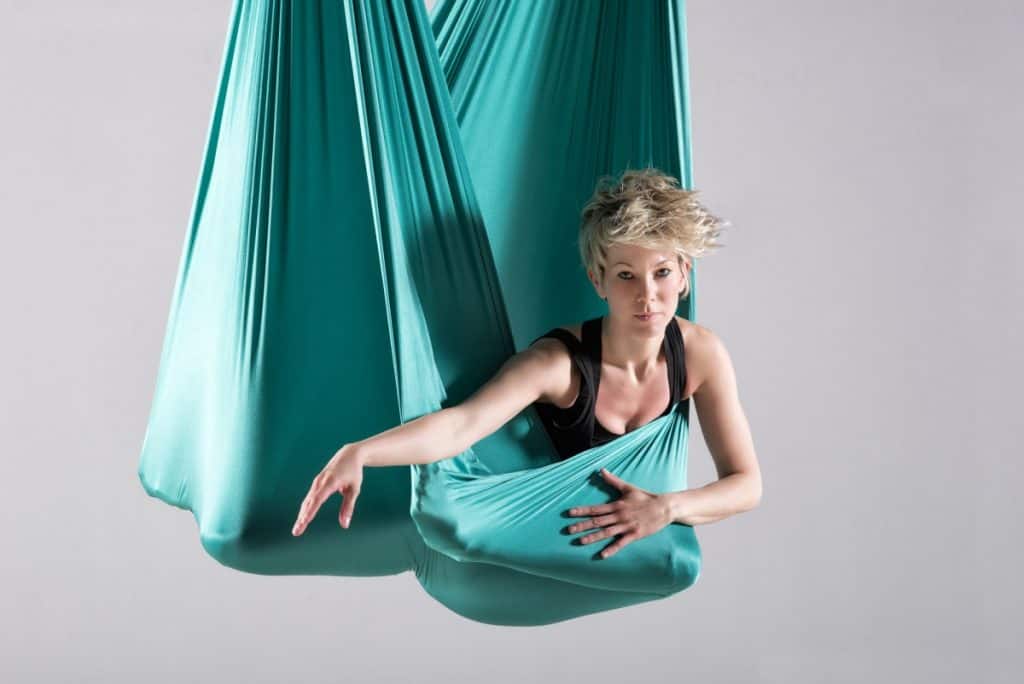 To obtain certification as an aerial yoga instructor, you'll have to pass basic 200H YTT (Yoga Teacher Training) and then sign up for an aerial yoga teacher course. In practice, teachers spend 3-6 months getting certified before they're allowed to teach aerial yoga.
If you look at the average price of an aerial yoga class, it costs 2x that of regular yoga classes. The average aerial yoga studio charges $20-25 per class. There is also the possibility to open your own aerial yoga studio, which would immediately make you stand out in metropolitan areas with a lot of competition.
The investment to open an aerial yoga studio is not substantially higher compared to regular yoga studios because you only have to purchase hammocks in addition to regular yoga studio furnishing. The earning potential of aerial yoga teachers is among the highest of all yoga teachers.
However, there are downsides such as that the students are more prone to injury. Additionally, you will have to undergo nearly double the educational and training hours as compared to those of a regular teacher. Get ready to sacrifice if you're willing to teach aerial yoga.
What Do Aerial Yoga Teachers Do?
Aerial yoga teachers teach, on average, 2-3 classes a day if employed at a yoga studio full-time. They teach private classes for extra income.
Aerial yoga teachers have certifications in the practice of traditional yoga. They also receive training in suspension fitness, aerial/gravity arts, and pilates. This training gives them superior knowledge to be able to hone their student's physical agility, strength, and even mental health.
Contrary to popular belief, aerial yoga is not hard. It's easy to get into, and there are no additional skills required for beginners. Beginners can receive foundational yoga training and start practicing aerial yoga right away. Each class for you as the aerial yoga teacher is going to feel exciting, challenging, and fun.
The following are things that aerial yoga teachers do for their students:
✔ Help Students Deal With Pain
Students come to yoga to alleviate many bodily issues such as back pain, lack of flexibility, and stiff joints. Aerial yoga places a huge emphasis on the back area and targets the spine directly, helping students heal their back pain.
The more flexible the spine, the stronger it gets. This reason is why students who practice aerial yoga regularly tend to have little to no pain, even if they're seniors. Moreover, aerial yoga helps them decompress the spine if they've had surgery and stayed in bed too long without any exercise.
The aerodynamics of the hammocks release the pent-up tension in the body once the student starts the practice. During the first 10 minutes of aerial yoga practice, most students report relaxation in muscles and ligaments. This relaxation helps get rid of all pain because it strengthens the muscles, joints, and ligaments.
✔ Improve Student's Mental Health
Aerial yoga students report experiencing mental health benefits after prolonged exercise with aerial yoga. This process is akin to working out at the gym because the brain releases many endorphins when engaging in regular fitness exercises.
Aerial yoga is excellent for relieving stress after work, and it immediately boosts the mood of students. Moreover, aerial yoga studios tend to have an uplifting vibe, and socializing with students makes them feel great.
Hanging in the air makes people less anxious, more relaxed, and happier. It aids in establishing a well-balanced emotional system and mental health. There are even studies that point to the fact that aerial yoga can boost concentration and memory.
The prefrontal cortex strengthens with daily aerial yoga practice, and this improves our memory and ability to focus. The longer one practices aerial yoga, the more this is reflected in their mental abilities.
✔ Improve Student's Flexibility
Aerial yoga demands physical agility and plenty of flexibility to be able to pull off the inversions. This demand requires students to go the extra mile if they want to become proficient, as all the exercises center on beating gravity.
The exercises are a lot less restrictive than regular yoga, and once your students begin to practice in hammocks against gravity, they develop new skills that enhance their flexibility.
Aerial yoga combines the best aspects of traditional yoga with all the benefits of going against gravity. It improves the internal bodily and organ functions by boosting the functioning of the digestive, circulatory, and respiratory systems.
It also helps inner bodily organs function better. This improvement reflects in the student's state of mind as they become more relaxed, less anxious, and happier.
✔ Help Students Lose Weight
Your students will lose weight because aerial yoga is a rigorous workout, similar to exercising at the gym. This practice combines many aerobic elements that push the body to burn extra calories. With aerial yoga, the body is constantly on the move, and there are few breaks.
All your student's muscles are worked because the exercises target the upper body, the core, and the lower body simultaneously, helping them strengthen their muscles and joints.
The constant movement over an average 40-60 minute class, with consistency, will make every student fit. You'll be helping them drop extra weight and tone their bodies.
The bottom line is that aerial yoga instructors help improve their student's physical and mental health. There is also a strong element of traditional yoga embedded within the exercises, which strengthens their spirituality and allows them to have a great experience at the studio.
Aerial Yoga Instructor Q&A: Most Common Questions
Q: How Much Experience Do I Need To Become An Aerial Yoga Instructor?
A: You need a solid understanding of advanced yoga before you take up aerial yoga teaching courses. Sign up as a student for at least six months before you attempt the YTT course and then gradually move on to an aerial yoga teacher training course.
Q: Which Exams Will I Have To Pass To Become An Aerial Yoga Instructor?
A: Usually, certification exams require one major test and a presentation that can be conducted online or in person. Yoga teachers have to pass these tests with 80-90% answer accuracy, depending on the course.
Q: How Old Do I Have To Be To Teach Aerial Yoga?
A: Most YTT courses allow people 17+ years of age. For aerial yoga, you have to be at least 18 years old to take up a course.
Q: What Are The Best Cities For Aerial Yoga?
A: The best cities to work as an aerial yoga teacher are cities with a strong yoga culture. Major cities like NYC, LA, SF, DC, London are all great options for an aerial yoga instructor.
Q: How Often Should I Practice Aerial Yoga?
A: As a future teacher, you need to practice every day. For students to obtain maximum health benefits from aerial yoga, the optimal exercise amount is 2-3 times a week. For teachers, the recommendation is to exercise every day. If you decide to be a teacher, aerial yoga will become your life.

I write abouT establishing and Growing your boutique Fitness/Wellness Business. I promise no spam, i hate spam.
Enter Your Email To Receive Growth Tips For Your Boutique Studio. I Also Send Out Occasional Discounts And Freebies
---
About the author
Naz Ahm is the founder of StudioGrowth and has spent a decade growing start-ups and venture-backed companies. He writes about sales, marketing, and growth, especially in the yoga, fitness and wellness industry.
Naz has an MBA from IESE Business School and started his journey in the wellness industry when he set-up an on-demand wellness business. Naz currently resides in London, U.K.