Momence vs Mindbody is the most requested comparison I get these days from studio owners. Momence is on a mighty campaign to acquire Mindbody customers and has set up call centers and hired an army of agents to call studios using Mindbody, or any other provider for that matter, and sell them on the vision to change to Momence.
The general dissatisfaction with Mindbody, as it held a monopoly in the space, led to thousands of studios changing to Momence over the last few years. But now we are getting to a place where the benefits of switching from Mindbody to Momence are insignificant.
I have used both Momence and Mindbody and also spoken to hundreds of studio owners considering Momence or Mindbody. I have also worked with studio owners who come to us and have switched from Momence and Mindbody to StudioGrowth.
In this guide, I will provide a straightforward and unbiased guide on Mindbody vs Momence so that you can make the right choice for your studio. At the end of this guide, I will also introduce you to StudioGrowth as an option you could consider. So let's get started.
Momence vs Mindbody: Experts Review
Let's begin with a quick background on Momence and Mindbody.
Mindbody is the company that started it all. They are the pioneers that took wellness class scheduling and member management online back in the early 2000s. Over the last few decades, Mindbody has remained the leader in the space and is constantly innovating. It has fought off hundreds of competitors that challenged its dominance.
Mindbody has made some brilliant acquisitions to remain at the forefront of innovation in the space. Although the founders are long gone, Mindbody has among the best leadership in the domain. Their majority shareholders include the best PE firms in the industry, such as Vista Equity Partners.
Momence, on the other hand, is a reasonably new company coming out of the popular startup accelerator ycombinator. The founders, although young, have built a product that is well-received in the market.
The challenge for Momence will be to prove to the market that it is a business that will be around for the long term. As with the majority of venture capital-backed companies, most shut down or are acquired. Momence has two options: to build a $100M+ revenue business or die trying.
Why is this important for you? You typically want to work with a business with stable leadership, which is here for the long term. After an acquisition or shutdown, it is the end users that suffer.
Now that you know the background of these companies, let's dive into the question of Mindbody vs Momence. We will look at their critical differences across these topics:
Unique Selling Proposition
Data Ownership
Price
Customer Service
Leadership & Longevity
Momence vs Mindbody: Unique Selling Proposition
Momence Unique Selling Proposition
The most significant selling point of Momence is the all-in-one platform approach at a cheaper cost compared to Mindbody.
The all-in-one platform (scheduling, member management, messaging, single inbox, marketing) is not a new concept, and Mindbody already provides it. The way Momence differentiates is by offering the entire all-in-one platform at a single all-your-can-eat pricing.
In reality, the all-in-one platform approach is not as great as it sounds. For example, all the additional modules are significantly inferior to standalone alternatives.
For example, the email marketing suite of Momence has a fraction of the features of a true email marketing platform like Mailchimp. Your customers cannot unsubscribe from individual email notifications in Momence. You do not have complete freedom to design your email templates the way you want. Is that really a true email marketing platform?
Similarly, the automation is good, but expecting yoga studio owners to act like performance marketers is loading them with the responsibility they can't handle. Only maybe 0.1% of studios that operate in the 7-figure revenue range require advanced automation and tracking of ad spend to conversions and they usually have a dedicated agency/marketer helping them. If you agree yoga studio owners are not marketers, then emphasis on marketing automation is just a gimmick.
If you want true built-in automation, opt for platforms built for this functionality. I recommend LoyalSnap. They are the ones used by studios such as F45.
To summarise, the unique value of Momence is the all-in-one platform approach at a lower price than Mindbody and is excellent for some niche studios. For most, it is just a marketing gimmick, and you are better off combining standalone apps with your scheduling software. You can read my in-depth momence review.
Mindbody Unique Selling Proposition
The unique selling proposition of Mindbody is that it is by far the single biggest software provider in the market. It has the largest network of studios using its platform. It can also expose you to millions of new customers through its marketplace.
The unique selling value of Mindbody is not any gimmick, and no other company can provide what Mindobdy can. Mindbody has all the features that Momence has and then some. The biggest issue is the high price tag and the constant price increases.
In short, Mindbody provides advantages that no other provider in the market can match.
Momence vs Mindbody: Data Ownership
The biggest complaint I hear about Mindbody is that in the app, your customers are shown other similar studios! How is Mindbody able to do this? Will Momence do this in the future?
Marketing to your customers is only possible if the provider legally owns your customer data (the customers you bring to the platform). You must review the terms and conditions and understand who owns your data. Any provider with a marketplace that promises to send you new customers is most likely using the data from its network of users.
Several studio owners have mentioned that Momence is not transparent about data ownership. Your customer data belongs to you and you alone! No one should be able to use your customer information and market other studios, products, and services to them.
You will need to do your research and ask the hard questions during your demos. Some of these companies, in their terms and conditions, mention that they will own your customer data. As a business owner, you do not want to allow it.
When it comes to data ownership, both Momence and Mindbody walk the grey area, and it is up to you to get clarification on the matter. If possible, leave any provider that stakes claim to your customer data.
Momence vs Mindbody: Price
As of this writing, Momence is significantly cheaper than Mindbody, and it is the primary reason many Mindbody users switched to Momence. However, Momence is steadily increasing pricing as they acquire more customers.
Momence pricing can vary from $350 to $650+ depending on the apps you want (marketing suite, branded app, etc), and Mindbody is slightly more expensive and can cost up to $1200 for a single location.
Additionally, you are facing significant hidden fees and processing fees with both providers. During your demo, do ask for a full breakdown of all the hidden and processing fees. One of the providers regularly suggests you offload the processing fees to your customers; while I find this unethical, in some countries, it is illegal to do so.
Momence vs Mindbody: Customer Service
The customer service of Momence is significantly better and more personal than Mindbody's. The disparity in customer service is understandable, given that Mindbody has 40,000+ studios while a few thousand studios use Momence.
Customers report that the Momence support team is helpful, although it is not clear if Momence offers genuine 24/7 support.
Mindbody does offer 24/7 support. However, the first line of support is handled by customer support agents in call centers with minimal knowledge of your business. Due to this, Mindbody support may seem impersonal.
Momence vs Mindbody: Leadership & Longevity
As a studio owner, it is in your best interest that the software platform you choose should be around for years and decades. The last thing you want is for the business to shut down or have a complete change in leadership.
Momence is a venture capital funded startup created to provide significant returns to its investors. The path forward for Momence is to get acquired by a more prominent company, IPO, or go bust.
Mindbody, on the other hand, has been through that journey already. It has been bought and sold multiple times, and its current owner, Vista Equity Partners, will most likely take it to the public markets. Due to this, you do not have to worry about the longevity of Mindbody.
Mindbody is an industry veteran, and it is a financially sound business. Momence, on the other hand, focuses on growth and has significant market risks ahead. If I wanted to go with a more safe option that will be around for the next few decades, I would choose Mindbody.
A Different Alternative: StudioGrowth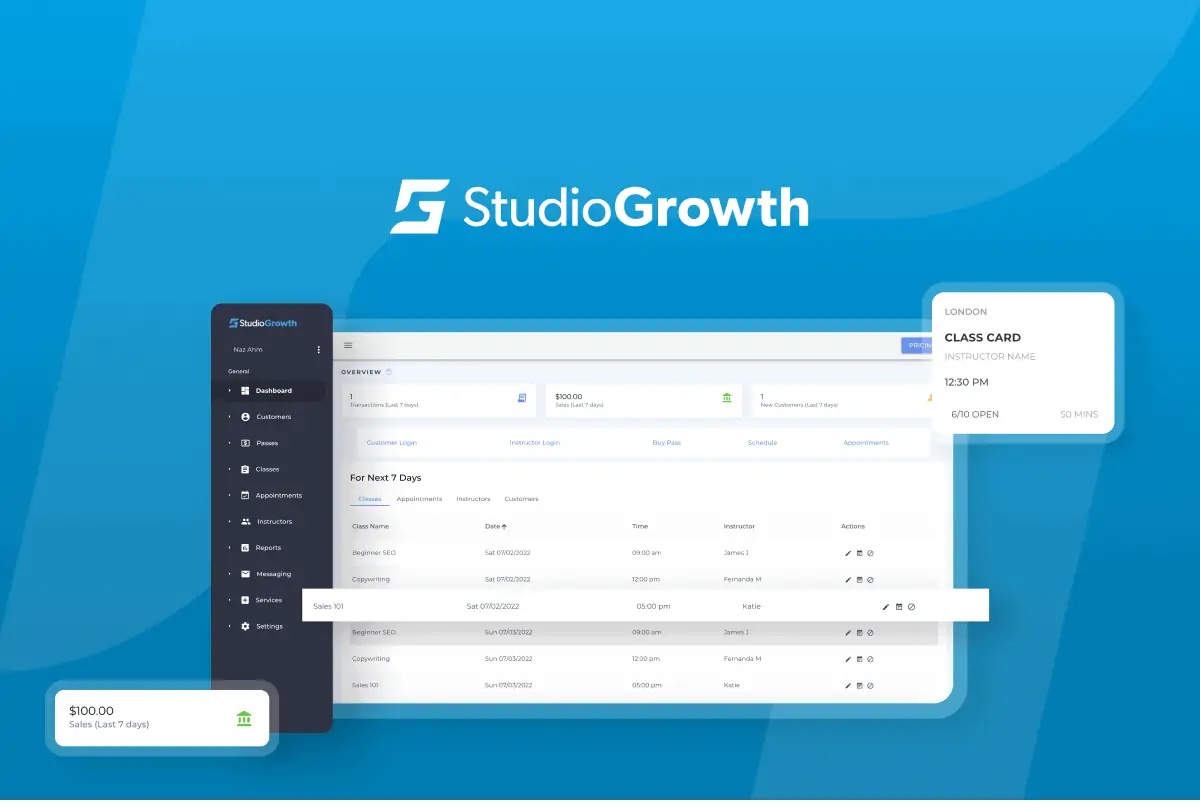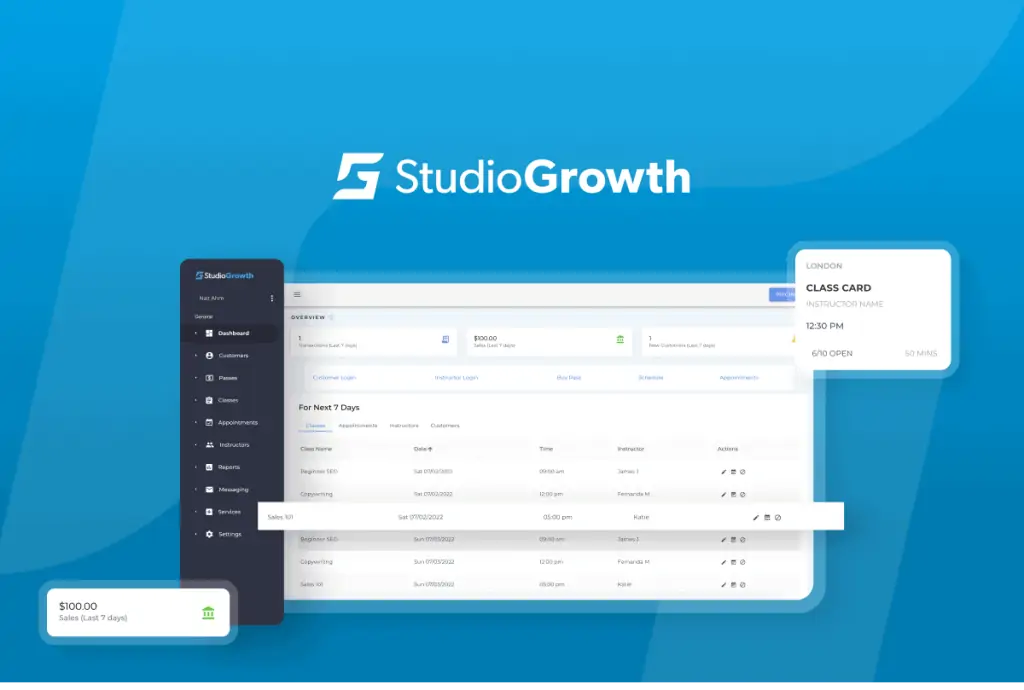 If you are currently exploring Momence vs Mindbody, I encourage you to consider StudioGrowth, especially if you have concerns about signing over all your customer data to other providers. With StudioGrowth, you own 100% of your data. Additionally, StudioGrowth is a self-funded business growing organically. As a result, it can offer significantly better support and a world-class platform at a fraction of what Momence and Mindbody need to charge to stay alive.
Review the studioGrowth features, and if they match your requirements, it could be a significantly better option for you. The unique selling proposition of StudioGrowth is:
You own 100% of your data.
Lightweight easy to use platform that does not suck
Better customer experience
Fraction of the cost of Mindbody or Momence
World-class support. It is the highest-rated software for customer support.
This guide gives you all the information you need to choose between Mindbody and Momence. If you'd like to see how StudioGrowth compares, please schedule some time with me.

I write abouT establishing and Growing your boutique Fitness/Wellness Business. I promise no spam, I hate spam.
Enter Your Email To Receive Growth Tips For Your Boutique Studio. I Also Send Out Occasional Discounts And Freebies
---
About the author
Naz Ahm is the founder of StudioGrowth and has spent a decade growing start-ups and venture-backed companies. He writes about sales, marketing, and growth, especially in the yoga, fitness, and wellness industry.
Naz has an MBA from IESE Business School and started his journey in the wellness industry when he set up an on-demand wellness business. Naz currently splits his time between the U.K and the US.