Starting a pole fitness studio is something that many fitness enthusiasts strive for, but the limited information to get started in this niche fitness industry tends to scare people away. The most basic information you need is what pole fitness equipment you will need to get the pole studio off the ground.
So, what pole fitness equipment does a pole fitness studio need? A pole fitness studio needs the following equipment for people of all experience levels:
Sports poles
Pole extenders
Gripped gloves
Ankle protectors
Crashpads
Proper studio lighting
Mirrors
When it comes to pole fitness equipment for your pole studio, you mustn't settle for low-quality products. Liability is a huge concern, but thankfully, you can still get everything you need without spending too much money.
There's quite a bit of work to do before you open the doors of your pole fitness studio. In this article, you'll learn everything that you need to get your pole fitness studio set up for its opening day!
Pole Fitness Equipment for Beginners
If you're opening a pole fitness studio, you've likely got past the beginner's curve. You now know how challenging it can be to start learning the proper moves, as well as how often people give up at this stage.
To prevent your members from being discouraged, you should have plenty of items that reduce pain and aches if they fall.
Here are the five pieces of pole fitness equipment that you need for your beginner customers:
Crashpads
They are one of the most crucial and valuable pieces of gear to have in your fitness studio. They wrap around the bottom of each pole, providing a soft barrier in case one of your client slips and falls. Rather than crashing into a wooden floor, they hit a soft foam pad.
Portable Pole Dancing Pole
These aren't as common, but they're worth considering. The sports-poles are adjustable at the bottom, giving your clients the comfort that they require before getting started. Some sports poles also have a small spring that enables balancing, which prevents them from falling too often.
Ankle Protectors
They are another worthwhile expense. Although most pole studios require customers to bring their own protectors, imagine how welcome your students will feel when you provide them with protectors upon arrival. You could also give them a free gift if they sign up for a designated amount of months.
Inner Arm Grip aids and Gloves
These are both fantastic choices to buy for your beginner clients. As you probably know, pole dancing uses muscles and techniques that most people don't use daily. The soreness, stretching, and awkward angles make it tough to grip the pole and push through without any grip in place.
Hand Chalk
Although people of all experience levels could use chalk to improve their grip, it should be readily available for those who are not used to the everchanging motions needed in pole dancing.
As you can see, most of the items found on the list above help prevent accidents or improve grip. People are much more likely to push through the beginner stages if they're not constantly falling or getting injured.
Pole fitness is supposed to be a fun learning experience, and these items allow new clients to give their best.
Pole Fitness Equipment for Experienced Pole Dancers
People who've been practicing pole dancing for a long time likely already have their own gear. However, there's still plenty that you can provide to make your experienced students feel more comfortable.
Most of the items focus on allowing your students to improve their performance, their flow, and their technique.
Here are the items that you should have for experienced dancers at your studio:
Dancing Stages
These are a step up from crashpads. They don't have as much of a forgiving surface, but they look much better in professional scenarios. Experienced dancers will feel more motivated to take on the challenge as long as you buy stages that are easy to grip with their feet.
Yoga Stretching Straps
Yoga straps will help students loosen up and get ready for pole dancing. Providing a handful of these straps will allow your students to prepare for the training session, but it also shows that you're willing to go the extra mile to help them. Most of the straps have multiple loops to adjust to the student's comfort level.
Adjustable Pole Extenders
Pole extenders are essential to have for experienced dancers. Not only can they customize the pole to their comfort level, but they can continue to push themselves to work hard by increasing or decreasing the length of the pole. The good news is that extenders are relatively inexpensive.
Pole Fitness Equipment: What to Buy for the Pole Fitness Studio
Now that you have everything ready for your students, it's time to get the studio essentials. There are a few areas that you should focus on, all of which are designed to improve visibility, comfort, and cleanliness.
Hand Sanitizer and Cleaning Wipes
These are both essential to prevent the spread of germs and diseases. Especially when it's the cold and flu season, clients become cautious about visiting gyms, yoga studios, and pole dancing studios. Keeping the area clean as well as providing sanitizer for your clients will make them feel safe.
Proper Lighting
Lighting is another essential component that can make or break the atmosphere of your pole fitness studio. You should have lights on the ceiling that are no more than four to six feet apart from each other. There shouldn't be shadows or gaps of light in the studio. If you are interested in learning more about having proper lighting, review my guide on the best lighting for fitness studios.
Mirrors
Mirrors are excellent to have from corner to corner in the studio. Whether you have them all around on every wall or just one or two of them, mirrors allow your students to see how they're performing. In a pole fitness studio, mirrors are essential.
Combined with good light placement, mirrors can be one of the most important factors affecting the ambiance of your studio. If you would like an in-depth guide on the cost of dance studio mirrors, review my guide on the topic.
Chairs or Couches
Chairs and couches should be one of the first items that you buy. It's no secret that pole fitness routines are exhausting, especially if your students are practicing after work.
When your clients need to relax, they should be able to find a nearby seat to sit down. Complement the seating arrangement by providing fresh cold drinking water!
Cleaning Solutions, Mops, Brooms, and Dustpans
Cleaning supplies in the studio are crucial. After every session, you should thoroughly clean the pole studio. Not only does it prevent germs from spreading, but it also keeps the room from feeling warm and smelling bad.
Ensure your pole studio is well aerated and all surfaces cleaned after each session and at the beginning and end of the day. Here is a guide on how to clean a studio floor.
Poles and Domes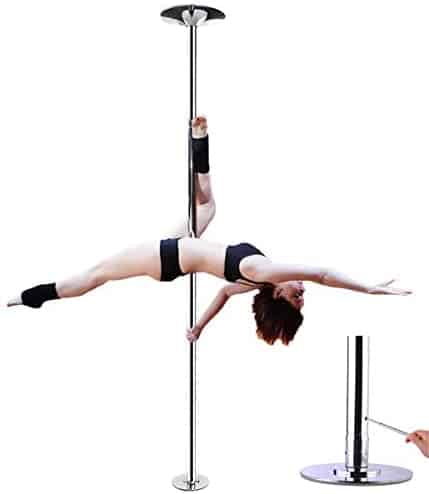 Having poles and domes in your studio is obvious, but you also need to have them in multiple sizes. Some clients are taller than others, and some might require heavier-duty equipment than others. Having different domes and poles with varying widths allows you to be ready for any situations that might arise.
Pole Fitness Software
One thing you cannot do without is a pole fitness software from which you can run your entire pole studio business. A pole fitness software helps you with scheduling classes, managing your customers, and taking online payments, among other things.
When you start your pole fitness studio, you might want to manage your entire business on an excel sheet or a word document. Resist the urge to do so and get a good member management software. Just like you do for the core equipment in your studio, do not skimp on the software running your entire business.
Conclusion
Pole fitness studios are springing up around the world faster than ever. When you're about to open up your studio, use this guide as a checklist to make sure that you thought about everything that you will need.
Here are the key takeaways from the post:
Cleaning materials, seating, mirrors, water, and lights are all courtesy amenities that promote repeat customers.
Always keep an eye out for gear that helps with grip and prevents slipping.
Stages and crashpads allow clients to improve their performances.
High-quality equipment costs more, but it'll save you from liability charges.
Use the best pole fitness software from day one and do not rely on excel and documents to maintain customer information.

I write abouT establishing and Growing your boutique Fitness/Wellness Business. I promise no spam, i hate spam.
Enter Your Email To Receive Growth Tips For Your Boutique Studio. I Also Send Out Occasional Discounts And Freebies
---
About the author
Naz Ahm is the founder of StudioGrowth and has spent a decade growing start-ups and venture-backed companies. He writes about sales, marketing, and growth, especially in the yoga, fitness and wellness industry.
Naz has an MBA from IESE Business School and started his journey in the wellness industry when he set-up an on-demand wellness business. Naz currently resides in London, U.K.