One of the critical considerations for opening a yoga studio where groups of like-minded people gather is how big the yoga studio should be. As a Yoga studio owner, you must pay as much consideration to the size of your Yoga studio as you pay to select the right location.
So, how big should a Yoga studio be? The standard size of a yoga studio is usually 20 square feet (20 * 20 feet) to accommodate approximately 15-18 people. For larger groups, 25 * 25 feet or even 25 * 30 feet is standard. Include beautiful hardwood flooring and natural light in your Yoga studio to make the space look bigger.
In this article, I will discuss what should be the ideal size of your Yoga studio and how you can efficiently utilize the space that you have. I will also consider the different amenities you should provide to give your members a comfortable experience.
This post is part of a series of guides and articles providing in-depth information about how to start a yoga studio. Head to the main article to find a list of articles and guides covering the topic.
Ideal Size For A Yoga Studio
| | | | |
| --- | --- | --- | --- |
| Type Of Space | Storage | Area | Minimum Height |
| Yoga Studio for a small group of 10-20 members | Yoga mats, yoga balls, audio/visual systems, dressing room | ~ 20 square feet (20 * 20 feet) | 2.4m minimum height ceiling |
| Yoga studio for a large group of up to 30 members | Similar to a smaller studio | ~ 25 * 25 feet or even 25 * 30 feet | Similar to a smaller studio |
A standard yoga mat is about 24 inches wide and 68 inches long. To capitalize on the space you have, It is essential to space yoga mats at appropriate distances. Ensuring there is enough space for the yoga instructor to walk in between or for your students to take their place and practice comfortably
A minimum distance of at least 2.5 feet to 3 feet between yoga mats would help the students concentrate better due to good acoustic separation. Another way of looking at this is that a minimum separation of 6 square feet is essential, which will enable students to lie down and practice on either side.
There might be a tendency to intuitively believe that a larger Yoga studio would be preferred by members. However, this is not true. People come to your Yoga studio for the personal touch and guidance that you can offer. Today, people have access to virtual Yoga classes on-demand in their homes. Yet they choose to come to your studio. The reason for that is to practice among a group of like-minded people. So select the size of the Yoga studio that offers the intimate feeling and also gives the member the feeling that they are getting personal attention and guidance from you. Having too large a studio might dilute that feeling.
The result should be that the students can feel a connection without the feeling of being amongst a crowd. Now that you have an idea for the right size for a yoga studio, there are few other aspects that should not be ignored.
Ventilation For Your Yoga Studio
An open-air terrace under the crisp morning sunshine is perhaps the best-case scenario when it comes to practicing Yoga. However, there is also a thing called a cold November morning.
For an indoor yoga studio, it is essential to facilitate a well ventilated and temperature regulated room with fresh air circulation. The optimum temperature to maintain inside a yoga studio is 16 to 18 degrees Celsius [unless you are practicing Hot Yoga].
The size of the yoga studio also correlates to the heating needs of the space. An adequately heated yoga studio can help to:
Flush toxins from the body
Promote sweating, which helps in the detoxification process.
Improve elasticity resulting in fewer injuries
Increase heart rate resulting in more efficient burning of body fat
Yoga is heavily dependent on cultivating proper breathing techniques. Therefore, regardless of how big or small the yoga studio is, good cross-ventilation and good room heating is very important.
Remember also to create a sense of privacy. Sometimes the windows can create unwanted curiosity from the external world.
Walls And Mirrors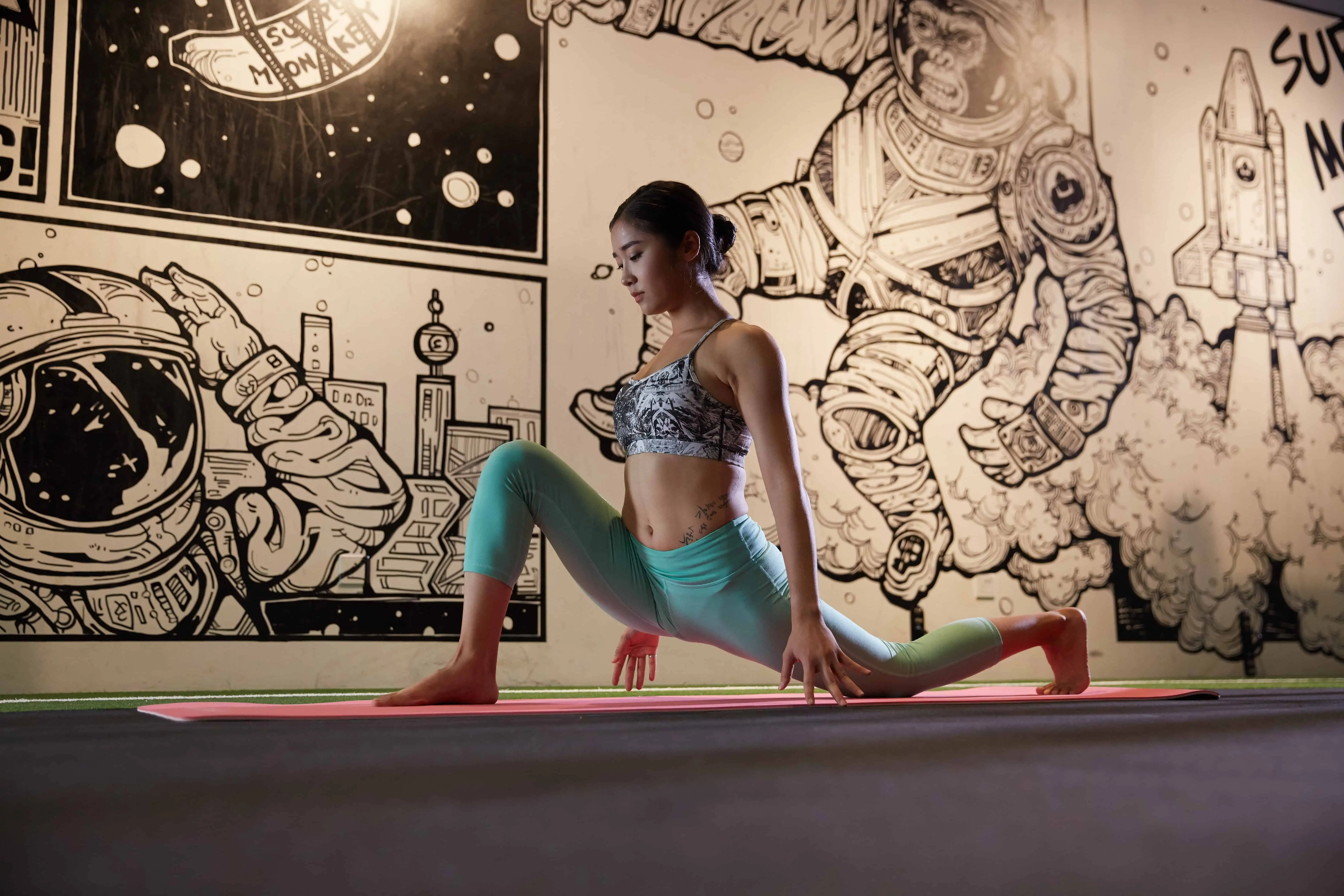 You might know the feeling of walking into a perfectly sized yoga studio where you immediately sense a feeling of calm or an immediate sense of anxiety. What you feel has a lot to do with the color scheme of the yoga studio and also the décor.
To make a yoga studio space feel like an oasis of calm, intersperse your walls with full-sized mirrors and wall decals that relate to yogic spirituality. A few good examples that usually work are Mandala designs or the Om symbol.
A general suggestion is to avoid having any distracting elements or exaggerated motifs on the walls, which can be counterproductive to the objectives of the yoga session.
Another great idea is to have enough space to be able to add plants that purify the air in the Yoga studio. Some of the plants that we can recommend for a yoga studio are:
Areca palm
Lady Palm
Peace Lily
Also, consider that free and undecorated wall spaces can also help students practice against the wall if required. Therefore, it is prudent to plan accordingly.
Audio and Acoustics
Audio and acoustics would not be a key consideration if the yoga studio were out facing the open or in a natural setting as the many sounds of nature can help in Yoga practice. However, in a closed environment such as an indoor yoga studio, the design must allow for the space to be isolated from noise.
A great addition to a yoga studio space is the incorporation of the sounds of nature, such as a 'gently flowing stream' or 'flow of a gentle breeze.' However, please don't make this tacky. Implement this in a way that is modern and classy.
The shape of the room can also affect the acoustics in the yoga studio. A circular environment, despite bringing forth a sense of spirituality and upliftment to can also result in a lot of echoing. A square or a rectangular space with rounded edges can result in excellent acoustics for the yoga studio. A noise rating of NR35 or below is ideal for a yoga studio. An NR35 noise level is similar to the noise level you would encounter in a library or a museum.
Lighting
Proper lighting in a yoga studio is responsible for setting the mood and the intensity of the yoga session. Direct sunlight is, without a doubt, the best lighting a yoga studio can have, but it is essential to be able to adjust the intensity of the light based on the 'asana.'
If you can adjust lighting, then non-fluorescent lights with a dimmer can help during the transition from various 'Yogasanas' into the 'Shavasana.' The change in illumination represents a change of the mood in the class, and a darker, soft light for this asana achieves a great sense of balance to the yoga studio.
Yoga Studio Design
Yoga studio design is a crucial element that supports your overall branding and positioning. Your yoga studio design consists of individual elements that come together to form the overall design of your yoga studio.
The individual elements that shape your yoga studio design are:
Yoga studio floorplan and layout
Reception and resting space
Color palette
Flooring, lighting, incense, and music
Yoga mats, bolsters, and accessories
Website and yoga studio booking system
One of the best examples of yoga studio design done right is Humming Puppy. Pay attention to the color palette they use, the soft lighting, the floor plan, and even their website. Every element aligns to reinforce Humming Puppy's message and brand.
You can create a yoga studio design that is inviting even with a limited budget. Irrespective of the color palette, flooring material, yoga mats, and accessories you choose, make sure every element aligns and is consistent with your messaging and brand. Also, visit other popular yoga studios to get design inspiration.
Other Amenities For Your Yoga Studio
A yoga studio that is merely a 20 square feet room maybe the right size for practicing Yoga but may not necessarily be the right strategy for your yoga studio business.
It is vital for a good yoga studio to factor in some space for countertops and shelves where the students can keep their things or mats. A dressing room and toilets can help the student group to arrive and practice Yoga in a clear state of mind.
Personal lockers can once again act as a great value addition. If the yoga studio is a large and long room, you can consider fixing an adjustable or movable room divider. Such a partition can help to create a smaller room for smaller groups, and when not used as a Yoga studio room, it can also be opened up for other activities such as workshops.
Generally speaking, a yoga studio can also be useful for other activities such as pilates and meditation sessions. While it is great to diversify, it is best to maintain the sanctity of the space where your members practice Yoga.
As you endeavor deeper into opening a yoga studio, you will also understand that it is not just about creating a business plan, providing the best in class yoga mats, or even offering Lululemon vouchers. There is an innate need to understand Yoga and its intricacies and also have certified, experienced yoga instructors for your business.
Providing a tranquil, clean and conducive environment for practicing Yoga is of utmost importance.
This post is part of a series of posts providing in-depth information on everything you need to know to start a yoga studio. The other posts in this series include:
I write about topics related to establishing and Growing your boutique Fitness/Wellness stuido. I promise no spam, i hate spam.
Ready ?
---
About the author
Naz Ahm is the founder of StudioGrowth and has spent a decade growing start-ups and venture-backed companies. He writes about sales, marketing, and growth, especially in the fitness and wellness industry.
Naz has an MBA from IESE Business School and started his journey in the wellness industry when he set-up an on-demand wellness business in London.