There are several vital questions you will ask on your journey to opening a Yoga studio, and "How to name your yoga studio?" will be one of the crucial ones. As you begin to make strides turning your dream of opening a yoga studio into a reality, you must not forget that naming and registering your Yoga business is one of the first things you need to get out of the way. In this article, I will dive deep into that one crucial question, "How to name your Yoga studio?".
The three key stages you will have to go through to name your yoga studio:
Identifying the name for your Yoga studio
Building brand identity & online assets
Registration and Trademark
This post is part of a series of guides and articles providing in-depth information about how to start a yoga studio. Head to the main article to find a list of articles and guides covering the topic.
The Yoga Studio Naming Process
Unless you can strike gold with just closing your eyes and coming up with a name for your Yoga business in an instant, the process of naming your yoga studio will require some self-introspection.Here are a few useful pointers that can help you come up with a name.
Use Yogic Themes & Keywords To Name Your Yoga Studio
Think about the nature of the yogic practice that you intend to facilitate. Try to condense this thought into themes or keywords. For example, you have a bunch of words that can represent your yoga studio, such as spiritual, peaceful, earth, sunshine, awakening, etc.
Can you make a descriptive name for your yoga studio? 'Beautiful earth' for instance or perhaps even translate a few of these words into Sanskrit and see if it appeals to you?
Sanskrit, for the record, is an ancient language with its roots firmly in the yogic practice. Almost every yoga pose name originates in Sanskrit.
Always seek help from a person who can speak Sanskrit so that no grammatical or other unintended mistakes occur in the name.
Combine Words To Create a Unique Name
It is also possible to come up with a unique name for your yoga studio by combining two individual words that mean a lot to you. For example, 'cosmic-bliss,' 'Atma-Ananda' or 'Bhakti-Yoga,' and so on. You will realize that the names that you can create are endless. A similar approach is to create a 'portmanteau' word by coining a new word by joining up two different words.
The advantage of joining words to name your Yoga studio is that there are so many combinations that you would most likely also find the .com domain of your chosen name available.
Begin by creating a list of 50 -100 words and start creating Yoga studio names by combining individual words. This process is the same way by which I came up with the name of my wellness business.
Avoid Using Your Name As The Name Of The Yoga Studio
Try to avoid using your last name as the name of the yoga studio. It might make sense if you are lucky enough to have a name straight out of the Vedic scriptures. Still, generally speaking, generic last names don't create a sense of uniqueness and are more appropriate if you are starting a café or maybe establishing your law firm.
Yoga Studio Name & Branding
Often naming a Yoga business draws a lot of similarities to "What came first? The chicken or the egg". Do you think about the name of your business first and then the brand or vice versa? The truth is that there are no hard and fast rules here. It is always going to be what works best for you.
If you have a rough idea of a name you want to give to your business, it is perhaps a good time to sit down with a drawing board and maybe think about a good logo, a good color scheme for your brand and also analyze the symbolism behind your logo.
Bear in mind that these steps are crucial for any business and not only for a yoga studio. These assets will eventually form the core of your digital marketing and display advertising operations.
Logo For Your Brand
Any business or brand, be it a yoga studio or a fitness studio, can do with a catchy logo along with a great name.
Fortunately, the world of Yoga is abundant in imagery and symbolism. A little research into Hindu iconography can provide a lot of inspiration for you to get started.
Some of the more commonly used Symbols in various yoga studios around the world are
The Om Symbol (you probably know what this is at a basic level)
Hamsa is a symbol that signifies the hand of God and is commonly used to ward off evil from a space.
Mudra, the hand symbols, merit more in-depth research as they carry a lot of importance in Yoga. At a basic level, these symbols represented oneness and used to produce joy and happiness. There is a separate tangent in Yoga practice called Mudra Yoga.
The Chakra symbols are a great source of inspiration for anyone looking to develop a logo. Each chakra represents a spiritual power housed within our bodies.
The Lotus Flower, Mandala patterns, and sometimes Buddhist iconography can give inspiration to design your logo.
Bear in mind, creating a logo doesn't mean that you have to come up with a unique and unseen design. The key elements for a great logo are:
Simple in design so that it is memorable, timeless, and easily recognizable.
Versatile so several physical platforms and digital channels can use it
Appropriate so that it resonates with your vision for the yoga studio and can be interpreted easily by others
Creating A Brand Identity Alongside Your Yoga Studio Name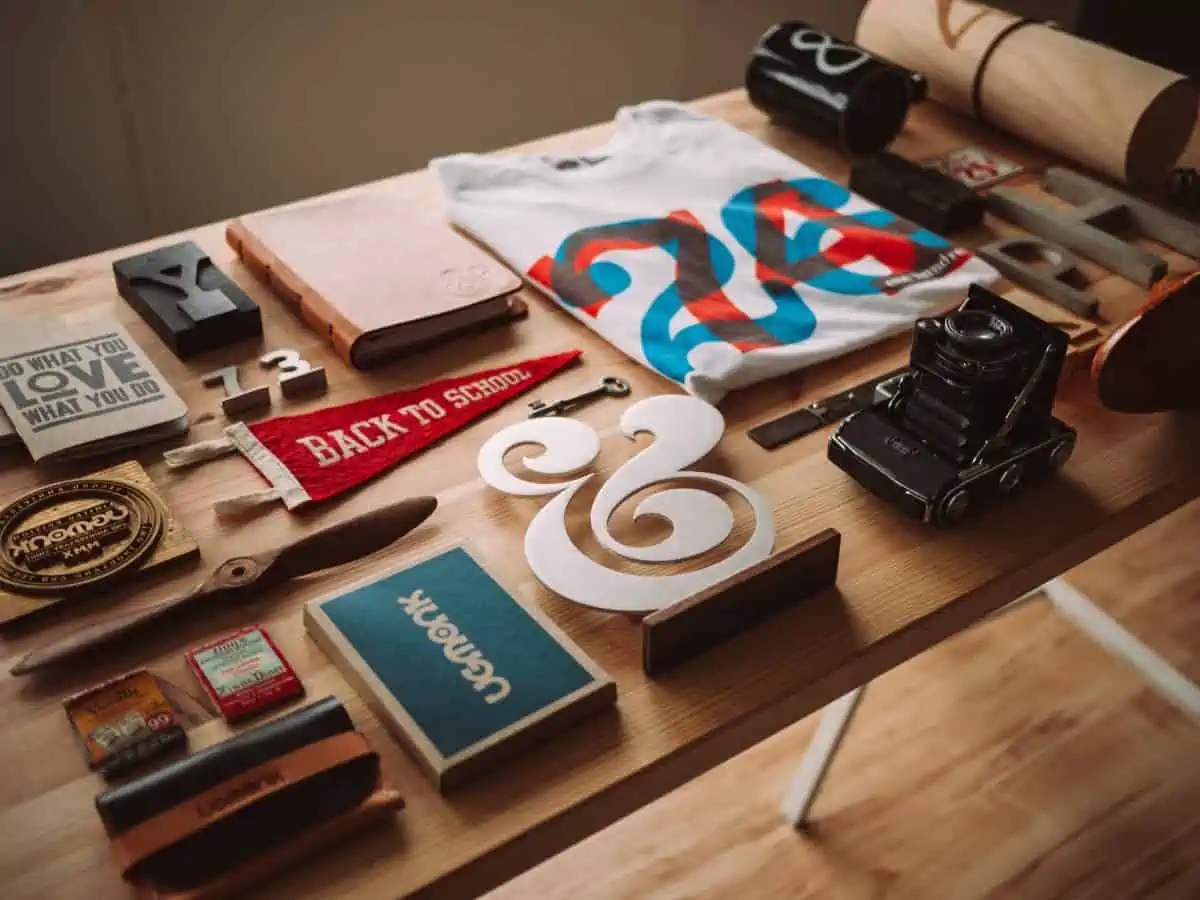 The brand identity is how you want to represent your yoga studio to your present and future customers. A successful combination of a great brand name, a beautifully designed logo, the shapes, and colors of the graphics that you use for your marketing, make up the brand identity.
You won't be the first one to think that "I am not Apple or Google! Why do I need to invest time, effort, or money into creating a brand?"
The simple and straight forward answer to this question is that your brand identity plays a massive part in how your business is perceived. In other words, your brand influences the following:
Perception of the quality of the yoga studio: If your brand looks the part, it encourages a prospective customer to make their mind up easily.
Loyalty: If customers get a good experience through your brand, it will be easier for them to remember you and come back to you.
Differentiation: A good brand experience in your yoga studio can help you grow in good stead in the customer's mind.
Reliability: You will be known as a reliable yoga studio by the impressions left on the customer's mind through your brand identity.
Trademarking and Registration
Online Presence For Your Yoga Brand
You've now done all the creative work of choosing a name for your Yoga studio and identifying all the brand elements. Great! However, it is almost an unwritten rule that today, any business, product, or service will need to have an online presence.
To make that happen, you will first need to register your yoga studio name as an internet domain name. As a first step, I can recommend going to a domain provider such as Namecheap to check if the domain name of your choice is available for you to buy. It is a crucial step as you are securing the name of your business as the name of your online portal.
Choosing The Right Domain Name
Sometimes having the same domain name as the name of your yoga studio may not be possible. In such cases, it is better to come up with mild variations to either your yoga studio name or the domain name to ensure they are aligned.
As a best practice, do not have a yoga studio name that is wildly different from your internet domain name. It could be a perfect recipe for a lot of confusion for your clients.
If you are a local Yoga studio, then securing a .com domain is not essential. My wellness business in London has a .co.uk domain. However, if you are a global chain Yoga business, then securing a .com domain is necessary.
Other Tools For Online Presence
It is also worthwhile to know that domain names and hosting fees are very cheap these days. The first-year prices can even be as low as £5/year. So, it will be beneficial to do a bit of window shopping through some of the best internet domain name registrars to find the best deal.
Some of the companies also offer a great toolset to help you develop the content and digital media for your website. We live in a day and age where even a non-technical person can easily create a beautiful and appealing yoga website in a matter of a few hours.
Add a few distinctive features relevant to your yoga studio here and there, and you will be up and running in a matter of weeks, if not days.
We can recommend the following domain name registrars for you to have a look at to help your decision making.
Another great tip is to hunt for custom website suffixes different to the generic .com, .net, or .org if you can get a suffix that could make your domain name look like 'yoga.studio' or 'London.yoga' that would add to a fantastic digital presence.
Once you have registered your domain, you can think about the best way to bring online your very own portal so that your prospective clients can book classes and see your class schedule online.
Once your name, brand, and the physical studio itself is ready, you will also need to think about registering your yoga studio business and, more importantly, trademarking the name of your business.
Doing this will help you to protect your business name, brand, and the work that you do.
Checking For And Registering A Trademark
Checking for and registering a trademark is a technical process that you can take up yourself. However, if you have the budget, it is best to employ a lawyer to help you. The Gov.UK website gives an easy to understand step-by-step process to do that.
When you successfully register your yoga studio brand, you can:
Take legal action against counterfeiters and anybody else who uses your brand without your permission.
You can now put the ® symbol next to your brand, to show the world that you currently own the brand. You don't have to put this everywhere explicitly, but a small, subtle note on your website is more than enough.
It will also make things easier when you decide to sell your yoga studio business at a later date.
The whole process involves you having to
Check if the trademark is available for your business name. You can do this by checking against various trademark databases on the internet. The more unique your business name is, the higher the chance that you will easily be able to trademark the business itself. Here is a small list of databases you can check to see if you will be able to trademark your business name:
When you are searching for your trademark term, quotation marks can be used to get an exact match. It is also a good idea to check various social media such as Twitter and Facebook to check if the name you have in mind is already in use somewhere.
Once you are ready to trademark your business name, all that remains is to take some legal advice if you want to be sure. If you are confident, you can proceed with the above mentioned Gov.uk website to apply for a trademark.
Considering registering a trademark is quite a technical journey, it will be great if you can get in touch with someone who understands this branch of law to help you. For a little bit of money, you can save time and effort while this job gets done for you.
Also, it will be easier for you to approach the same solicitor or attorney at law to help you if there is a case of infringement. It will cost you around £200 to £300 to apply and register your trademark yourself, but if you are using an attorney, there will be additional fees involved.
So, that's pretty much how you name your yoga studio. The key is to come up with a clear and easy to understand name that can create a link between yourself, your yoga studio, your clients, and interested parties. It does sound daunting but is easily accomplished if done methodically.
Conclusion
When you embark on the journey of naming your Yoga studio, understand that you will need to start thinking about the brand identity of your Yoga studio simultaneously. To help you identify names for your Yoga studio, use a combination of words, and try to choose a domain name with the same name.
Finally, check if the name you have chosen is not already trademarked. If you wish to do so, you can trademark the selected name of your Yoga studio.
This post is part of a series of posts providing in-depth information on everything you need to know to start a yoga studio. The other posts in this series include:
I write abouT establishing and Growing your boutique Fitness/Wellness Business. I promise no spam, i hate spam.
Ready ?
---
About the author
Naz Ahm is the founder of StudioGrowth and has spent a decade growing start-ups and venture-backed companies. He writes about sales, marketing, and growth, especially in the fitness and wellness industry.
Naz has an MBA from IESE Business School and started his journey in the wellness industry when he set-up an on-demand wellness business. Naz currently resides in London, U.K.